Abu Garcia Revo X Fishing Rod
Introduction 
What comes to your mind when you see the letter "X" on any brand or product? I am not sure about you but what comes to my mind are toughness, extreme, power, and sexiness. The letter "X" calls out for attention. Maybe that is why pirates mark X on the spot where treasures have been hidden by them; hence comes the phrase, "X marks the spot." Perhaps I have been watching too much tele and reading too many pirate stories, but "X" certainly calls for attention.
Bait-casting model; with quality components.
Abu Garcia recently launched some reels  under  Abu Garcia's world renown Revo reel series, called the Revo X reels. They look great and they do perform well. Abu Garcia then followed up with a series of rods called the Abu Garcia Revo X rods. These rods look good too with a dark, mysterious feel.
The Dark Knight
No, I am not talking about Batman. When I look at the Abu Garcia Revo X rod, it conjures up an image of a dark knight, or a black knight roaming around in the darkness of night. The Abu garcia Revo X rod comes with a matte black blank, glossy black and chrome like silver thread windings, silver lines (as well as Xs), and black EVA. All these makes up the design of the Abu Garcia Revo X rod. It does look good.
Abu Garcia logo sitting snug inside a rubber end-cap.
Tough Blank
The Abu Garcia Revo X rod comes with a 30 ton graphite blank; lovely for taking on hard fighters. It is a tough blank with a good and powerful back bone. It is heavier up front at the tip (based on bait casting model tested in our lab). A reason for this is that we fish with the rod tip pointed towards the water most of the time and such a configuration helps the angler to conserve his or her energy.
Quality 30 ton graphite blank offers power and sensitivity.
Quality Components
The Abu Garcia Revo X rod comes with high quality EVA, and high quality components. The guides are by Fuji providing the Revo X rod with smoother casts, tougher and more durable ceramic guide rings to handle braided lines, and weight reduction. The reel seats are also high quality reel seats by Fuji that grips on to the reels well allowing anglers to fish confidently.
High quality Fuji guides for better durability, light weight, and less duress or stress on lines.
Good Overall
Overall the Abu Garcia Revo X rod feels good and is well designed for anglers that prefer a rod with a more subtle design. As of now we have yet to torture the Abu Garcia Revo X rod in the field. Look out for our "test drive" article in a future issue to learn more about its performance and capabilities. Stay tuned.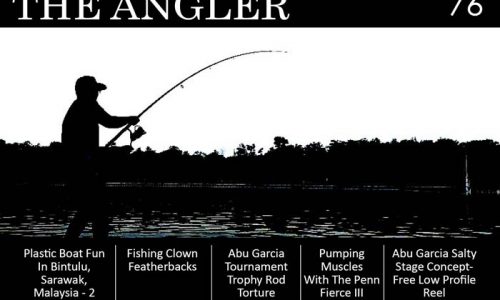 Click here to return to The Angler Issue 76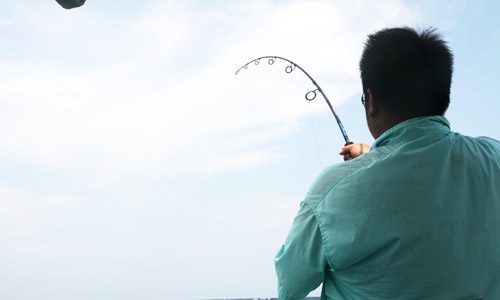 Click here to go to The Angler Magazine issues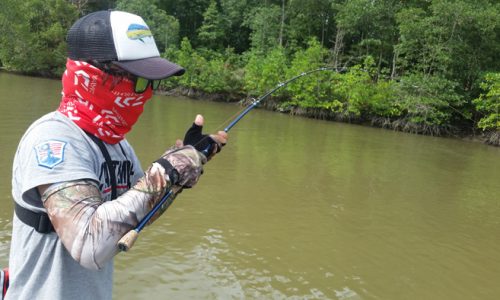 Click here to go to the main page
Do Not Miss Another Issue