Abu Garcia Salty Nova Colors Summer Blue
Test Drive
With colours being something that attracts perhaps all living things; Abu Garcia's team in Korea designed a series of rods based on colours. They call them the Abu Garcia Nova Colors rod series. We recently tested one of these rods; the Abu Garcia Salty Nova Colors Summer Blue.
The Abu Garcia Salty Nova Colors Summer Blue model is a jigging rod made for jigging jigs up to 100 grams. It is a well balanced rod with a slow action tip. More details below:
Rod Brand: Abu Garcia
Series: Salty Nova Colors
Model: Summer Blue – Jigging
Action: PE2 – Slow / light – Medium
Length: 6′ 3″
Jig Weight: 20 – 100gm
Line Weight: PE 0.4 – 2
Blanks Type: Carbon Graphite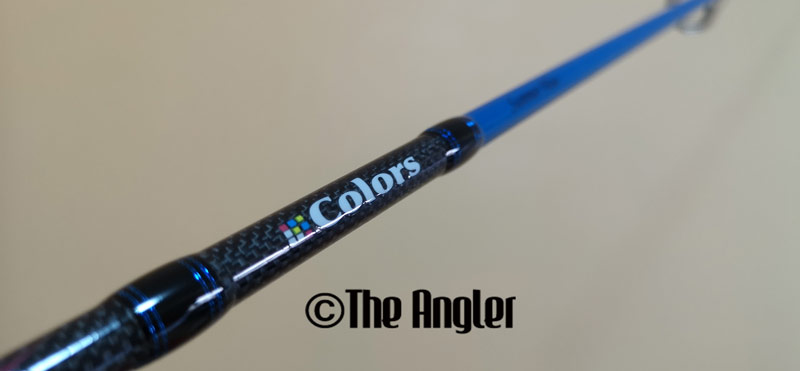 To test the rod (and other fishing tackle) we took it our usual testing place in Jugra, Selangor. We decided to test the Summer Blue here as it (the rod) comes with a slow tip and is a light-medium action rod. The fishes here are good enough to test the prowess of the Summer Blue. Our test subjects were groupers and golden snappers; both are tough and hard fighters.
Casting
The Abu Garcia Abu Garcia Salty Nova Colors Summer Blue has a softer tip meant more for jigging but still, we do cast jigs as well and not just drop them to the bottom. As such we wanted to know how it will cast. We cast out 3 inch Berkley Powerbaits Swim Shad (pre rigged 1/4oz) and Berkley Powerbait Power Grubs. Casting is good with some wobble from the tip but we were on target every time.

Absorption And Power
It did not take long before we got ourselves into hard fighting battles. The soft tip acted as an absorber since we did not get any absorption from the lines that we were using. This absorption cushioned the force and pressure from the initial burst of energy during the run. This can work in both a good way as well as in not so good a way. Good way equals no breakage of lines. Not so good way equals force and timing in setting hooks.
Berkley Powerbaits have one good and important feature. When puncture they emit scent and fish thinks that they have food in their mouth. This makes them hold on longer providing plenty of time to execute a good hook-set. This helped throughout our test where every hit followed by a good solid hook-set.
Power from the backbone kicked in at about 65% of the rod (measured from butt section – rear EVA grip) slowly building. When the fish ran one can see the tip curve and feel the pressure build up. The pressure or power curve is consistent throughout the length of the blank without any drops in power during the many fights that we took on.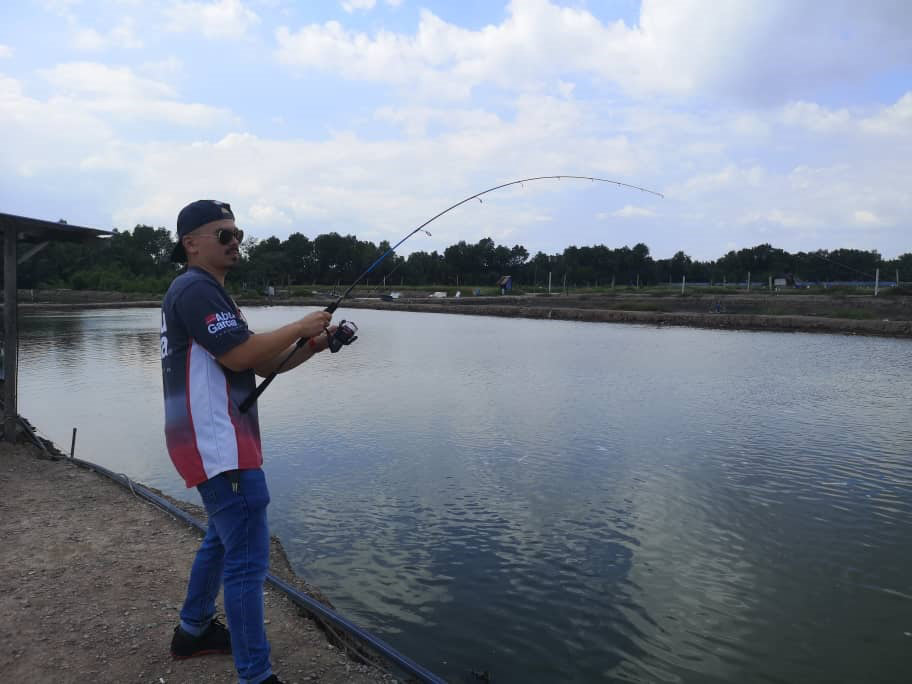 Taking on a hard fighting grouper.
Of all the battles during our test, we lost one fish due to an open or straightened hook. That was because of the high pressure on the drag of the Penn Passion reel and the high pressure from the hard fighting fish. During this battle, the Summer Blue held itself very well providing plenty of power to the angler, with plenty more in reserve.
Hard fighting grouper landed. Plenty of fishes were caught and landed during our test.
Conclusion
The Abu Garcia Salty Nova Colors Summer Blue is a good rod that is well balanced and comes with quality Fuji components. Despite a slower action tip it has plenty of backbone power to handle fish. A slow action tip is great for fast running fishes (hit and run) but less so with slow cautious fish (take bait subtly and stays in place). That said, it certainly is not a rod for all types of fishing but if you are going for exciting and hard fighting predators, the Abu Garcia Salty Nova Colors Summer Blue rod is one to consider.
Tackle Used During Test
Brand: Abu Garcia
Series: Salty Nova Colors
Model: Summer Blue
Action: PE2 – Slow / light – Medium
Reel: Penn Passion
Reel Model: 3000
Reel Size: 3000
Main Line: Berkley Fireline Ultra 8 Carrier
Line lb: 17lb
Leader Line: Berkley Vanish
Line lb: 17lb
Baits / Lures: Berkley Powerbait Swim Shad / Berkley Powerbait Power Grub
Size: 3 inch
Hooks / Jig-heads: Owner (for Grub)
Test Conditions: Sunny afternoon with slight wind  / cloudy evening
Do Not Miss Another Issue