Toman Fishing In Kedah, Malaysia
Action Zone
By Isaac Kuek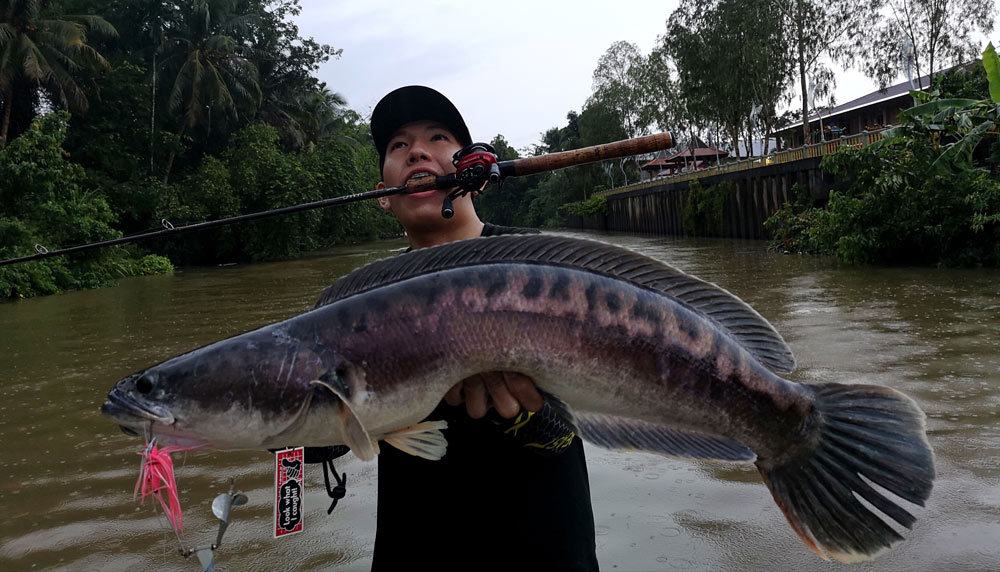 While toman fishing can be considered a staple for most Malaysian anglers, it is usually done in lakes or dams. Sg kedah caught my interest back in 2017 as it rose to fame. With plenty of pictures of huge 'mama' tomans circulating on facebook, it was definitely on my bucket list, not simply because of the good fshing, but also due to the uniqueness of the body of water. Sg kedah's unique scenery ranges from people's back yards, highways, city centre and even the kedah royal palace. However, the 5.5-hour drive from Kuala Lumpur to Kedah had deterred me from going. This was until a recent call with Danny who is a Kedah local, informing us that new batches of toman fries have been spotted, a prime time for us to give a shot at river fishing from toman.
In foresight, the trip was badly planned. The usual 5.5-hour journey to kedah ended up being an 8.5 hour one as we left on the eve of Hari Raya Haji. Arriving in kedah at 10.30 am, we had a quick breakfast before wasting no time and hopping on to the boat. For the first two hours, the weather was pretty much perfect, giving us ample amount of time to take in our surroundings. The river itself was pretty dirty, due to the dumping of trash and wastewater directly into the river. Along the course of the river, plastic bags full of rubbish along with empty bottles added to the thick structure surrounding the banks. With plenty of sunken trees and trees hanging over head, a shorter rod would be preferred to make accurate cast under the trees towards the structure. Compared to other places, the toman fry balls tended to cling very close to structure rather than the open water, preferring the cover of fallen trees and making it very difficult for us to place our lures in the right places.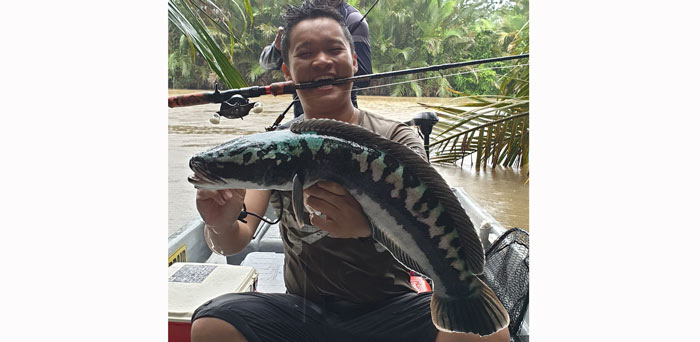 Toman; a hard fighting fish.
As we were fishing, the weather took a turn for the worst. Calling it a thunderstorm would be an understatement, as it was a residual typhoon from the night before which had toppled houses and trees. We weathered the worst of it under a bridge, before a stupid decision was made to go out and continue fishing in the thunderstorm. As the rain and fast water current made it difficult to spot fry balls, we switched to targeting single tomans, blind casting buzzbaits at structure in hopes of a hit. Suddenly, the jared and joel's boatman spotted a small fry ball inside the trees and suggested they try for it. As it was such close quarters, no cast could be made, and dropping spinnerbaits and vibration lures while jigging it up and down was all they could do.
Jared's vibration lure was suddenly yanked downwards, and it was fish on. The fish was landed in a matter of seconds, with his reel on full lock down and the KOZ Expedition brute forcing the fish upwards, landing the first fish of the trip. Me and Danny on the other hand were still blind casting whilst shivering under the rain. As the sky grew darker, we began to slowly make our way back to the jetty. However, luck would have it as a 10lbs single snakehead smashed my buzzbait just slightly under 1 km from the jetty. With fallen trees all around, brute forcing the fish out meant a full locked drag on the abu revo rocket, which did not fail on me. Although many claim that river tomans fight harder, both me and jared agreed that we did not feel much of a difference compared to our usual tomans in lakes.
All in all, I believe that sg kedah still holds potential for a very unique form of toman fishing. Whether the fish here actually fight harder compared to their dam counterparts is up for debate, as it may simply be the tight quarters and heavy cover that allows us to feel the brute force of tomans on our locked down drags. However, us as anglers need to do our part, and ensure that the fish are safely released to ensure that such a gem is preserved. With troubling news from the boatmen about how rampant harvesting of 'mama' tomans by locals for food, I do wonder how long this unique fishery can last. I guess all we can do is to experience it while it still last.
Do Not Miss Another Issue