Abu Garcia Revo Ultracast BF8 Low Profile Baitcasting Reel
Introducing

I was walking about the Golden Triangle in Kuala Lumpur when this delightful looking sports car caught my attention and brought my walking to an abrupt halt. My eyes just gazed at the steel beauty that most certainly cost more than my house. I then noticed that it was not just me who stopped to take a closer look at this piece of speedy art. In fact so many people stopped and it looked as if time too has stopped. I felt like I was in the Matrix (movie).
Eye catching things has such power. They pull attention to themselves just like how a screaming baby does. Of course in this case it does not make you want to pull your hair out and shut your ears. It makes you pay attention. You want to stare. You want to feel. You want to embrace. You want to experience. In short, you just want it.
Recently, my attention was drawn towards Abu Garcia's new Revo low profile baitcasting reel. It looks sporty, and it has colours that mesmerizes. It also presses many of the right buttons. If it were to be a car parked by the side of the road, time will stop for a few seconds as those around stop to take it all in. This reel is the Abu Garcia Revo Ultracast BF8 low profile baitcasting reel.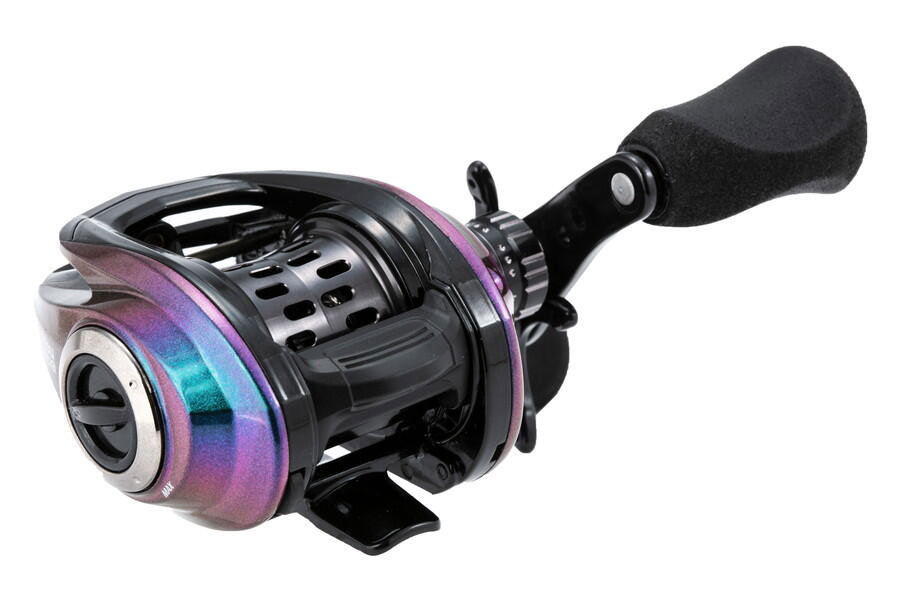 Lightweight low profile baitcasting reel.
Light And Tough
What is the point of a sporty good looking reel that is heavy and bends easily under moderate pressure? You wouldn't even use buy one if it's cheaper than a plate of fish and chips, would you? Anyway, the Abu Garcia Revo Ultracast BF8 comes with the well established built tough and yet lightweight Durametal frame.
The Durametal frame is not only lightweight and tough. It is also made to handle corrosion which means that it can be used catching fish out at sea. Of course this does not mean that you can drench it in saltwater (seawater) and just leave out to dry. You will still have to wash it down after your trip. Being able to handle corrosion means that it can handle corrosion a lot better than the usual frame.
Protected Pinion Bearing
Some of the weakest part of reels are the bearings. Some bearings do not get as much water on them as others. Those that do should be extra protected and thus the Abu Garcia Revo Ultracast BF8 comes with a Salt Shield pinion bearing that has a water repellent coating both inside the bearing and outside that repels water (saltwater) thus reducing the chances of salt crystal build-up.
Better And Smoother Performance
For better and smoother performance Abu Garcia uses well known High Performance Corrosion Resistant bearings (HPCR) which have been upgraded and redesigned for smoother performance and low rotational resistance, yet still able to handle heavy load pressure. This incredible bearing is called the Super Free HPCR Ball Bearing.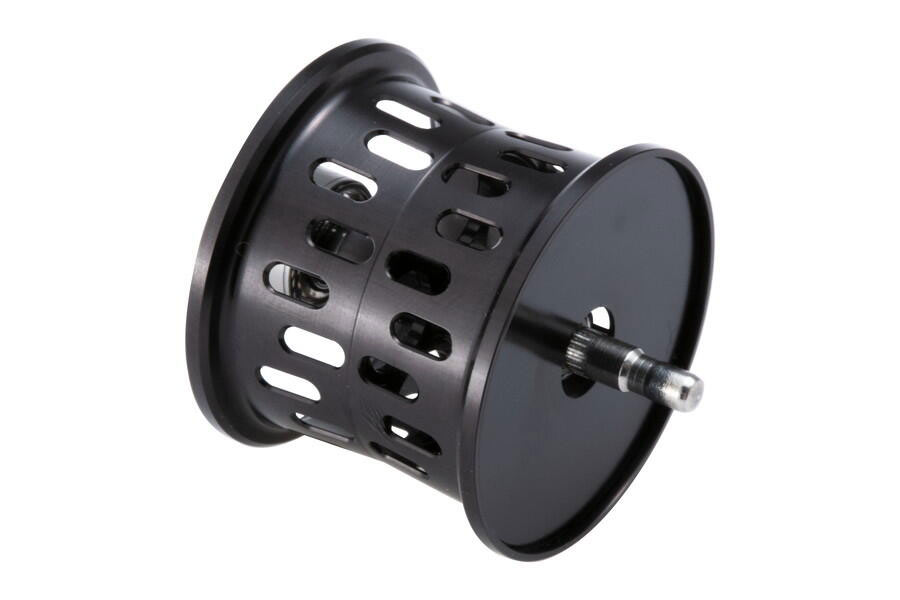 Super light duralumin spool.
Lightweight Spool
Wait, not lightweight but super lightweight spool. The weight of the spool does have an effect on the cast. The super lightweight duralumin 32mm spool not only brings the total weight down. It also provides for good casting performance; meaning further casting distances. 
Great Brakes
The Abu Garcia Revo Ultracast BF8 comes with the Magtrax III braking system that allows for very fine tuning of which helps with casting in various conditions as well as weight of lures; meaning casting light lures. Magtrax III has five magnet pockets from 3mm to 5mm thickness, and five more for 1.5mm magnets. The magnets can be removed as and when needed to suit one's casting needs.
Powerful Drag With Music To Your Ears
Those of you who enjoys the sound of a screaming reel will be delighted to know that this reel can scream. It comes with Abu Garcia's well known and proven Carbon Matrix Drag system that give out some 7kg of drag pressure, and the drag has a built in clicker that screams when the fish takes the lure (or bait) and runs.
There are many more wonderful features of the Abu Garcia Revo Ultracast BF8 making it a superb reel not just to look at, but it is also a high performer.
Saltwater compatible reel, suitable for Micro shore jigging
FW and SW bait finesse fishing style
6 HPCR™ bearings + 1 roller bearing
Lightweight at 175g
Durametal frame
Super Free HPCR Ball Bearing
Salt shield pinion Ball Bearing
Dura Gear Brass Gear
Magtrax III braking system
φ32mm spool
Infini II Spool Design
Carbon Matrix Drag & Drag Clicker
Big Flat EVA knob & 90mm crank handle
Recessed Reel Foot
Lure/Line Keeper on reel
Do Not Miss Another Issue