Another Day On Prima Lake
Action Zone – By Amirul Irfan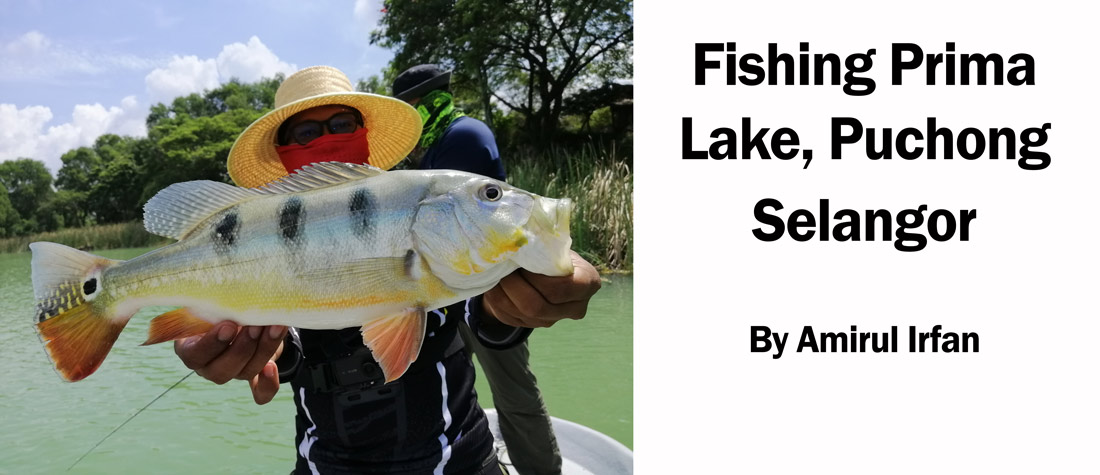 Prima Lake has always been my playground to fish for Peacock Bass in the city. Whether I'm on a personal trip to have fun or guiding clients during my semester breaks, this lake always produces results. However, some days are tougher than others. On a hot June day last year, I had the opportunity to guide two friends, Sein and Nas on their maiden trip on Prima Lake. Conditions were tough but we were ready. The game plan was to fish finesse soft plastics on carolina rigs to fool pressured fish.
We fished along the western bank of Prima lake at 8:30 AM until 10 AM with only a few bites and no fish caught. I made the call to fish other spots and changed our strategy as fish were roaming around the lake following baitfish. After a short ride to the eastern side of the lake, we began casting along grass lines near deep slopes. From sonar readings obtained from previous trips, there were some really deep slopes near grass lines and I have had success fishing these areas when fish were roaming.
Within a few casts, both Sein and Nas obtained bites. Both of them fished their carolina rigged soft plastics at a steady pace. Once they switched to a faster, erratic retrieve the bites were stronger. Finally, Sein was hooked into his first fish as noon approached. It was a thrilling fight as the fish dashed hard into the grass before being steered back out. Sein's 3lb mainline kept us in suspense until the 38cm specimen was landed. The orange 5cm soft plastic was hooked to the belly of the fish – no wonder it was a long fight! After a quick photoshoot, the fish was released strong.
With renewed spirits, the casting continued to make the best of our last hour of fishing. I caught a few small Peacock Bass on a finesse swimbait with a realistic pattern. Nas had a few bites and eventually caught his first Prima lake Peacock Bass. It was a decent fish although smaller than Sein's, but still a good size for grass lines. Nas caught his fish on a similar 5cm soft plastic to Sein's. His catch was a good ending for the half-day trip. It was a slow morning, but perseverance paid off.

Beautiful peacock bass call Prima Lake home. Left: Farhan's first of many to come. Small but a chunky fighter. Right: A battered Bass, one of the many bass we caught to end the day.
After dropping the duo at a jetty, I welcomed my clients for the evening session, Farhan and Akmal. Both of them were experienced soft plastic anglers and were regulars on Prima. We headed straight to the grass lines which produced in the morning. It didn't take long before Akmal caught a small but healthy bass. Both Farhan and Akmal were fishing small soft plastics, about half of what Sein and Nas caught their fish on. This was the key approach – sizing down.
For the next hour, we began catching more fish on various soft plastics which were below 2" in size. The bass were decent but very chunky, typical grass line fish. As the hours went by larger bass were caught as we fished different points along grass lines. At one point, we anchored at a sandy slope and caught a few fish. The afternoon sun was bright and helped us spot some commotion on the surface about 40 meters away. A red Giant Snakehead fry ball was slowly cruising and every few minutes a school of good-sized Peacock Bass had a feeding frenzy. The parent Giant Snakeheads stood no chance as the fry ball was annihilated within half an hour. Akmal made a long cast to the group of frenzying Peacock Bass and immediately caught a 39.5cm specimen on his carolina rigged 2" Air Craw.

There are other fish species in Prima Lake such as the marble goby (left). Right: Catch and release to ensure a healthy population of fish.
At 3 PM, Akmal caught a nice bass on a Zoom Brush Hog in deep water near a grass point. I cast a Brush Hog and hooked into a solid bass which opened my hook and escaped boat side. Akmal caught another solid 40cm bass before we had to switch back to 2" baits to get bites. A rocky area was our next stop, where Farhan was fast to land a quality bass on the Damiki 2" Air Craw. A trick Farhan used was to cut off the claws, creating a slimmer shrimp-like profile. Towards the end of the day, Farhan's slim version of the Air Craw produced consistently as we slowly fished more areas on the way back to the jetty.  At one point, Farhan caught good fish cast after cast. Everyone caught fish with modified Air Craws. It was a fun evening full of laughs and many fish being landed. Looking back, the common saying of match the hatch proved its truth as sizing down to smaller and slimmer profiled soft plastics did the job on this day. The fish were feeding on small baitfish and shrimps along grass and matching this was the way to get bites. Even then, the bites we had required consistent efforts before resulting in fish in our boat. Always fish with an open mind and be ready to adapt to what the fish want.
Note: we fished with sinkers ranging from 7 grams-14 grams, Chinu hooks size 1-3 and leaders between 8-12lb.
Do Not Miss Another Issue