A Different Type Of Fun – Prawn Fishing Part 2: What You Need
Action Zone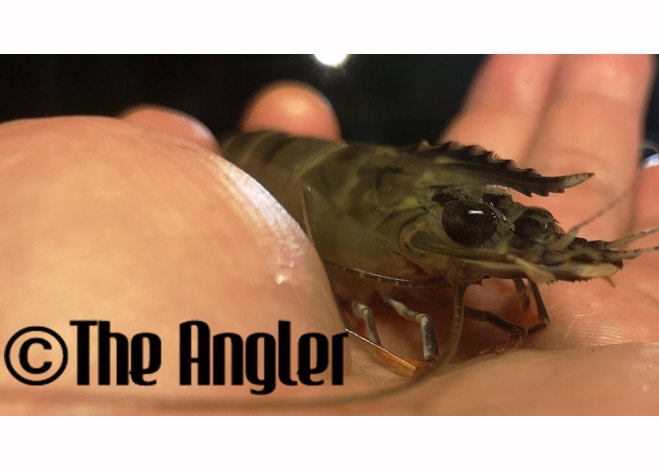 Fishing is fun. Every angler dreams of the big one. The bigger the better. A big fish landed gives the angler a lot of satisfaction and bragging rights. It is like driving a Ferrari to your high school reunion. Attention goes to you. Your friends give you more respect. Of course some turn green with envy and curse you mentally yet smile and say nice things about you. You most certainly feel good and happy. Don't deny this. I am sure you too prefer to show off big fish instead of small ones.
All said in the above paragraph is true but sometimes the small catches are a lot of fun and can be quite satisfying too. It like catching sailfish after sailfish for so many years, it is nice to catch sebaraus instead. Sometimes we long to catch something very different and prawns can be a satisfying catch. Well, prawns are certainly fun to catch. It is a different game. The feel is different. It is a whole new learning curve.
Just like fishing, anyone can take up prawning (prawn fishing). The tackle (equipment) that you will need is affordable. But before we jump into tackle, let it be known that there are generally two ways to do prawn fishing. One is at a natural environment such as a river, and the other is in a man-made pond. Both requires the use of different tackle. In this article we will look at the tackle needed for fishing in a man-made pond or pool.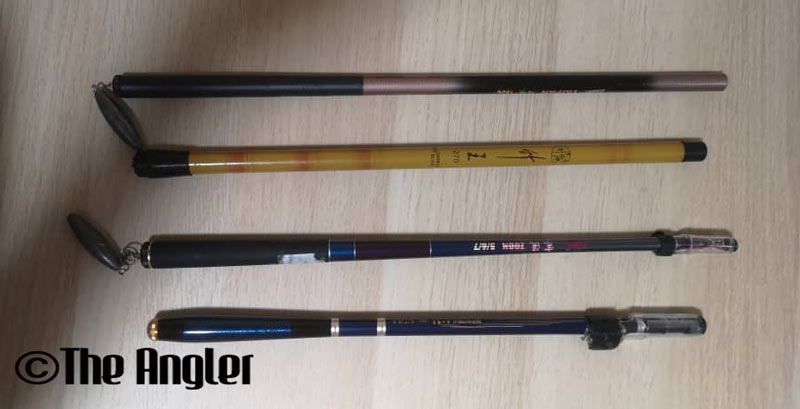 Prawning poles (telescopic).
The Pole
For prawning in a pool or manmade pond, a pole will suffice. There are a number of modern telescopic graphite poles in the market and they come in different lengths. Some of these poles can be adjusted to different lengths. They cost more but still, they are affordable.
When choosing a pole I prefer one with a softer tip. A softer tip provides for that little bit more absorption. Here is one difference when compared to fishing. A fishing rod has some amount of absorption to absorb the shock from a running fish. The absorption at the tip of a prawning pole is to absorb the shock from the angler.
I have seen and have myself been guilty of striking too hard and having the hook come off the prawn and get entangled on the beams of the roof where I am fishing. The strike has got to be just hard enough but sometimes hard enough is just a little too much. I managed to counter this issue by using a softer tip pole. The other option is to use a line with more stretch.

Telescopic pole with adjustable lengths of 6 feet to 8 feet.
Fishing Lines
Just like normal fishing; one has a choice. One can either go mono or superline. I prefer to use superline but not just any superline. I prefer lines that are smooth and have been using the Berkley Fireline fused (not braid) for its smooth coating. This is especially true if you are fishing river prawns also known as blue pincers. You do not want the appendages of the prawns sticking to your line of which can cause poor hook setting.
Mono or monofilament (mono) lines can also be used. This is where you will need to balance things out. If you are using a pole that has a very soft tip, a mono line with stretch will make setting hooks really difficult. But it is good if the pole that you are using has a stiffer tip. That balances out the amount of absorption. Note also that you will take some time to get used to the strike pressure.
The amount of line and poundage of line will depend on your preference. A 10lb line will suffice (mono or superline). As for the length; it will depend on the depth from the bottom of the pond or pool to the tip of your pole with you pole sitting horizontally on a stand.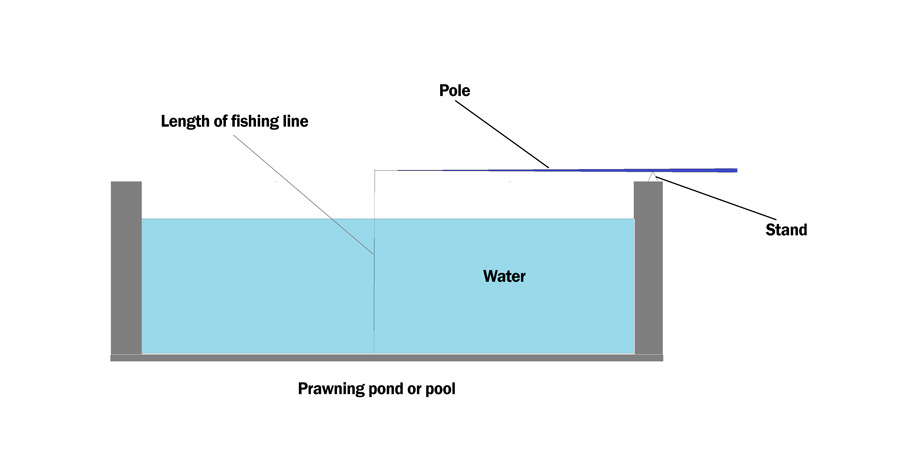 The length of the line from the tip to the bottom of the pond or pool.
Stand
This stand is simply to support your pole as it sit balanced horizontally on it while you wait for a prawn to take your bait. When a prawn takes your bait, you pole will start to move. This is when you know that a prawn is on and you must get ready to strike. There are a few things that can be used as a stand or support such as clothes peg, or a paper holder will suffice. Use plastic instead of metal to avoid scratching your pole. Also ensure that the size is right. Too small a paper holder or peg and it will not be able to grip and hold securely to the pole. Too big and it will not grip the pole.
The paper holder acts as the stand for the rod. The sinker is to help with balancing of the pole.
Prawn Hooks
The hooks used for prawning are not the same as those used for fishing. For prawning the hooks must be able to stand on the bottom of the pool or pond. It should not be lying down. This is because prawns do not simply slurp up bait. They nibble on them with their tiny mouths. If your hook is lying at the bottom, chances are you will not be able to hook onto a prawn. Size of hooks depends on what is allowed and disallowed (rules) at these ponds or pools.

Weight Or Counter Balance
With the need to balance the pole horizontally, a weight or counter balance is needed. This weight or counter balance helps you balance your pole. It will have to be secured at the butt section of your pole. Some poles come with counter balance weights while most do not. For those that don't, one will have to secure it using a tape.
Floats (Optional)
Some anglers prefer to use floats as bite indicators although I do not find it to be a necessity. But should you prefer to use floats as bite indicators; get the long ones (wagglers). These floats have less resistance compared to the round ones. Do not that prawns may drop the bait when a certain amount of resistance is felt.
Prawning is fun. These prawns are tiger prawns.
Keep Net
Most prawning places (commercial pay ponds) provide keep nets but should you decide to use your own, get one with small holes so as to not allow your catch to go free. Do note that prawns can jump and thus is will be good to get keep nets that has an opening that can be closed securely enough to not allow any prawns caught to jump out.
There you go; the items that you need to start prawning at a manmade prawning pool or pond. In the next issue we will go deeper into prawning, this time looking at some of the tackle needed for prawning in a natural area (river). Stay tuned.   
Do Not Miss Another Issue