A Journey Into The World Of Fly Fishing – Fly Tackle
Skill Building
The Beginner's guide to selecting the appropriate Fly Fishing Tackle…
When we learn to fish no matter which genre or style of fishing, there are certain fishing tackle that makes learning easier. This is important as using more user friendly tools to ease one into a skill or sport is a better way to pick up the said skill. Using one's "dream" tackle may cause more frustrations at the start and discourage some to give up learning. Imagine trying to learn to ride a motorbike on a Harley Davidson or learning to drive a car with a Ferrari; you catch my drift? Learning to cast a fly is the same. Choose an appropriate tackle that helps you with the learning. Here is what we recommend…
There are plenty to choose from. Which should I start out with? 
Fly Fishing Rod
When learning to cast a fly or when picking up fly fishing, using a rod that is easy to cast certainly goes a long way in helping you to learn. For a beginner a rod that is 8 to 9 feet long, with a mid or moderate action, will go a long way. The length of the rod makes it easy to cast without being too long where one may find things to start getting messy while the moderate action allows for an easier "load-up" or bend of the rod, which helps the angler cast out the fly line with more ease compared to a much stiffer or faster actioned rods.
A good fly rog to start with; the Fenwick Night Hawk.
Feel is also very important especially to the beginner fly angler. This allows him or her to know when to make certain actions such as to push the rod back into the opposite direction during the false cast (back and forth movement of the rod during the cast), to time the release of the line, etc. A graphite with moderate action rod allows for this feel better and is also easier to control. In Malaysia, taking into consideration the species and distances one is required to cast a fly in general, Weight 6 rods are great to start with as they are appropriate for fishing in lakes, ponds, rivers etc., able to handle average size fishes and also when the wind blows a little harder, or the need to cast a slightly bigger or heavier fly. Or maybe just for some added distance, which most fly fishers strive for.
The Fenwick Nighthawk and Pflueger Fly Reel combo is a good set to learn with.
Lines
The fly line used is determined by weight as it is the 'weight' of the line that transports a 'fly' to an intended target. As a general rule, the weight of the line corresponds with the weight of the rod. This means that if you are using a 6 weight rod, you would want to match it with a 6 weight line. Of course rules are made to be broken and we anglers break many "general rules" but for the reason of learning, let us just stick to this. A weight 6 line on a weight 6 rod allows for feel and easier control of the cast; great for learning.
Enure that the fly lines used are at least balanced with the weight rating of your fly rod. Too light and feel becomes diluted. Too heavy and things can get hard to manage.
Fly Fishing Reels
When it comes to fly reels, they are merely to contain or keep your lines… or is this really so? If so, why then the wide ranges in prices, quality, and differences in specs? Well, to me a reel is not just a container to hold lines. They also help you with playing or fighting the fish. So, even for a beginner; my recommendation is to at least get a decent reel to start with.
Of course this depends on your budget. The great thing about fishing is that anyone and everyone can partake in it no matter the budget. But for now, let us not look at brands, prices, features, but at flyreels at its most basic; a line holder. One thing to ensure is that your reel will be able to contain all the lines of your setup. These include your backing, fly line, leader, and tippet. This means that if you are going with a weight 6 setup; the reel that you should choose will accommodate lines from weight 5 to 7. This also allows you to use the reel to do some actual fishing hopefully without running out of lines.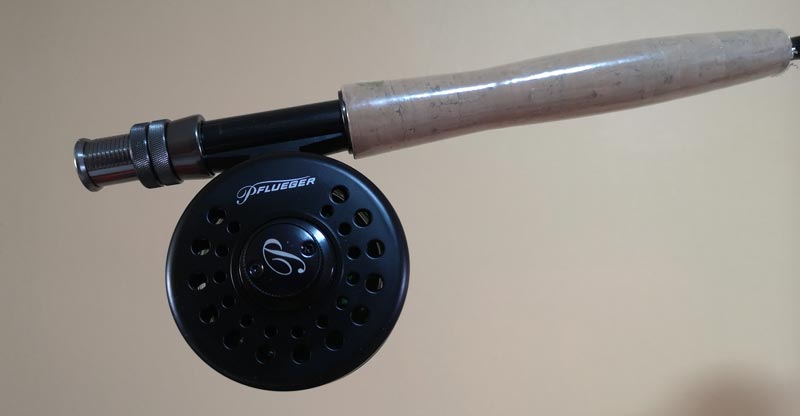 A good reel to start with; does not damage the pocket and is good enough to catch plenty of fish with.
What To Cast
Needless to say you will need something to cast and it is not advisable to learn to cast with a fly that has a hook as the hook may catch someone or even catch you when you least expect it. What you can do is to get a fly from a tackle shop or any place that sells flies, snip off the hook, and use what's left to learn fly casting. It is best to choose a fly that is visible even at a distance as this will allow you to see where the fly is (most of the time) as you learn to cast. This is important as this is how you gauge when to follow up with the next step especially when you have not gotten familiar to the feel of the rod during the cast.
These flies look so real but they may be hard to see and not the best fly to use for learning to cast flies.
With the above said, note that it is not the weight of the fly that determines the casting movements and the cast, but the weight of the line (fly line to be more exact). So, do not base learning to cast on the weight of the fly but on the weight of the line instead. Yes, it can be a confusing or an un-natural feeling at first as it goes against what we have learnt and experienced through our years of fishing. The sooner we unlearn the old mindset, the sooner we can cast flies confidently.
Learning to cast flies with the right setup (for learning) certainly makes learning easier.
There you go, some fly tackle to help you step into and begin your journey into fly fishing. Of course these recommendations are just that; recommendations. If you want to go right to that RM2,000.00 reel or rod, by all means do so. But for now, these are just to start you off. We will return to fly fishing tackle with a more in-depth look in future articles where we touch on matching the tackle to the type of fishing you intend to do.  Stay tuned for the next issue where we dive into learning to cast a fly.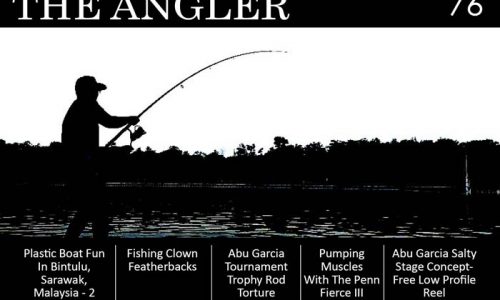 Click here to return to The Angler Issue 76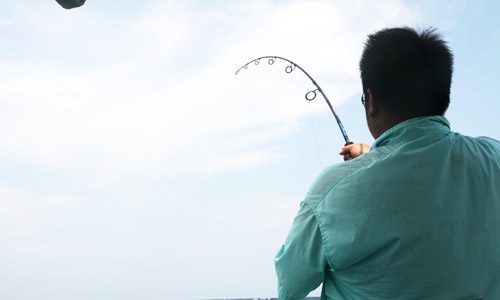 Click here to go to The Angler Magazine issues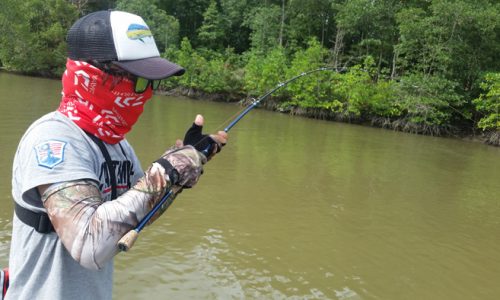 Click here to go to the main page
Do Not Miss Another Issue