Abu Garcia Ascalon III (3) Fishing Rods
Introducing

When we talk about the Abu Garcia Ascalon rod series; perhaps many of you older Abu Garcia fans will go, "what's that again?," since the Ascalon is a rod series that is merely 10 years old. The Ascalon may not be as famous as the Abu Garcia Ultracast or the Abu Garcia Tournament rods, but the Ascalon certainly has plenty of following within its segment. The Abu Garcia Ascalon rod series enjoys good support justifying Abu Garcia to launch the third generation; Abu Garcia Ascalon III.
Metallic Citrusy Candy
I like colours that standout but not too much. I think a yellow elephant looks cool but not appealing. A pastel blue one perhaps will look more appealing. What I like may not be what you like anyways, hence there are no right colours or wrong colours although a purple elephant with pink polka dots is downright obnoxious.
Lucky for us the colours of the Abu Garcia Ascalon III rod stays safe within good boundaries. It comes in black with metallic candy orange, and grey. There is just enough metallic candy orange to make it look good. Full one metallic candy orange will too put it in the obnoxious category. It'll work for a Lamborghini or a Ferrari but not a Toyota Camry, you know what I mean?
The base colour of the Ascalon III is gloss black or as some calls it; piano black. Ah, so elegant. Slapped on to this elegance are carbon fibre wrapping at the butt section of the rod for added rigidity and toughness, and carbon coil wrapping at the tip section which also provides additional toughness but with absorption and recoil power; needed when casting lures or baits and when battling a hard fighting brute of a fish.

Quality 24 ton graphite blank offers good amounts of power.
Good Proven Blank
Of course the blank is super important since it is where the power of the rod resides in. The blank also makes of breaks a rod. Wrapping aside, the base of the blank is made with 24 ton graphite. This gives the blank enough flex and absorption capabilities. It is a good balance between sensitivity and toughness. The 24 ton blank is a blank that has been long used with high quality rods within the mass market segment. It is certainly a proven blank.
Quality Components
To keep it within grasp of general anglers, the Abu Garcia Ascalon III comes with quality standard guides and quality Fuji reel seat. This provides some flexibility to anglers giving them the option to upgrade to Fuji guides as and when they want to while keeping the Fuji reel seat. After all, the reel seat is the hardest to replace as it will include the replacement of the EVA grips as well. Changing guides is certainly easier.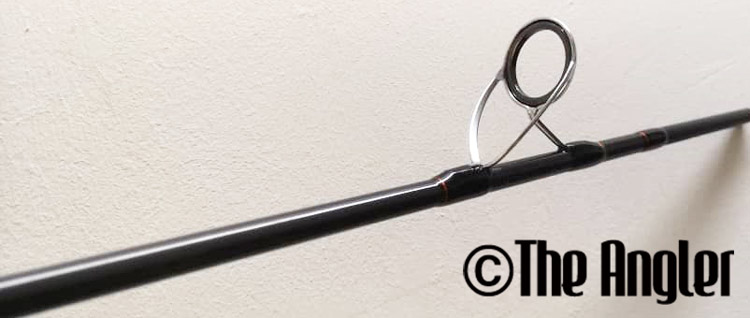 Quality Fuji reel seat and Standard guides that offers some flexibility of a lower price rod with the option to do upgrades in the future should one chooses to.
Summary
The Abu Garcia Ascalon III rod is certainly a rod that I will use. Well, I have actually used it and I will review it soon. The Ascalon III looks good, feels good, is well balanced, and is within an affordable price range. It is a good and very capable fishing rod that is tough and has good amounts of power. If you are looking to add another rod to your fishing arsenal, this here is a good one to go with.
Do Not Miss Another Issue