Getting To Know: The Abu Garcia Gambit 2 Fishing Rod
By The Angler
When the Abu Garcia Gambit fishing rod first came about, it was a good casting rod with good power. It looked nice and handled battles well. Bringing such a rod to a higher level is certainly a feat. Abu Garcia being Abu Garcia, always looks toward improving their tackle in various ways; and lo and behold, they did some magic to the Gambit. Now, we have the Abu Garcia Gambit 2 fishing rod.
[     It is like the current Fiat 500 and 500 Abarth being modern takes of the 1957 Fiat 500 Nuova.     ]
The Gambit name at the reel seat.
Improved Looks
The Abu Garcia Gambit 2 fishing rod certainly looks better. It looks more refined coming in a kind of dark maroonish red, and gold plus copper thread windings on a glossy dark greyish carbon blank. The blank is wrapped with a carbon coiled wrap for additional power. The EVA grips are black, and the reel seat is glossy piano black. The end cap is rubber with the Abu Garcia logo.
Over all the Abu Garcia Gambit 2 has a classic look with a modern feel. Well, it is a modern rod with modern components. It blank is certainly a modern proven blank made using 24 ton graphite. It is like the current Fiat 500 and 500 Abarth being modern takes of the 1957 Fiat 500 Nuova. They have the classic base look with modern fittings and power trains.

Weight And Feel
When I first picked up the rod (model: AG2C602 UL A – Ultra Light) I had this instant feeling that it was made for me. It felt right. It fits so right. The Gambit 2 rod is light weight and is very well balanced with its weight a little forward towards the tip; exactly how I like my bait casting rods to be. With my bait casting reel attached, lines in place, and lure hanging from the tip of the Gambit 2; the whole setup feels so right. Perfection for my hands.
A well balanced rod especially with the reel in place.
Components And Built
Abu Garcia uses a 24 ton graphite blank as it is the most suitable blank for fishing in our region (Asia); balancing fishing styles, types of fishes that the rod may be used for, and price range. The 24 ton graphite blank used for the Abu Garcia Gambit 2 rods are well built and provides good amounts of power, recoil, as well as lightness.
Just so you know, not all 24 ton graphite blanks are the same. The base material maybe 24 ton graphite (sheet), but the building of the blank differs factory to factory, brand to brand, and cost to cost. The Gambit 2 rod's blank are built tight and well.
The Gambit 2 comes with high quality Fuji guides that comes with the Fuji's O-Ring ceramic inserts that are tough (can easily handle the abrasive characteristics of super lines), and dissipates heat from the friction between fast moving lines and the ceramic inserts. These guides also helps with weight reduction, allowing the Gambit 2 to feel light.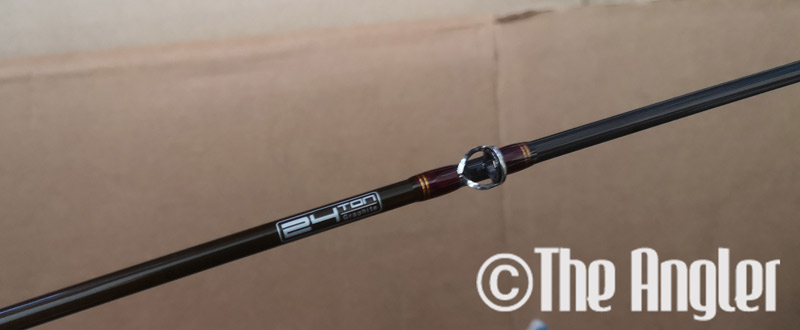 24 ton graphite blank; one of the most suitable blanks for our type of fishing. 
Other components include a quality standard reel seat with a "cut-out" section near the trigger (allowing the angler to have a constant feel of the blank – enhanced sensitivity), quality EVA grips that provides anglers with a good and comfortable grip, and a rubber end cap that provides some friction when the rod is standing on its butt end.       
Conclusion
The Abu Garcia Gambit 2 fishing rods are amazing rods for their price range. They look good and they certainly feel awesome. Built quality is really good for a rod within its price range – good value for money. As at time of writing, we have not had the opportunity to test the Gambit 2 in the field to see how it actually performs but we will soon. Be on the lookout for our field test article in future issues.
Do Not Miss Another Issue