Getting To Know: The Abu Garcia MAX Pro Spinning Reel
By The Angler
Abu Garcia's MAX reel series was and is the reel that put big smiles on faces of anglers who wanted something good but not willing to pay the price of a mid range Japanese car. They are the anglers who don't mind not using an eye catching brand (although having one will be fantastic) as long as the reel serves them well, and helps them catch fish as what reels are supposed to do. Thus why when Abu Garcia launched the MAX series reels, they jumped with joy and have been jumping since.
It is like when Mercedes Benz launched the C Class, mid level executives who have been drooling over Mercedes Benzes finally got to own one, despite sacrificing tasty food, and going into a tummy tightening mode; having to survive on bread for at least 7 years. The Abu Garcia MAX reel series put Abu Garcia reels in the hands of those who once upon a time, drooled over owning an Abu Garcia reel but did feel not feel comfortable jumping in.
Within the MAX series there are different reel models that will suit the needs of different anglers. In this article we look at the Abu Garcia MAX Pro spinning reel, a reel that not only looks good but performs well and is affordable to own.
[  Should angels go fishing, I believe that the Abu Garcia MAX Pro spinning reel will be one of their reels of choice.   ]
Beautiful pearl white colour.
Pearl White And Silver Beauty
The Abu Garcia MAX Pro comes in a pearl white body and gun metal silver spool with gold lining. It looks nice in an angelic way. Should angels go fishing, I believe that the Abu Garcia MAX Pro spinning reel will be one of their reels of choice. If you think about it from an abstract artist's point of view, it does look like an angel especially against a bright background; an angel in pearl white gown with a shiny glowing halo of gold.
The handle of the Max Pro looks so chewy. 
Lightweight
When it comes to weight, the Abu Garcia MAX Pro spinning reel  sits amongst the lightweight warriors of spinning reels. The smallest model, the Abu Garcia MAX Pro (5) weighs only 181 grams whereas the largest model (40) weighs only 272 grams. With such lightness, anglers can fish for hours longer before the feeling of fatigue sets in.
The Good Performer
Performance wise, the MAX Pro is a sleek and smooth performer. The gears and the rotor spins smoothly at every turn of the handle. Casting distance is also good thanks to its Rocket Spool Lip design that allows lines to leave the spool smoothly with minimal friction. This means that baits and lures can be cast further to cover more ground when fishing.
The Rocket Line Management System coupled with Abu Garcia's Slow Oscillation System helps lines to be laid evenly as the line is being spooled back into its touch aluminium spool. This ensures a smoother cast over and over during the duration of the fishing trip.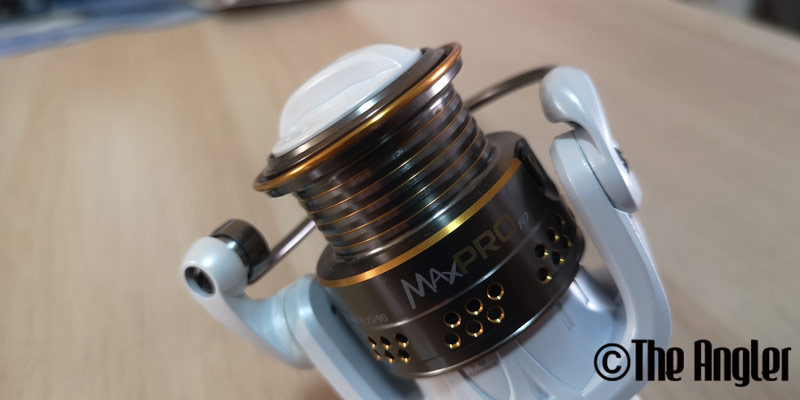 The Abu Garcia Max Pro spool.
Features
6 Ball Bearings + 1 Roller Bearing
Lightweight Graphite Body and Rotor
Machined Aluminum Spool
Everlast Bail System
Slow Oscillation
Rocket Line Management
Rocket Spool Lip Design
We have not tested out the reel at time of writing but we will doing so soon. Do look out for our field test article in a future issue. But if you are in the market for a lightweight freshwater reel, the Abu Garcia MAX Pro is certainly one to consider.
Do Not Miss Another Issue