Abu Garcia SeaCaster II Finesse
Test Drive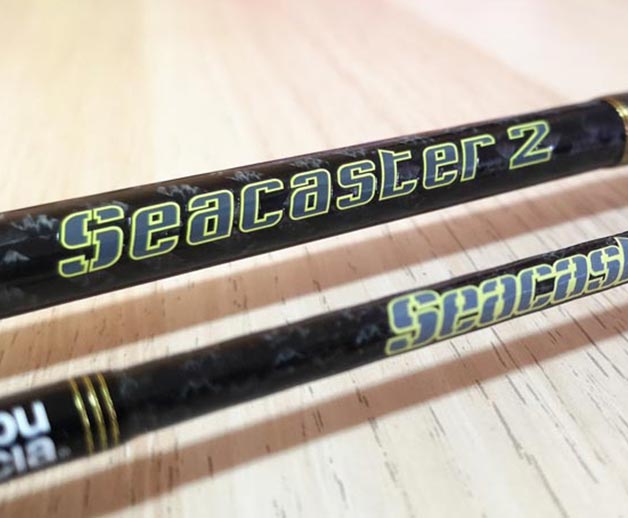 Abu Garcia Seacaster II fishing rods have been around for a while now. The latest; Abu Garcia Seacaster II was launched a few months ago (2019) and we have tested the heavier action rods with very good results. This time we test the Ultra Light Finesse model to see how it fairs in the real world.
Nicely Built
First off, the Abu Garcia Seacaster II Finesse is a rod made to fish smaller more tamed fishes; more fun fishing than tug-o-war brute fighting. With such game in mind, the folks at Abu Garcia built the Seacaster II for some serious fun. It thus comes lightweight and is well balanced.
Fun And Torture
To test the Abu Garcia Seacaster II Finesse rod we took it to our favourite testing ponds  that are located in Jugra, Selangor. These ponds are divided based on a certain type of fish in each pond. This makes fishing based on target fish species easy. During our test this time we decided to have fun with the acrobatic barramundis, and fight the hard fighting mangrove jacks, golden snappers, and tiger groupers.
Rod Brand: Abu Garcia
Series: Seacaster II
Model: SIIS662UL – Finesse
Action: Ultra Light
Length: 6′ 6″
Lure Weight: 1-7gm
Line Weight: 2-6lb
Blanks Type: Carbon Graphite

Casting
We used soft baits by Berkley during our test weighing below to a 1/4oz. On 10lb Berkley 8 Carrier main line, the Abu Garcia Seacaster II Finesse cast really well providing good distances. The tip of the Seacaster II Finesse is certainly on the softer side but it does posed no issues during the cast.
Behaviour And Feel
The softer tip of the Seacaster II Finesse managed the manipulation of the softbaits well. This means that I had no issues controlling the softbaits that I was using. I could fish them slow or fast; no issue at all. The Seacaster II Finesse is also sensitive enough to allow me to feel the terrain underwater.
Battling Fishes
Being an ultra light finesse rod, I was concerned with the rod's ability to set the hook well due to its softer tip. This was where the Berkley PowerBait and Gulp baits played an important role. Fishes tend to hold on to them longer allowing us to set the hook properly. Every time a fish took the bait the tip of the Seacaster II Finesse bent until enough pressure is felt and that is when I striked. Good hook-set every time.
We fought plenty of hard fighting fishes without issues. The rod tip, although softer since it is an ultra light finesse rod after all, had enough fighting power to take on these hard fighters. When the bend reached about 45% of the rod (measured from butt / rear EVA grip end-cap) the backbone kicks in and the power curve grows putting more and more pressure on the fishes that we fought.
We did lose control to a hard fighting mangrove jack that managed to swim towards two big PVC pipes and wrapped itself around them in a figure 8 fashion but luckily I managed to pull it out; thanks to Berkley's very smooth Ultra 8 Carrier lines that we were testing.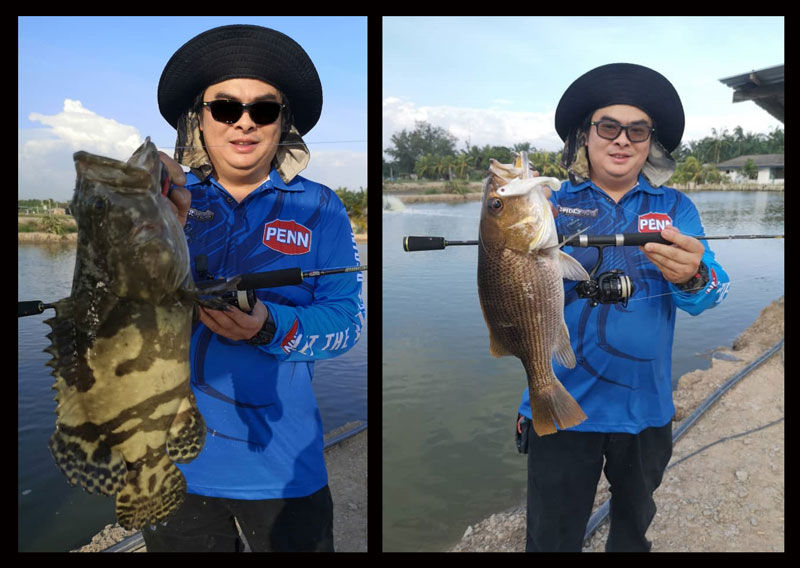 We managed to catch lots of groupers (left), golden snappers (right), and mangrove jacks.
During our test we tortured the Seacaster II Finesse well. Many a times the rod bent all the way down to about 35% (measured from butt / rear EVA grip end-cap) but the backbone had enough power to tire the fishes and bring them in. We did not lose any fish on this tackle during our test.       
Conclusion
The Abu Garcia Seacaster II Finesse rod is made for light fun fishing but it can certainly take one more serious fishes that fight hard. It cast well, is sensitive enough to allow the angler to feel the terrain, has enough power to take on hard battles, and is lightweight thus providing better comfort during long hours of fishing. It certainly is a delightful rod to have some fun with.
Tackle Used During Test
Rod Brand: Abu Garcia
Series: Seacaster II
Model: SIIS662UL – Finesse
Action: Ultra Light
Reel: Abu Garcia Revo X Spinning
Reel Model: X10
Reel Size: 1000
Main Line: Berkley Fireline Ultra 8 Carrier
Line lb: 10lb
Leader Line: Berkley Vanish
Line lb: 10lb
Baits / Lures: Berkley Powerbait Swim Shad / Berkley Powerbait Power Grub
Size: 3 inch
Hooks / Jig-heads: Owner (for Grub)
Test Conditions: Sunny afternoon with slight wind  / cloudy evening
Do Not Miss Another Issue