Abu Garcia Tournament Trophy Ultra Light Rod
Test Drive 
Abu Garcia Tournament rods have certainly been around for a long time; helping anglers catch plenty of fish from snakeheads in lakes and ponds to a variety of saltwater hooligans. In the last issue of The Angler we test drove the new Abu Garcia Tournament Trophy rod built with an Extra Heavy action. We "slayed" a good number of very hard fighting gladiators easily with it. This time we are going to the other extreme. This time we are going Ultra Light.
Rod Brand: Abu Garcia
Series: Tournament (Trophy)
Model: TTS632UL A
Action: Ultra Light
Length: 6′ 3″
Weight: 0.8 – 5gm
Line Weight: 1-4lb
Blanks Type: Carbon Graphite
Blanks Class: 24 Ton
The Bits Of It
The Abu Garcia Tournament Trophy Ultra Light rod share similar blank type and components as its monster slaying Extra Heavy brethren. Both come with quality 24 ton carbon graphite blank, Fuji O-ring guides, Fuji reel seats, and high quality EVA grips. They also come with carbon X wrapping to give them that extra power when battling fish.
24 Ton graphite blank; a fun blank that makes this rod a fun rod.
The Fishing With The Ultra Light
To field test the Abu Garcia Tournament Trophy Ultra Light rod we decided to go to the ponds in Jugra and test them against the hard fighting Golden Snappers. Being an ultra light setup, Golden Snappers will certainly be a fun challenge. After all, fishing is all about fun and not just about building data, taking photos, and creating content.
Using Berkley Powerbait Power Grub soft baits and Owner Ultra Heads jig heads; casting them was really easy. It took little effort to get them very good distances even when casting into the wind. Casting across the pond and landing our baits on the bank on the other side of the pond is easily achievable. The tip section of the Abu Garcia Tournament Trophy Ultra Light rod flexes easily and recoils well sending our baits flying with ease.
Battling a hard fighting Golden Snapper. The Abu Garcia Tournament Trophy Ultra Light rod certainly is fun to use against these hard fighters.
Setting The Hook
This bit is the tricky bit. We lost a few fish earlier in the test as we were not able to set the hook well. This was because we had the reel drag set a little too light and then a little too high. With the drag too low the Ultra Light tip did not have enough power to set the hook. Too high and the fish threw the hook upon feeling tension. So we played around with the drag setting a little until we got it right. No fish were lost thereafter.
A Golden Snapper coming up for a photo shoot session.
Managing The Fights
While the tip section of the Abu Garcia Tournament Trophy Ultra Light rod is on the softer side (general characteristics of a 24 ton graphite blank), it is by no means weak. A softer tip gives lots of absorption of which is great when using very light lines but for this sort of fishing, too light a line will also mean lots of frustrations. There are obstacles to avoid and we also must take into consideration the other anglers who are fishing the same pond as we are.
When it comes to power, the backbone kicks in at about 40% to 45% of the bend and increases gradually from them with a smooth power curve. This makes the battle really fun and satisfying as one can feel the gradual build and drop in pressure. The  Abu Garcia Tournament Trophy Ultra Light rod has no issues managing these hard fighting Golden Snappers. We landed lots of them with ease.
A Golden Snapper landed after a fun battle.
My Thoughts
The Abu Garcia Tournament Trophy Ultra Light rod is one of those rods that is fun to fish with. It is well balanced, light weight, and is nicely built. It cast well, has good amounts of absorption, ample backbone power, and a consistent power curve that makes fishing with it satisfying. It certainly is a good rod to add to one's fishing tackle line up.
Tackle Used During Test
Brand: Abu Garcia
Series: Tournament (Trophy)
Model: TTS632UL A
Action: Ultra Light
Reel: Abu Garcia SilverMax
Reel Model: SilverMax 5
Reel Size: 5
Main Line: Spiderwire Dura-4 Braid
Line lb: 10lb / 4.5kg
Leader Line: Berkley Vanish
Line lb: 10lb
Baits / Lures: Berkley Powerbait Power Grub
Size: 3 inch
Hooks / Jig-heads: Owner Ultra Heads (Jig heads)
Test Conditions: Sunny with consistent winds
Rod Features At A Glance
Light weight
Good blank with good backbone
Consistent power curve
X Wrap blank wrapping
High quality EVA handles
Tapered mid and rear EVA grip
High quality 24 Ton graphite blank
High quality Fuji O-Ring guides
High quality Fuji reel seats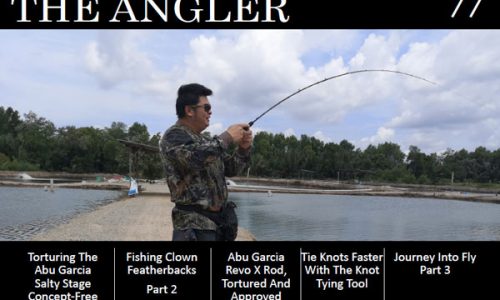 Click here to return to The Angler Issue 77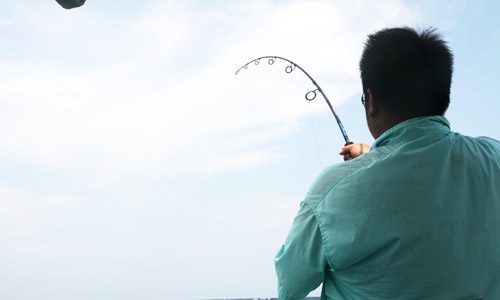 Click here to go to The Angler Magazine issues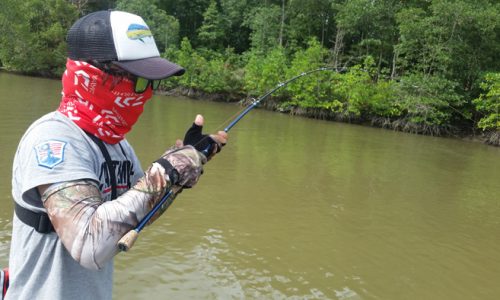 Click here to go to the main page
Do Not Miss Another Issue