Abu Garcia Ultracast 3 Fishing Rod
Test Drive
I have taken many Abu Garcia fishing rods into many battles, and they've performed well. The Abu Garcia Ultracast 3 fishing rod is no exception. The Abu Garcia Ultracast fishing rod series is a series of rods made to cast well and tackle hard fighting fishes.
The Ultracast name is well known amongst beach fishing or surfcasting anglers, especially those looking for a beach casting rod within an affordable price range. The name "Ultracast" alone suggests that these rods are made to cast far. Abu Garcia recently launched the new Ultracast fishing rod (covered in an introductory feature in an earlier issue) and as usual, we just had to torture it. 
High quality Fuji guides.
To test the new Abu Garcia Ultracast 3 fishing rods we took them to our usual field testing ground in Behrang, Perak, Malaysia. For those of you who would like to work-out those muscles fighting gladiator fishes; this pond is one pond that we highly recommend. The reason we do it here is because the fishes are obliging and we are guaranteed to be able to get field tests results good or bad.
Rod Model Tested
Rod Brand: Abu Garcia
Series: Ultracast 3
Model: UCS1002XH A
Action: Extra Heavy
Length: 10′
Lure Weight: 1/2-3oz
Line Weight: 17-40lb
Blanks Type: Carbon Graphite
Torturing the Abu Garcia Ultracast 3.
For our test we decided to use the 10 feet long, Extra Heavy (XH) model as our targetted fishing area is right at the other end of the pond and requires good casting distances. This area is where some of our intended targets hangout. It is like the "bikey" bar of the pond where tough biker gangs and in this case gangster fishes, hangout at. So, if you are looking for a bloody good fight, this here is the place to go to or send your baits to.
Good Casting
Casting our baits to the other end of the pond was easy with the Abu Garcia Ultracast 3 rod especially one that is 10 feet long. In fact there were times when our baits overshot the fishing zone and landed on the bank at the other side of the pond instead. These casts were not done on purpose. We do invite field testers to test products with us and some may have trouble judging distance.
Both angler and the Abu Garcia Ultracast 3 are being tortured.
Fighting Hard
Fighting these gladiators is no child's play. It certainly is like working out at the gym. We had a field tester who had to be motivated to give it a few more pumps (and to hang on for one more minute) before giving up. Lactic acid burn is real. Anyway, we have seen this before and we have had anglers actually gave up half way through battle (even threatening to let go of the rod if someone does not take over the torture).
Back to the fight, the Ultracast 3 performed well during the fights. Being built on a 24 ton graphite blank gives it good the ability to absorb some shock from the runs of the fish before the power of the rod's "almighty" backbone kicks in. This absorption goes in favour of the angler taking away or rather easing some of the pressure from the angler while adding pressure and resistance on the fish.
When the backbone power truly kicks in at about 65% to 70% of the rod (measured from butt), both angler and fish feels the building pressure. The harder the fish runs, the more pressure both fish and angler feels. The gladiators here can certainly exert plenty of power and all the angler has to do is to hold on to dear life and allow the backbone of the Ultracast 3 rod to manage the fight.
Most battles lasted within 8 minutes to about 15 minutes before these gladiators were landed. The Abu Garcia Ultracast 3 rod certainly fought well. It managed to turn away fishes from the danger areas (waterwheel) and it has plenty of backbone power that is consistent. It could certainly handle a lot more harder and tougher fights but if it can manage the gladiators here, it will most certainly be able to handle the gladiators that is was built to handle.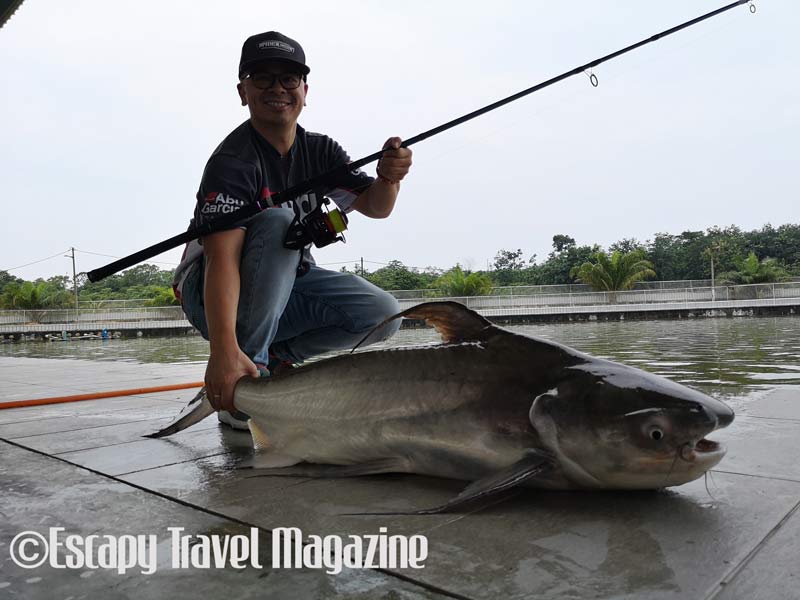 A very hard fighting gladiator; the Chao Phraya catfish came up for a photoshoot.
Overall the new Abu Garcia Ultracast 3 rod is a good package. It comes with quality accessories, a good blank with consistent power, good casting ability, is built tough, and is made to handle tough and hard fighting fishes. They are also priced at an affordable price point making them attractive to more anglers. So, if you intend to take on hard fighting saltwater gladiators, yank out monstrous giant snakeheads from darting into snags, or simply workout those muscles with hard fighting Mekong catfish; the new Abu Garcia Ultracast rods are rods that you can consider.
Rod Brand: Abu Garcia
Series: Ultracast 3
Rod Action: Extra Heavy
Reel: Penn Fierce
Reel Model: 6000
Reel Size: 6000
Main Line: Berkley Fireline Braid (Flame Green)
Line lb: 30lb
Leader Line: Berkley Vanish
Line lb: 40lb
Baits / Lures: Fish Meat / Chicken Innards
Size: N/A
Hooks / Jig-heads: Owner
Size: 7
Test Conditions: Sunny with slight wind
Rod Features At A Glance
Tough with good backbone
High quality EVA handles
High quality tapered rear EVA grip
High quality graphite blank 24 ton
High quality Fuji O-Ring guides
High quality Fuji reel seats
Do Not Miss Another Issue