Anglers in Asia especially South East Asia tend to follow Japanese fishing trends. We like rods, reels, baits, lines, etc. that come out from the land of the rising sun. Perhaps that is why we have been seeing drooling anglers talk about a certain reel that was about to hit our shores. They were talking about the Abu Garcia Roxani Powershooter low profile reel. Abu Garcia Roxani Powershooter is one of the reels designed and engineered by Abu Garcia's team in Japan.
Abu Garcia Roxani Powershooter.
I was wondering what the fuss was all about when I saw the Roxani Powershooter for the first time. It looked like any other current model low profile baitcasting reel by Abu Garcia. Nothing stands out. Even the colour looks modestly normal. But when the pawl or lever is pressed and the side plate removed, one begins to see what the oohs and ahhs are all about.
The Abu Garcia Roxani Powershooter carries the royal seal of the Swedish Royal Palace.
Imagine driving a Mercedes Benz C200 on the road and you decide to have some fun by picking a race with an unassuming Mazda Miata. A few seconds past and despite your best efforts you're asking yourself what the heck is in the hood of the small roadster that was initially made for fun and not to race. You then look into its hood and realise that an M badge sits on its engine cover accompanied by the words "M Power." The whole setup looks out of place but it kicked your butt all the way to Timbuktu. That is how the Roxani Powershooter is; normal on the outside, power on the inside.
The pawl provides entry into the awesome breaking system.
The Abu Garcia Roxani Powershooter may look like the run of the mill Abu Garcia low profile reel. On paper it doesn't even look that much different from those about its price range of which happens to fall within affordable reach. It comes with the X-Craftic corrosion resistant coating that comes in most Abu Garcia reels, 4+1 High Performance Corrosion Resistant stainless steel bearings, the proven, powerful and tough Dura Gear system, Carbon Matrix drag system, etc. Most of these are in Abu Garcia low profile reels but some things do stand out.
X-Craftic corrosion resistant side plate with Infini Brake System dial to set the magnetic braking pressure. 
Fine Tune Your Cast
The first thing one notices when one removes the side plate of the Roxani Powershooter are the 10 shining magnets that gives out a lot of magnetic forces creating a healthy flow of eddy currents that in turn adds friction to the spool. This alone makes casting and spool control very manageable. This too allows for fine tuning of the cast depending on the fishing situation. Let's just say that you're casting and suddenly the wind picks up. No worries. Just dial up the magnetic forces to make casting controllable again.
10 magnets that of the awesome Infini Brake System. 
Next there is the awesome centrifugal brakes that comes with two types of brake pressures. There are blue brake blocks that provides higher centrifugal forces of which translates to higher brake forces, and there are white brake blocks that provides lower centrifugal forces or lower brake pressure when engaged. A centrifugal braking system such as this provides even more variations of settings allowing for more control over the cast. This makes casting great including to those learning to cast a low profile bait casting reel.
Awesome centrifugal braking system with brake blocks that provide for higher pressure, lower pressure, or both together for more casting capabilities.
The Speedster
The Roxani Powershooter is indeed fast. Of course it does not have a BMW M3 engine inside but it might as well just have one. It certainly is a speedster in the world of low profile baitcasting reels. It has a gear ratio of 8.0:1 sharing the same stage as its other high-end siblings being the superb Abu Garcia Revo MGX and Abu Garcia MGX Extreme (speed wise). It certainly is good to be able to hit such speeds with the Roxani Powershooter as it comes with a 35mm forged aluminum deep spool. With such speeds one will be able to fish deeper or further covering more area faster and perhaps with a little less use of energy.
Features
Weight 242g
X-Craftic alloy frame for increased corrosion resistance
Graphite Side Plates
Infini brake system
High endurance Dura gear brass gear
High strength brass gear shaft
Aluminum forged 35 mm deep spool
95 mm long 4 mm thick crank handle arm
Lightweight EVA Middle Round Knob
4 HPCR bearings +1 roller bearing
Carbon Matrix Drag
Drag Clicker
Lure keeper
Checkout the Abu Garcia Roxani reel family.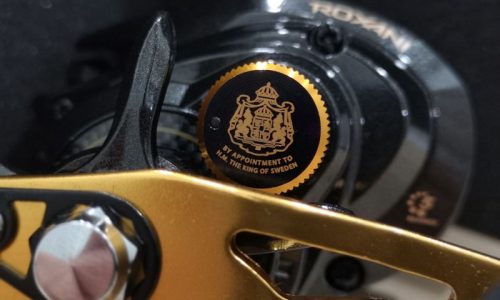 Click here to return to The Angler Magazine issue 68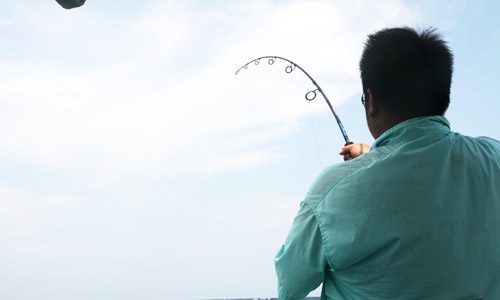 Click here to go to The Angler Magazine issues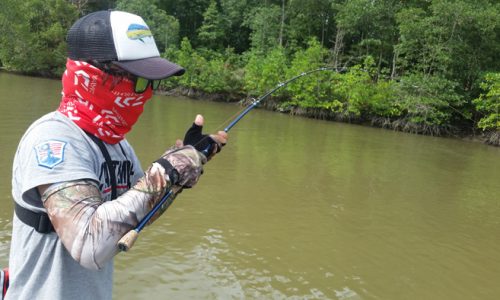 Click here to go to the main page
Do Not Miss Another Issue