Yes, we all like catching fish and fishes too like catching fish, and eating them. Since gaining that knowledge aeons ago we have decided to use lures and baits that look like fish, swim like fish, but is not really fish. While most will be happy with such a bait or lure; the folks at Berkley weren't. They went further creating baits that swim sexier than fish.
That brings me to the Berkley PowerBait Power Minnow Grub. If you're into fish fetish, this sexy swimming piece of soft plastic will leave you gasping. Drag it alone the clear shallow part of a lake and you will instantly notice how its tail swirls in the water like an exotic dancer. I have been very successful fishing with Berkley PowerBait Power Grubs perhaps because of the way they swim.
Nice looking Power Minnow Grub.
I have had barramundis take them while I was dragging them along the side of a certain pay-pond, watching the dancing of its sexy tail. Those grubs look only half as sexy as these Power Minnow Grubs yet they work so well. These Power Minnow Grubs even have holographic inserts attracting the ever watchful eyes of predators.
Not sexy enough? Let me throw in some French perhaps the sexiest language on the planet. The Berkley PowerBait Power Minnow Grub even comes with Montē dávance pour plus de commoditē or in less sexy English; pre-rigged for convenience… not just anybody's convenience but yours and mine. How thoughtful.
They do look like real fish.
The Berkley PowerBait Power Minnow Grub is no ordinary soft bait. Apart from its sexy tail movements they all come with odeur et Saveur; scent and flavour that makes fish hold on to them up to 18 times longer than other scented or unscented artificial baits. How do they know such things? Well, Berkley don't just work with professional anglers. They also employ real fish in their labs where all sorts of baits are tested.
Along with these sexy soft baits are jigheads with Mustad Ultra-Point hooks; two of which have been already pre-rigged for you right out of the pack giving you that Montē dávance pour plus de commoditē experience. Needless to say, these hooks are sharp and must be handled with care.  
Attractive colour inside that reflects some light and thus attracts fish.
Here Is what Berkley Says
Berkley PowerBait makes novice anglers good and good anglers great! Berkley scientists have spent over 25 years perfecting an irresistible scent and flavor – the exclusive PowerBait formula. Fish love PowerBait so much they hold on 18 times longer, giving you the time and confidence to Feel More Bites – Set More Hooks and Catch More Fish!      
Big EVA handle knob for better grip when cranking.
Features
Pre-rigged and ready to fish
Swimming tail action
Ideal reaction bait for bass, walleye and other predator species
Lifelike detail, 3D eyes, holographic inserts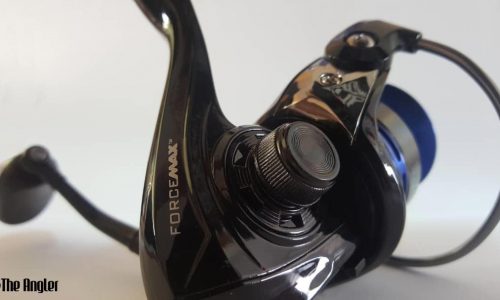 Click here to return to The Angler Issue 70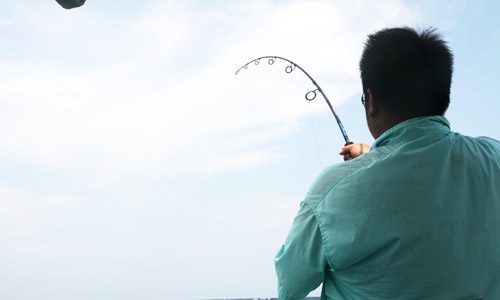 Click here to go to The Angler Magazine issues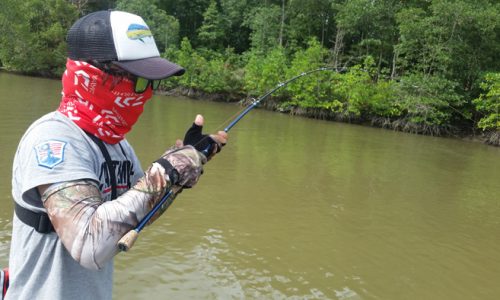 Click here to go to the main page
Do Not Miss Another Issue