Bintulu in Sarawak is a great place to fish especially for those who enjoy the battling with saltwater game fishes. In July, I was invited to join a trip targetting Spanish Mackerels with members of the Bintulu Fishing Community, a local fishing club. Members of the trip were Peyjal, Richard Kiin, Benz and Ata. I was stoked for the trip, as these guys were highly experienced saltwater anglers. We were set to fish on Peyjal's 35ft boat powered by a 150hp engine.
We launched from an old jetty at Kampung Baru.
We launched from a jetty at Bintulu's Kampung Baru at 8am, and stopped by at a market beside Kemena river to stock up on ice for our trip. We wasted no time and set out for our first stop. The seas were rough following a storm the night before, forcing us to slow down on our journey. We eventually arrived at our first stop. The waters here are about 30-40 meters and the current was fast.
Heading out to sea for some fish fighting action.
Richard started the trip with a hook up behind the boat. After a brief fight the fish popped off with a dive under the boat. It wasn't a Spanish Mackerel and he continued jigging. Within minutes he was onto another fish – this time it was a 3kg Mackerel; a good start.
Peyjal moved to the front of the boat to focus on slow jigging. Peyjal missed a good sized fish but kept trying, and he was rewarded with a grouper. The fishing remained hot as Benz hooked up another quality Mack which punished his Zen Zagan Drop Flick PE0.8-2.0 rod. Once landed, Benz let out a sigh of relief. His Viper Spike jig was tucked in the corner of the Spanish Mackerels' mouth, with his leader line touching its teeth. Spanish Mackerels are known for their razor sharp teeth, capable of cutting lines effortlessly. This was proven as we lost a total of 15-20 jigs on this trip.
A grouper landed after missing a tough fighter.
The fishing was good but it wasn't all sunshine and rainbows for Ata as he lost 3 jigs in a row. He had to re-tie his leader each time but soon he connected with a solid Spanish Mackerel on a 60g Rodford Metal Mayhem jig; the killer jig of the morning. After a quick photo session Ata connected with another two Spanish Mackerels, back to back!
Ata battling a mackerel. Non-stop action for Ata.
I decided to try slow jigging with a 10-20lb Viper Double Dragon paired with my Abu Garcia Revo Rocket reel. After a few minutes of bouncing my slow jig, I got a hit but the fish broke free. A few more drops later a small grouper came up to make my day.
Ata lent me his setup and I attempted to score my first Mack. By observing the guys, I noticed that jigging horizontally produced fewer bites compared to casting the jig out, letting it sink deep and jigging by lifting the rod high to produce a "jumping" kind of action while reeling very fast.
After adjusting my technique, the jig was hammered hard and I was on. Within seconds the weight was gone and the jig was scarred. I persisted and was rewarded with another hit, but soon the weight disappeared. As soon as the jig came in, both 220lb assists hooks were cut clean, leaving only a treble on the rear. It just wasn't my day. Ata focused on slow jigging and by noon he landed a small Long Fin Trevally/Sagai which added to our species list.
This is just not my day… 220lb PE assists hooks cut clean by feisty mackerels. 
With the sun high above our heads, the action slowed down and the hits on jigs were far in between. Richard broke the silence as he worked hard to drag a fish away from structure. The fish took his 40g Viper Stiletto jig which was bounced on the bottom. As Richard fought his fish, Benz too had a high speed hit from a Spanish Mack and they fought their fishes side by side. It ended in disappointment for Benz, as the mackerel managed to cut his leader.
Just as that happened, Peyjal's reel screamed when his 60g Viper Spike jig was hit by a solid Mack on the drop. This is where rear assist hooks help, as it can make the difference between a missed hit or a solid hook up. The fight was on and both Richard and Peyjal landed their fish at the same time. Golden Snappers are a rare catch and Richard truly deserved it.
a beautiful golden snapper caught by Richard.
For the next hour the silence was deafening. But Richard broke the silence with a decent mackerel on a 50g jig. Benz moved to the front of the boat and began fishing a 60g Rodford Drift 2 slow jig near some structures. Not long after, his PE1-3 Zen Zagan Slow Pitch rod paired with a Banax Camion reel started loading up. He fought the fish for a few minutes and up came a nice Giant Trevally.
A decent sized Spanish Mackerel and a very hard fighter.
Let's take a break for now. The excitement shall continue in The Angler magazine Issue 68. For jigging trips around Bintulu, here are some information regarding Peyjal's boat charter service:
Contact: +6016-8624732
Boat
Length: 35ft boat
Engine: 150hp 4 stroke engine
Pax: Maximum of 6 jiggers
Rates
Daytrip rates: Ranges from RM600-RM800 (Max Rm1200).Trips will be around reefs, shipwrecks and shoals.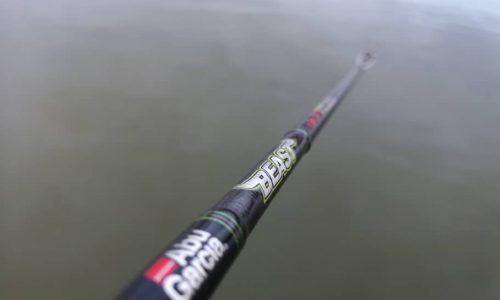 This is the latest Beast by Abu Garcia for the latest Revo range of low profile reels. We know that the Beast is one tough reel but just how tough is it really?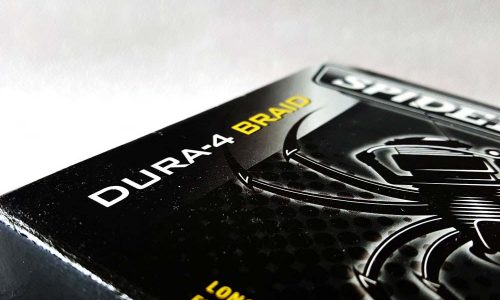 Spiderwire recently launched the Spiderwire Dura-4 Braid. We took it out on a few field testing trips to see how it would fare against the various gladiators in various waters.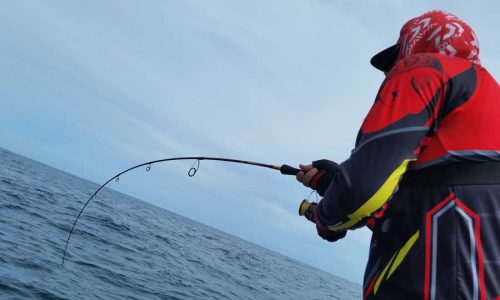 Sea fishing is always fun as the fish are hard fighters. Bintulu in Sarawak, Malaysia is one of the places to go to for some serious saltwater fishing. The gladiators will work out your arms, back, and legs. Click to read.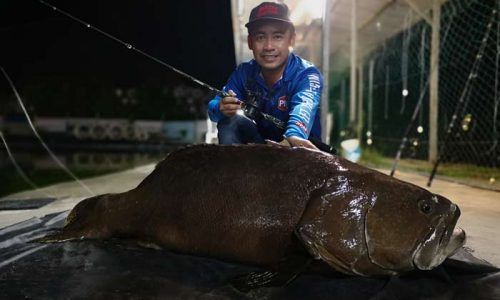 Click here to return to The Angler Magazine issue 67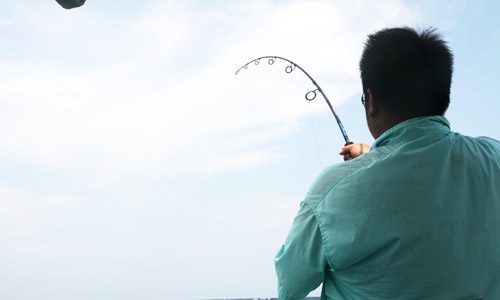 Click here to go to The Angler Magazine issues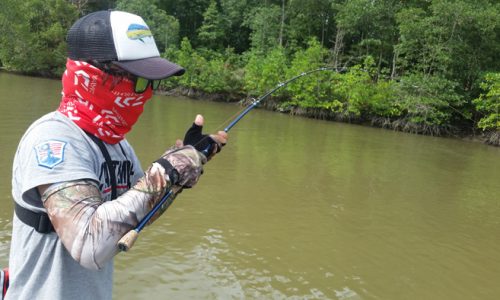 Click here to go to the main page
Do Not Miss Another Issue