This here is a continuation of Bintulu Jigging from the previous issue of The Angler magazine (Issue 67). If you missed that issue, do click the link to read Bintulu Jigging Part 1 before continuing with this article.
The bite slowed down, and we decided to make a 20 minute run to another spot. At this spot, we drifted around with Peyjal adjusting the boat's position every few minutes. Ata was quick to score a mackerel with his baitcast jigging setup. The fish put up quite a fight but Ata handled it well. At the front of the boat, Richard added a new species to the list as he brought up a small Big Eye trevally.
Benz was next in line as he connected with a big fish. The fish stripped line and pushed the limits of Benz's rod. Benz jokingly told me it was a submarine, referring to the Cobia, a species well known for making deep dives and a hard fight for anglers that hook up with one. After 20 minutes, Benz was all smiles with a nice 4.5kg cobia.
Battling a hard fighting brute.
We continued sending jigs to the bottom without any success and Peyjal decided to move to our final stop. We made a 30 minute runback to our first stop. There were 3 boats there and none seemed to have any action. Peyjal was fast to send out a 30g jig and in no time he was on a big Spanish Mackerel which eventually cut his leader. This continued as a few more jigs were lost to a pack of aggressive Mackerels.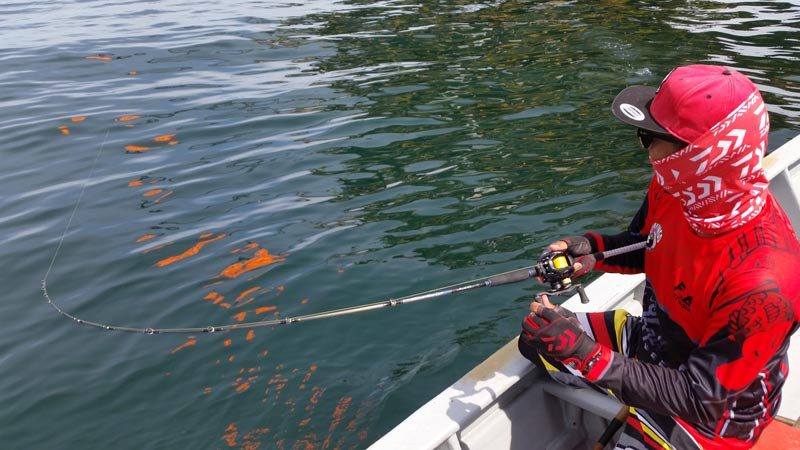 Richard began casting a Rodford Zeus sinking minnow, and after a few casts his reel screamed. Richard landed his fish and he cast out the lure again with a steady medium fast retrieve and it was hammered. Halfway through the fight, the fish managed to throw the hooks but Richard didn't mind.
At 3pm, the currents slowed which allowed smaller jigs to be fished. Smaller jigs ranging from 30-40g produced a lot of bites but were mostly taxed as they were too small for big Spanish Mackerel. We lost a few more jigs to the Mackerels so Peyjal tied on a steel leader for safety. He began fishing his 28g jig fast and within a few casts his reel was screaming. The fish made some hard runs and as it came closer to the boat, the fish made another dash. Peyjal skillfully handled the fish with his micro jigging setup and after a few tense minutes a 6kg Spanish Mackerel came to the side of our boat and was landed – making it the biggest catch of the day. Richard too scored a nice Spanish Mackerel just before we left.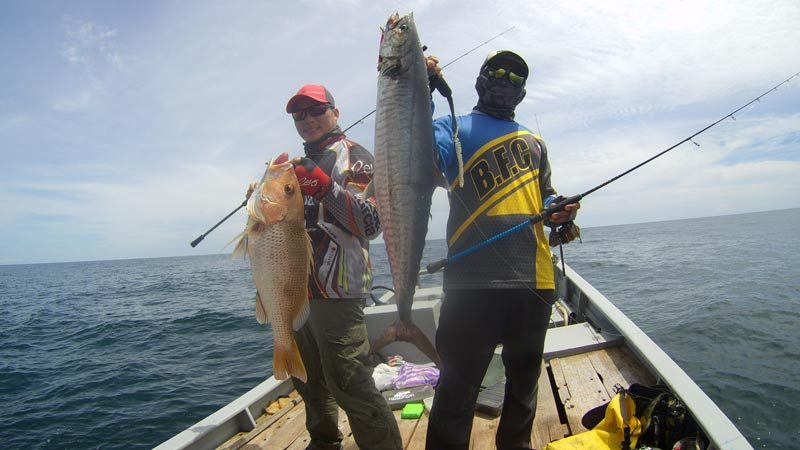 Double hook up. Richard and his big snapper. Peyjal and his Spanish Mackerel.
By 4pm, it was time to go and Peyjal made a few casts which resulted in another serious hook up. The fish fought hard and Peyjal's mainline burst, adding another jig to the taxed list. Spanish Mackerel are some seriously fun fish to catch, but their ability to cut your leader lines and steal your jigs can be tough on the wallet. We packed up and made it back to land just after 5pm.
For my first jigging trip here in Bintulu, I found it to be a fun experience. A lot was learned and I am ready for the next trip out. I talked to Peyjal about preparations for future trips and here's some of Peyjal's recommendations.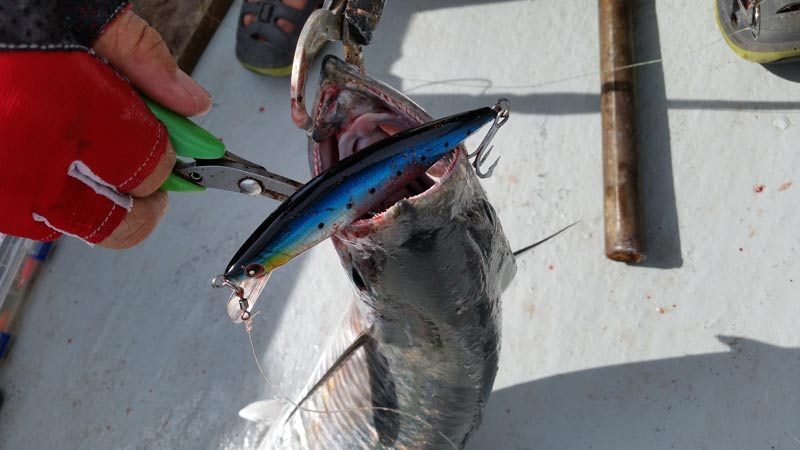 Firstly, stock up on a lot of jigs ranging from 28-40 grams. Jigs of these sizes are effective on Bintulu's pressured Spanish Mackerels and the light weight minimizes the fatigue during fast jigging sessions. Jigs ranging from 60-80g are better in the morning, when the Spanish Mackerels are hungry. Larger jigs are better as it is harder for Mackerels to tax in comparison to smaller jigs. In terms of colour, jigs with a chrome/flashy colour are the staple. Other colours can be prepared for varying water conditions.
Secondly, line poundage from 10-20lb are good as they allow smaller jigs to sink faster without being affected by the current. Leaders of around 15-30lb are good for Spanish Mackerel, and downsizing is important when fishing smaller jigs. Spanish Mackerels can cut leaders easily, so the only way to stay safe is to fish your jigs very fast.
Richard and his hard fighting mackerel. 
Thirdly, short steel leaders can be used, but the bite rate will be reduced as Spanish Mackerels are sensitive with steel leaders. Unless you find a group of aggressive Spanish Macks, a steel leader should be avoided.
Lastly, observe experienced anglers and try to imitate their techniques. Take note of what depth strikes occur, what speed and what jig colours are preferred. No angler is born with fish catching skills, it takes time and effort.
I would like to express my deepest gratitude to Peyjal, president of the Bintulu Fishing Community club for the invite and knowledge sharing. This trip has kick started my craze for jigging and I am lucky to be able to learn from some of Bintulu's finest anglers. Fast paced jigging and high speed hits, this is the path of no return.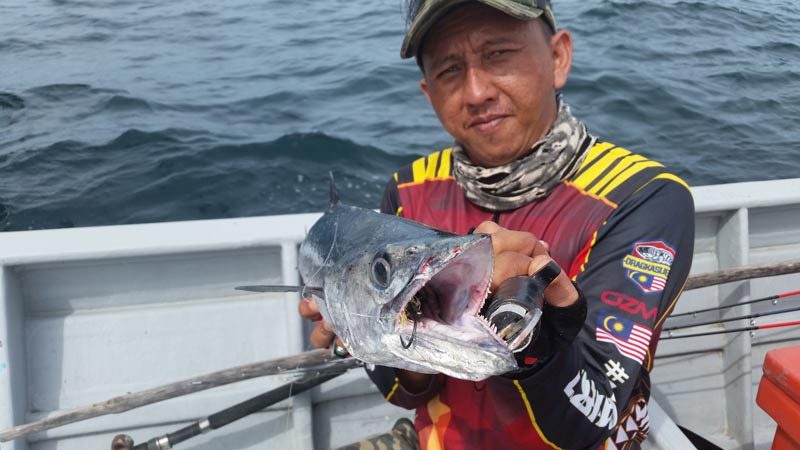 For jigging trips around Bintulu, here are some information regarding Peyjal's boat charter service:
Contact: +6016-8624732
Boat
Length: 35ft boat
Engine: 150hp 4 stroke engine
Pax: Maximum of 6 jiggers
Daytrip rates: Ranges from RM600-RM800 (Max Rm1200).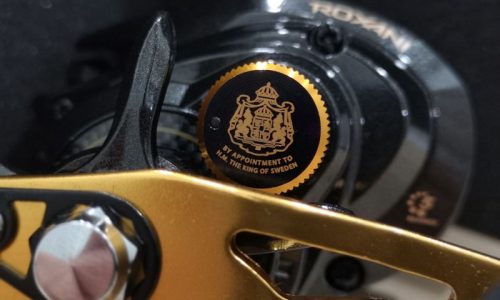 Click here to return to The Angler Magazine issue 68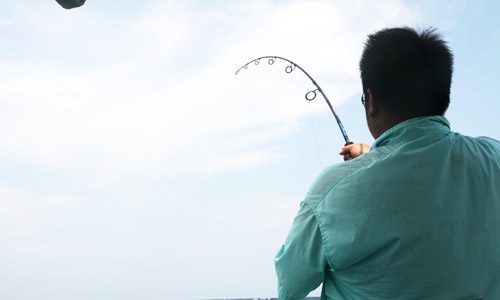 Click here to go to The Angler Magazine issues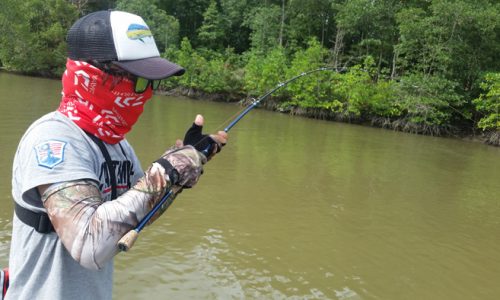 Click here to go to the main page
Do Not Miss Another Issue