By : Amirul Irfan Bin Ahmad Rafee
Photos: Amirul Irfan, Pue, Zildjian
After a 5 month hiatus from fishing, I had a serious itch to get back on the water. Following my exciting experiences of fishing in Bintulu back in 2018, I found myself back on the offshore waters of Bintulu recently. With Spanish Mackerel season starting soon (May-June), anglers begin to book boats to have a go for them and other species since the passing of the North East monsoon means calm and ideal conditions for fishing.
On Sunday, 14th April a trip was organized to fish reefs about 25 nautical miles off the coast of Bintulu. Members of the trip were Jul, Wan, Patrick, Shah, Zam, Zeal, yours truly and Pue as our boatman. These guys were hardcore jiggers with the exception of Zam who was embarking on his first jigging trip. I never put expectations on fishing trips but with these guys on the boat, I expected some serious action.
In battle with a hard fighting fish is super fun especially out at sea where the fishes fight harder.
On the previous day, I was out jigging reefs with a group of anglers who were relatively new to jigging and we had good results. A thought lurked on my mind – imagine the same conditions and good fishing with experienced anglers. Would things turn out as I envisioned?
We left the mouth of Kemena river at 8:30am and reached our first spot at 9:15am. Our plan for the day was to fish a mix of rocky reefs, coral reefs and shipwrecks. Pue was very proactive in repositioning our boat and moving to different points on a reef when the bites were slow. Patrick started our session with a Red Snapper on a jig. He continued to score a couple of small reef species such as Snappers and groupers.
Everyone started fishing slow jigs but jigs kept getting cut on the way down. This was a sign of Spanish Mackerel patrolling the area and sure enough, Patrick landed a juvenile Spanish Mackerel on a jig. The focus on slow jigging was shifted to speed jigs and more juvenile Spanish Macks were landed. This pattern kept going for an hour until we moved to a rocky reef area with a depth ranging from 19-23 meters. The boat was positioned to attack the reef from various positions such as starting from the head of the current and slowly drifting down the reef, the edges/ledges of the reef and the end of a reef.
Patrick and his red snapper, the first fish of the day.
If bites were good, the boat would be repositioned to drift over the same area again. At 10:45am, we drifted over the edge of the reef and all hell broke loose. With 6 anglers on the boat, we covered a few techniques which were speed jigging, slow jigging and casting with heavy sinking minnows. The sun was high up and Spanish Mackerels and Giant Trevallies could be seen chasing jigs and minnows up until the boat.
Zild connected with a small Spanish Mack in no time with a speed jig while the others had a few jigs taxed on the way down. Zam had two hook ups with solid Spanish Mackerels but unfortunately his assist hooks were sliced by the razor sharp teeth of Spanish Macks. Jul then cast out a 40g sinking minnow and 5 seconds into letting it sink, a solid take occurred and he gave quick hooksets followed by his Shimano Stella SW XG 5000 screaming. His PE1.2-2.0 rod was fully loaded and everyone knew a big fish was at the end of the line. 10 minutes into the fight and the fish showed no signs of giving up.
Zild with one of the many juvenile Spanish Mackerels landed on the trip. 
Meanwhile, at the front of the boat Zild and Patrick were on a double hook of high speed fish. After a brief fight Zild landed a solid Spanish Mackerel with a heavy sinking minnow and Patrick landed a nice Skipjack Tuna on a speed jig. As the duo were having a photo session, Jul's beast finally showed itself after 20 minutes but it was not ready to surrender. It took another 5 minutes for Jul to fight the Giant Trevally up and everyone was ecstatic when the nearly 10kg beast was brought on deck.
Jul's hard earned trophy & personal best record; nearly touching the 10kg mark.
The boat was repositioned to drift over the same area again and it resulted in a triple hook up on GTs for Wan, Patrick and Zam. With light jigging setups, all three took around 15 minutes to land their GTs. The action continued with more jigs and heavy sinking minnows being cut off on the drop.
Zild and Shah then hooked up with more nice Spanish Macks on speedjigs. A mixed bag of species were landed by everyone (Needlefish, Barracuda and other reef species) but the true excitement came when pelagic species were hooked. Seeing all the action going on, I switched to a 40g speed jig and fished it off the bottom with a jerk-jerk-jerk-pause and repeat motion.
What a party. Triple hookup; three GTs came up together at almost the same time. 
About a few minutes of jigging I had a hard thump on the jig about 5-6 meters from the seafloor followed by my 20lb Berkley X9 line getting peeled off my Abu Garcia Roxani Powershooter reel. The fighting style was unfamiliar to me and after 10 minutes the fish came up, it was a Cobia! It gave long runs with a lot of weight. Each time it surfaced near the boat, it would continue to make another long run down into the depths. After 3-4 times of surfacing, the Cobia was finally landed to be my first.
While I was fighting the Cobia, Zam hooked onto a big fish in the back while fishing his jig in the same motion I did. His reel screamed as line was peeled on the first run followed by a heavy weight on the end of the line. It seemed like a different species from how the fight was and Pue had a smirk on his face as he watched the battle going on in front of him. In 15 minutes, a silver diamond shaped fish came up from the depths and everyone cheered as it was finally landed. It was a solid Diamond Trevally, pushing 5kgs. It was Zam's first jigging trip and he scored such a rare catch for the waters of Bintulu.
A nice hard fighting diamond trevally made it up for photos.
While Zam and I were having a photo session with our personal trophies, Wan was busy working his Rodford Drift slowjig at the back. In a few minutes his reel screamed and his rod was fully loaded on a long initial run and heavy weight. It was an entertaining fight as Wan skillfully coaxed the fish up with his light jigging setup. It took 15-20 minutes and high fives were in the air when it was landed. A second Diamond Trevally, nearly the same size as Zam's! Wan seemed to be in a state of disbelief as the last time he caught a Diamond Trevally/Ebek was 2 years ago.
It was 1pm and we had another hour over the current reef before slowly moving back to land before strong winds and rough waves hit around 3pm. I sent a 40g jig down and fished it fast off the bottom for about 15 minutes before I hooked onto a nice Spanish Mackerel. It peeled some line and the clicker of the Roxani Powershooter produced some 'reel music.' The fish was landed in no time and we began our move back to land with pit stops at a few other reefs and shipwrecks which only produced some small reef species and pelagics for all of us. Zam had a decent hook up but the fish, believed to be a decent Giant Trevally fought hard and made it to structure.
Fighting a hard fighting gladiator at the reefs of Bintulu.
We arrived back at Kemena river near 5pm just in time to escape the wind and rough seas. It was a fantastic Sunday for all of us, with everyone catching decent fish. Both slow jigging and speed jigging produced fish but with the abundance of pelagic species around the reef – speed jigging was better.
Jigs ranging between 40-60g worked well following a steady current. Most of our hook ups occurred on the ledges of reefs and the way Pue positioned the boat to drift past over high percentage areas crucial to our success. Hook ups occurred around the middle of the water column, a common thing for pelagic species. We had a lot of fish landed and lost a few as well but that's a normal day of fishing especially for Spanish Mackerels. On the bright side, the abundance of juvenile Spanish Mackerel is a sign of good times to come. I wish I could be back in Bintulu to fish when the peak season begins and Spanish Macks ranging from 6-9kgs begin to patrol the reefs.
Double hook up; a skip jack tuna and a Spanish Mackerel.
When fishing the reefs of Bintulu, it is best to be armed with slow jigging and speed jigging setups to cover both situations when needed. The power of the setup goes down to one's personal preference and on this trip I could see a lot of joy coming from fights on light jigging setups. Anglers should also be prepared with a lot of assist hooks and jigs because when Spanish Mackerels are around, you will lose a lot of assist hooks and jigs. Even large heavy sinking minnows were cut off while sinking down to the preferred depths.
That's all for this trip, thank you for reading and see you in the next article!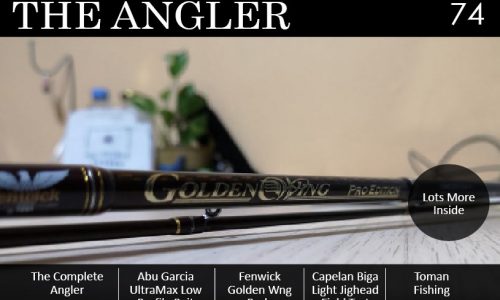 Click here to return to The Angler Issue 74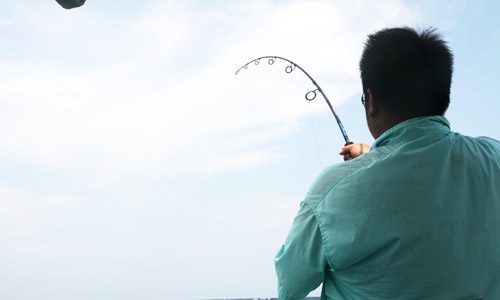 Click here to go to The Angler Magazine issues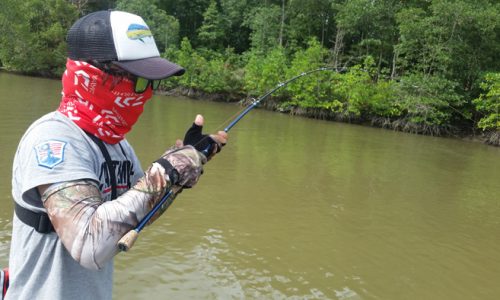 Click here to go to the main page
Do Not Miss Another Issue