Black Bass Hunt in Sri Ganda, Sabah
By: Amirul Irfan Bin Ahmad Rafee
Photos: Amirul Irfan, Altaff Asmar
Sri Ganda, Kinabatangan, Sabah is one of Malaysia's Black Bass fishing hotspots. Every year anglers visit from around the globe for a chance to go head-to-head with the Black bass. Also known as the Papuan Black Snapper (Lutjanus goldiei), the Black Bass is regarded among anglers as one of the hardest fighting freshwater fish in the world. Back in 2017, I planned a trip to Sri Ganda which had to be cancelled due to bad weather conditions. Since then fishing there became a mission I had to complete.
Quite A Journey
Fast forward to July 2019, I found myself at Sandakan airport to meet my fishing partner, Altaff Asmar. We stocked up on some basic needs and immediately began our five-hour drive to Sri Ganda. The journey was smooth except for the gravel and dirt road which made up the last two hours before reaching Kampung Sri Ganda. Upon arrival, we came upon Eping, the head guide of Sri Ganda at the jetty. He had a few freshly caught Mangrove Jacks for dinner that night. We also met another two groups of anglers who were on their second or third day of fishing. Over dinner, we were informed that conditions were tough following consistent rain upstream which flows down into the Kinabatangan River delta.
Fun With Archers
After a few casts the next morning, I realized how tough things were going to be. Lures that just came out of the water felt as if they were dipped in an icebox. Every spot we visited had cold, murky water with a lot of floating debris. Fishing is always unpredictable and as anglers, we marched through making casts and trolling with deep diving crankbaits along the endless banks of Nipa palms. The only action we had for the morning of Day 1 was a juvenile Barracuda for me and a nice Malabar Grouper for Altaff on a trolled Rapala Tail Dancer. During our lunch break, we bumped into David and Chan of Monstercraft Fishing. After some lunch and napping, we had a fishing competition targeting Archerfish. Altaff emerged champion thanks to the powerful scent of Berkley Gulp.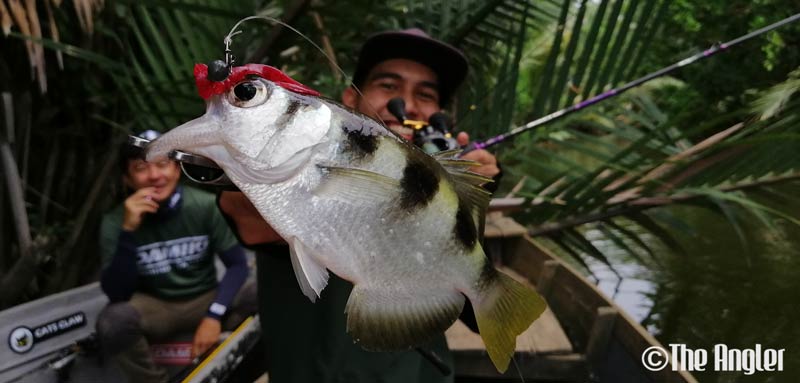 The second half of Day 1 continued with bad weather. Casting and trolling continued with no success. We called it a day once lightning appeared – safety first, always. We spent the night learning from regular visitors to Sri Ganda – a group of anglers from Kuching. They caught some Mangrove Jack, Groupers and had only one encounter with a Black Bass which ended with a broken rod and line. We picked up some good pointers which would ultimately help us on Day 2.
The Mission Continues
The next morning, we bid farewell as the group of anglers from Kuching left for Sebatik Island to continue their Black Bass hunt while Altaff and I continued our mission on the Kinabatangan river. We spent two hours of casting and trolling across many areas only to be rewarded with one small Orange Spotted Grouper. The next few hours went by without any action apart from us dozing off while trolling some deep diving crankbaits in cold and gloomy weather. As noon approached, I asked Ridzuan, our boatman to bring us away from the larger tributaries that we have fished as advised by the anglers from Kuching. We changed strategy and targeted smaller tributaries.
The Fun Kicks Into High Gear
A ray of hope came as the sun shined through and a tide change occurred. We entered a small tributary with less turbid water. As the tide receded it seemed as if a switch was flicked which turned on fish activity. The water was warmer than usual, and bites were felt as we sent our small jerk baits and crankbaits under mangrove prop roots. Altaff landed a nice Malabar grouper by fishing his crankbait along a fallen tree while I landed a small Mangrove Jack on a jerk bait. I used the lighter of my two setups consisting of the 10-30lb Abu Garcia Seacaster II bait cast rod paired with the Abu Garcia Revo S and 40lb Berkley X5 braided line to fish this tributary. A 10-30lb rod is not exactly light but when Black Bass are around, you never know. Although the setup was overkill for this situation, it was great to feel the sensitivity of the rod and the X5 braid which picked up bites from small Mangrove Jacks.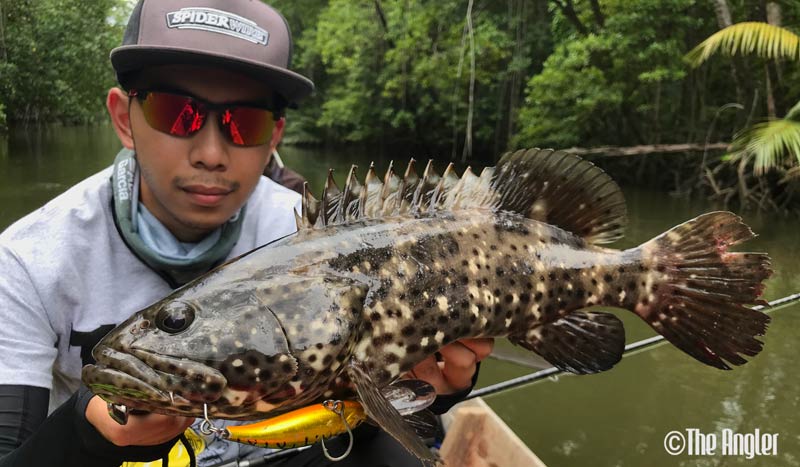 A grouper; one of the denizens here.
At 1 p.m, we worked hard to fish every snag we came across as we had to leave soon. On one of my last casts, my Imakatsu Kicker Eater jerk bait landed perfectly behind some overhanging mangrove roots and within a few twitches, it was hit hard. I assumed a decent Mangrove Jack was on from the pressure felt as the fish kept tried to turn back into snags however the rod was too strong for it. As the fish surfaced, the yellow tail, dark brown body, and vertical white bars proved my assumption wrong. Mission accomplished!
Tag And Release
After some quick photos, the small Black Bass was tagged before being released. The tag number is MY-F000421. If you happen to catch this specimen, report the length and weight to www.fishntag.com. With spirits high, fishing continued as we slowly made our way back to Kampung Sri Ganda. A few small Mangrove Jacks were landed on the Imakatsu jerk bait, and we went home with an icebox of groupers for dinner. Take what you need and release the rest. Overall this trip was fun. It was great to travel to this part of Sabah, meet new friends, and enjoy some fishing. The weather was unpleasant, but things panned out well. Eping's homestay service was fantastic. The food we had over the two days was just as memorable as the scenery and the fishing. Get in touch with Eping if you're keen on chasing Black Bass in Sri Ganda. I will be back one day for an upgrade.
Thanks for reading!
Do Not Miss Another Issue