Caperlan TP RD Colo Test Drive
Jig-heads are certainly not the cheapest fishing tackle around. In fact they cost a lot, especially the good and branded ones. Why do they cost so much? Well, it all boils down to materials used and economics; demand and supply. Anyway, not so long ago we came across some affordable jig-heads and decided to give them a go to see how they would fair. They are the Caperlan TP RD Colo jig-heads that are sold in Decathlon; your "more or less" one stop outdoors and sporting goods store.
The Caperlan TP RD Colo Jig-Heads.
We introduced them in an article a few issues ago and in this article we share our "test drive" report with you. To test these al-cheapo jig-heads we headed to one of our favourite test ponds in Jugra, Selangor (Malaysia). Jugra is a coastal town in Selangor with a few "pay to fish" ponds that I highly recommend you to checkout should you be itching for a fight with some finned gladiators.
We usually head for the barramundi ponds but they were closed for maintenance during our visit and thus we decided to go for the harder fighting mangrove jacks. Using Berkley Powerbait soft baits as baits we attracted lots of takers and fight after fight ensued.
These jig-heads are light on the pocket.
Ease Of Setting Hook
It is one thing to be able to trick the fish into taking your bait or lure. It is another thing to set the hook.  The Caperlan TP RD Colo jig-head came sharpened. The thing about cheap hooks is that they lose their sharpness after a while of fishing. I paid close attention to this. When the first fish took the bait I striked and the battle ensued. Setting the hook was not a problem. Even after the second, third, and the fourth fish I had no issues with setting the hook. 
It was on the fifth and sixth take that I started losing fish. After losing the sixth fish I check the hook and noticed that it did not latch on to my thumbnail as it did fresh off the pack. I replaced it with another jig-head (also a Caperlan TP RD Colo jig-head) and started landing fish again.
Caught a few good size fishes with them. Held on to the fishes well.
Fish Holding Performance
Needless to say, a hook must be able to hold on to the fish during battles when good amounts of pressure and tension are placed on the fish. The hook should not bend open or break during these times. The Caperlan TP RD Colo jig-head had no issues holding on to the fishes during the fight. The fights were rather hard but the pressure on the hook was not enough to bend them open.
Note that the tackle used during our test was on ultra light gears and thus the pressure is not optimal.
Left: The hook started out sharp but…. Right: got blunt after a few fights.
Over All Performance
Well, during our test one of the Caperlan TP RD Colo jig-head hooks did go dull and we did not get good hook sets but that was after successfully hooking up and landing four fishes. Taking into consideration the price of the jig-head and the performance; I must say that it did decently well. Sharp out of the pack and going blunt after four fishes; not too shabby. So, if you want to save money and use cheaper a cheaper jig-head, you can. Just bring along a hook sharpener on your fishing trips.
The Caperlan TP RD Colo Jig-Heads in the pack that they come in.
Tackle Used During Test
Rod: Fenwick Albatross ALBS632UL IA
Rod Action: Ultra Light
Reel: Abu Garcia SilverMax
Reel Model: SilverMax 5
Reel Size: 5
Main Line: Spiderwire Dura-4 Braid
Line lb: 10lb / 4.5kg
Leader Line: Berkley Vanish
Line lb: 10lb
Baits / Lures: Berkley Powerbait Realistix Power Minnow
Size: 3″
Hooks / Jig-heads: Caperlan TP RD Colo
Weight: 7g
Test Conditions: Sunny and windy
Rod Features At A Glance
Coloured or painted sinker (black, yellow, greyish green, pearl white, and red)
Sharp hooks
Economically priced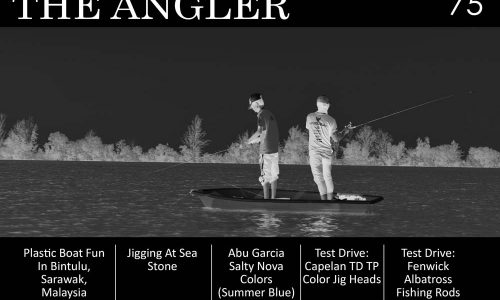 Click here to return to The Angler Issue 75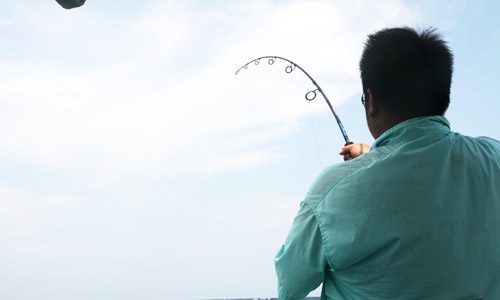 Click here to go to The Angler Magazine issues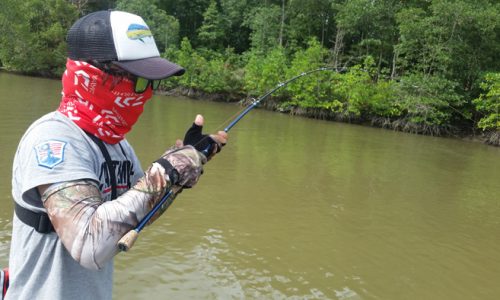 Click here to go to the main page
Do Not Miss Another Issue