Fenwick, the name where the graphite fishing rod comes from. Fenwick invented the graphite fishing rod many years ago and till this day, they continue to make high quality fishing rods. One of the latest fishing rods from Fenwick is the Fenwick Albatross; a series of well built rods that are made to perform well.  
High quality Fuji reel seat.
Colours And Cosmetics At A Glance
Black EVA with silver rings
Black end cap with Fenwick logo
Brown natural cork
Dark metallic blue blank with silver guide windings
Blue carbon sticker with silver windings
Grey graphite reel seat with Fuji logo
Silver guide foot with brownish black inserts
Natural cork handle provides for better grip.
Hybrid Grips
The Fenwick Albatross fishing rod comes with natural cork as well as EVA handles. This gives the Fenwick Albatross a classic yet modern look. But there is more this. Looks aside, the natural cork grip soaks water better than EVA thus providing the angler with better grip; an important factor during hard fighting battles.
EVA on the other hand can take on more abuse as compared to natural cork. Using EVA for the fore grip and rear handle makes sense. These areas are mainly supports and is seldom held by the angler during battles. The rear handles are usually held when casting and the fore EVA grip is used when tightening the reel seat in and sometimes as support during hard battles.
A rubber end cap allows the rod to stand on the ground without having to worry about dirt as it is washable.
Rubber End Cap
As anglers we tend to stand our rods on their rear ends. A rubber end cap certainly makes more sense as compared to EVA, cork, metal, etc. The reason that a rubber end cap makes more sense is because rubber provides for a better grip. Rubber does not soak water as natural cork does, will not damage as easily as metal (aluminium) end caps do, and they last a long time.
High quality high carbon rod blank.
Lightweight And Well Balanced
The Fenwick Albatross comes with a high quality IM7 Nano blank that is made using a high carbon content. This not only provides for a lighter rod but also a more sensitive rod. The Albatross feels weightless when placed horizontally. The one I have is the Ultra Light action one of which is even lighter. Weight aside, the Albatross is well balanced.
The Fenwick Albatross comes with a blank that is rated IM7 Nano.
Quality Components
Quality is important. To complement the high quality and high performance blank; the Fenwick Albatross comes with high quality guides from Fuji. These guides are tougher and more durable than the normal guides. They also dissipate heat well thus providing for better casts and longer lifespan of lines.
Another quality part used in the Fenwick Albatross is the reel seat. The Fenwick Albatross comes with high quality Fuji reel seats. This is important as Fuji reel seats have been proven to be durable and they grip on to reels really well without coming loose. This provides the angler with confidence during hard battles.
High quality Fuji guides.
Overall
I like the feel of the Fenwick Albatross. It feels very light (note again that mine is an Ultra Light action model), well balanced, and it comes with high quality components. All these are great and together with the high performance IM7 Nano high carbon blank; the Fenwick Albatross certainly is a complete high performance package. I have not tested the rod out in the field yet but I look forward to giving it some torture to see how well it really performs.
Features At A Glance
Cork handle /  grip for better grip
Split handle / grip design
EVA support handles (Fore and rear grip)
High quality IM7 Nano carbon blank
High quality Fuji guides
High quality Fuji reel seats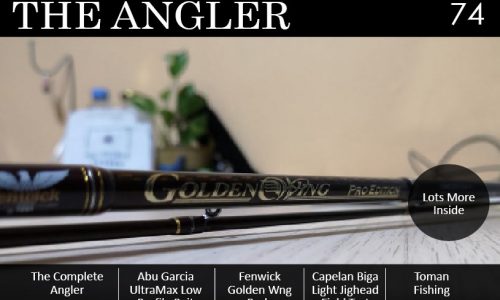 Click here to return to The Angler Issue 74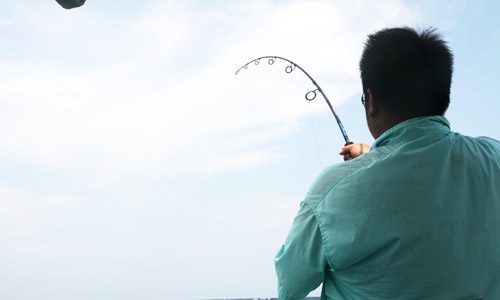 Click here to go to The Angler Magazine issues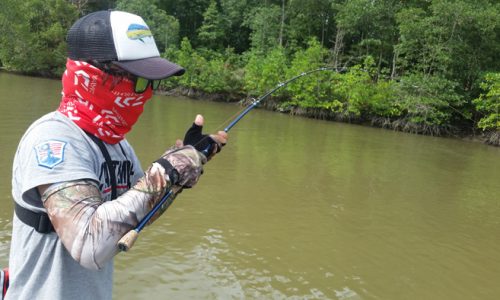 Click here to go to the main page
Do Not Miss Another Issue