Fenwick Albatross Test Drive
In the last issue we introduced the Fenwick Albatross rod, a fine rod. We then took for a "test drive" at one of our favourite test ponds to have some fun with it (another way to say "torture it" but is a sensible and controlled way) and to see how it performs in the real world. The one we tested is the ultra light model (specs below):
Rod Brand: Fenwick
Series: Albatross
Model: ALBS632UL IA
Action: Ultra Light
Length: 6'3″
Weight: 1-6gm
Line Weight: 1-4lb
Blanks Type: Carbon Graphite (Nano High Carbon)
Blanks Class: IM7  
A rubber end cap, the most practical kind of end cap.
To test the Fenwick Albatross, we took it to Jugra, a coastal area in Klang, Selangor (Malaysia). Jugra is known for its history, but to us anglers, there are a few pay to fish ponds with fishes that are willing to take one's bait. More importantly, the pond owners does not put a restriction on artificial baits and this makes fishing all the more fun. Armed with the Fenwick Albatross rod, Berkley soft baits, jigheads from Decathlon, and spiderwire lines; we headed to our "test drive."
IM7 Nano Carbon graphite blank. Good sensitivity, good amounts of power, well balanced, and lightweight.
Our usual target fish at these ponds is the acrobatic and hard fighting barramundis. But on this trip of ours, the barramundi ponds were closed for maintenance. This time we had to fight an even harder fighter; the mangrove jacks. These gladiators may not be acrobats but they certainly pack hard punches especially when the opponent is using an ultra light setup. 
High quality Fuji guides for better durability, light weight, and less duress or stress on lines.
Casting Performance
The Fenwick Albatross comes with an IM7 high carbon blank which is a lovely blank especially for ultra light rods. One reason for this being so is that the tip is not too soft until it becomes too wobbly to cast accurately. The tip of the Fenwick Albatross, although ultra light; allows for good, accurate, and confident casts. It has enough power to send lures flying a very good distance. More importantly is that it does so with good accuracy.
Fuji reel seat; holds reels in place well.
Fighting The Fish
With mangrove jacks being the target, the fights were more intense and sometimes harrowing. That was when one of the fishes took the lure about a foot from the waterwheel. Lucky for me I managed to get it to swim away by setting the hook with force pulling towards the direction of the waterwheel. With physics on my side, the fish swam in the opposite direction of the force.
The Fenwick Albatross comes with a good backbone and this allows for good hook setting. A good hook set allows for the battle to be fought confidently. With the ability to apply constant line tension and pressure, the fish is unable to drop the hook easily. The Fenwick Albatross also has enough power to manage the runs of these hard fighting mangrove jacks, turning them when necessary. We landed a good amount of mangrove jacks during our test.
Left: Landed a good amounts of hard fighting mangrove jacks with no issue. Right: Another hard fighter.
Overall Performance
The Fenwick Albatross fishing rod we tested performed really well especially for an ultra light rated rod. It cast well, it managed the hard fighting fishes well, It allows for good hook setting during strikes, and it put more than enough tension and pressure on the fish. It performed really well during our test.
Good fighter; lots of fun on the ultra light Fenwick Albatross rod.
Tackle Used During Test
Rod: Fenwick Albatross ALBS632UL IA
Rod Action: Ultra Light
Reel: Abu Garcia SilverMax
Reel Model: SilverMax 5
Reel Size: 5
Main Line: Spiderwire Dura-4 Braid
Line lb: 10lb / 4.5kg
Leader Line: Berkley Vanish
Line lb: 10lb
Baits / Lures: Berkley Powerbait Realistix Power Minnow
Size: 3″
Hooks / Jig-heads: Caperlan TP RD Colo
Weight: 7g
Test Conditions: Sunny and windy
Rod Features At A Glance
Light weight
Well balanced
Cork handle /  grip for better grip
Split handle / grip design
EVA support handles (Fore and rear grip)
High quality IM7 Nano carbon blank
High quality Fuji guides
High quality Fuji reel seats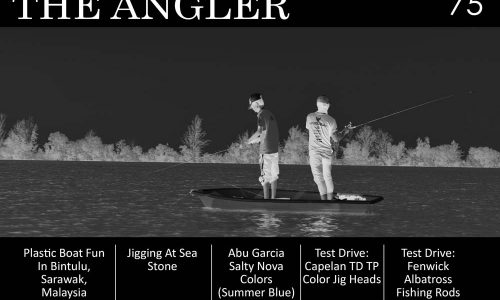 Click here to return to The Angler Issue 75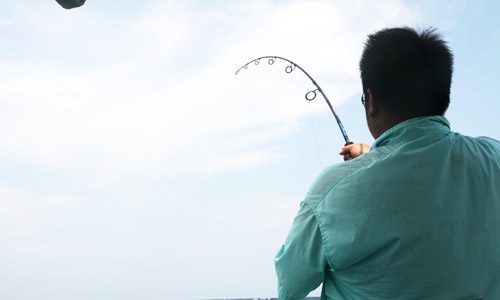 Click here to go to The Angler Magazine issues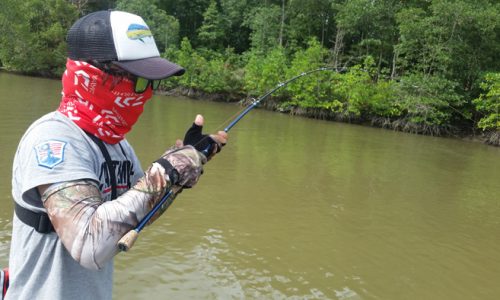 Click here to go to the main page
Do Not Miss Another Issue