Fishing at Clearwater Sanctuary Golf Resort
By: Amirul Irfan Bin Ahmad Rafee
Before the current Movement Control Order in Malaysia, I had the chance to visit Clearwater Sanctuary Golf Resort in Batu Gajah, Perak. Clearwater Sanctuary is a popular place among anglers for recreational fishing. Over the past decade I read a lot about Peacock Bass and Giant Snakehead fishing at the resort and finally I had the chance to experience it together with my family.
[  While strolling with my dad and siblings we came across a pair of Giant Snakeheads cruising a weed edge with a group of fry…   ]
We arrived at the resort on a Saturday afternoon and checked in for an overnight stay. Most of the chalets were taken as it was the last weekend before the Movement Control Order. Some chalets had balconies which were suitable for fishing while others had balconies with lily pads along the bank making it tougher to fish but it is not impossible. Our room balcony faced lily pads therefore fishing from the balcony was not an option. I talked to resort staff about areas where fishing was allowed and strolled around to have a look at different spots. There are plenty of areas to fish as the sanctuary has many lakes. Anglers are not allowed to fish in areas near the golf course and if they do so they could face a ban from the resort.
The balcony of our chalet is situated where the weeds are. Haven for fish but also hard to fish at.
While strolling with my dad and siblings we came across a pair of Giant Snakeheads cruising a weed edge with a group of fry. That was the start for our fishing session. Spinnerbaits and lures failed to get any response from the snakeheads. A few more groups were spotted from our chalet, but it was impossible to reach them with limited casting space. We walked to an open area and began casting soft plastics for Peacock Bass. Within minutes bites were felt but none of the fish were hooked. We fished with Carolina rigged soft plastics of different colours to see what the fish would prefer.
Ameer an the first fish; a peacock bass.
My brother, Ameer succeeded to land the first fish on a small 1.5" white paddle tail soft plastic by targeting weeds in deeper water. He continued to catch more fish before my dad and other brother joined in on the action. I passed them some red Damiki Air Craw soft plastics and they unlocked the code. We had many Peacock Bass chasing down the red soft plastics all the way to the bank. Most of the time they followed, but we were able to trigger bites by fishing the soft plastics close to lily pads and weeds. Most of the fish managed to shake the hook right by the bank but some were landed for some photos. They were small but plenty of fun.
After about an hour of non-stop action we moved to our next spot which was an open deck located near the resort's badminton courts. Many Giant Snakeheads were rising but completely ignored our lures. Our focus shifted back to Peacock Bass which were readily taking our soft plastics. There was a drop off in front of the open deck where Peacock Bass waited to bite our soft plastics. The drop off also had thick weeds making it the perfect place to target. We caught one fish each on the smaller soft plastics before trying the next spot located to the right of the open deck and behind the badminton court.
Plenty of peacock bass at the lake in Clearwater Sanctuary.
The area behind the badminton courts offered plenty of space for casting and in total around 7 anglers were fishing there including us. Everyone caught fish and I figured it was time to try a different approach for bigger Peacock Bass. While my brothers continued catching fish on the productive carolina rig I tied on a worm on a texas rig. Within a few casts I had some good bites and landed my biggest Peacock Bass of the day. It was below 30cm but still an improvement for the day.
My brothers also had some big bites including some better sized bass chasing their soft plastics to the bank however the larger specimens were smart enough to avoid getting hooked. We continued to catch a few more small Peacock Bass as some rain came to end our fishing session. Heavy rain continued overnight until the next morning. I was keen to get out and fish but the weather decided otherwise. Luckily the fishing was good on the previous day and we all had fun.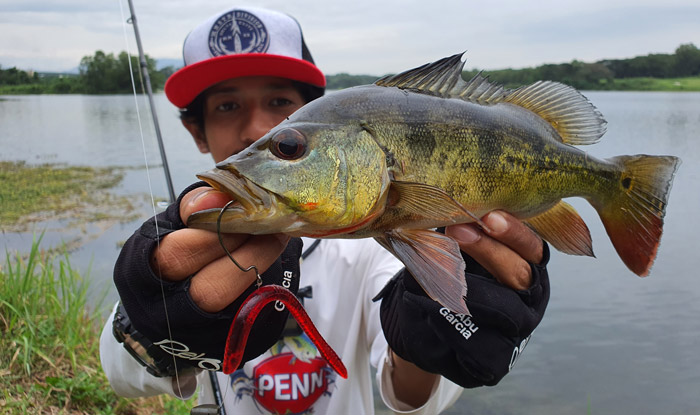 Overall, it was a nice short stay and it was great to tick off a long time dream of fishing at Clearwater resort. Even though we caught small Peacock Bass, some sizeable ones were seen to prove that they were around. There are plenty of areas to fish and with lots of Peacock Bass in the resort's lakes, Clearwater Sanctuary Golf Resort is definitely a place to consider for anglers looking to have some quality family time while enjoying some fishing.
* Note that this article is not meant as a review of Clearwater Sanctuary Golf Resort.
Do Not Miss Another Issue