Fishing In Kiulu, Sabah
Action Zone
By Isaac Kuek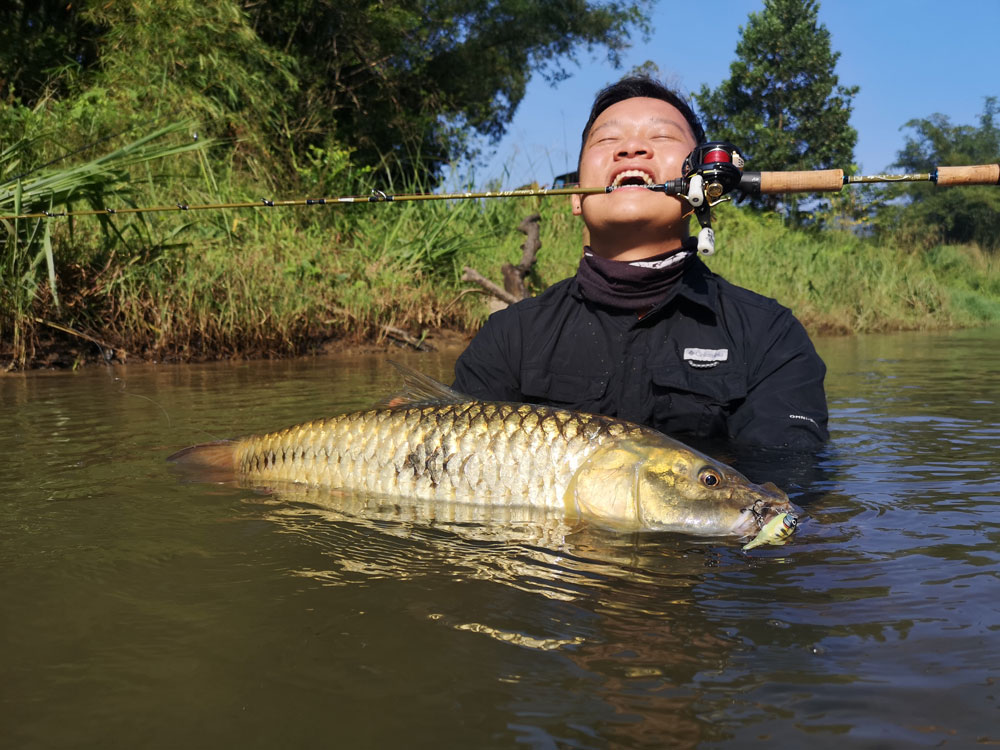 Kiulu, Sabah home of the small but feisty kelah known locally as pelian. Just over an hour's car ride from Kota Kinabalu (KK) airport, this small village has been a pioneer for a unique fish conservation system known as the Tagal system. This system splits the river into sections and labels each section with a different colour of either, green, yellow or red. Green zones allow local villagers to fish from it at anytime of the year, while fishing in yellow zones are only allowed at certain times which occur once every few years. However, red zones are designated conservation zones where locals are not allowed to fish from it at all. The upside to this is that catch and release anglers like us can obtain permits to fish in both yellow and red zones under the supervision of local guides like our guide Rushdi Lusi.
Having arranged the trip with Rushdi a few months prior, he picked us up from our hotel in KK early in the morning and headed straight to the first section of the river in Kiulu where we began our trek through the forest to reach the first spot. The beauty of coming to such places is not just the fishing but experiencing the full blessings of nature which came in the form of wild jackfruits. The sweet jackfruits helped buffer the disappointment of tough conditions which we were not expecting. The river had risen quite drastically which made the current exceptionally strong that not only made fishing difficult, but also made traversing the rough terrain even more difficult and dangerous.
After almost 2 hours of trekking and casting without any bites, we stopped for a quick lunch of instant noodles before heading on to a smaller stream. The main problem for us was that we were used to fishing deep pools, however the fishing here was mainly focussed on rapids which proved to be quite a learning curve.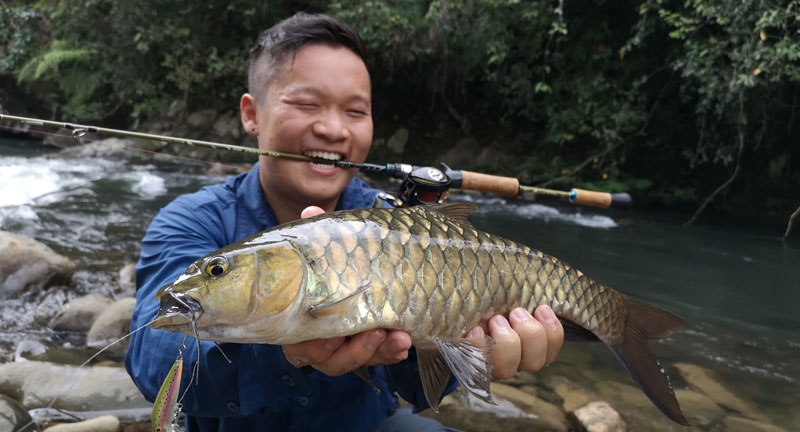 A beautiful pelian landed gave us the needed confidence boost.
Jared was the first to score a nice pelian on a small sinking minnow which gave us a slight confidence boost in what we were doing. From the knowledge we gathered beforehand, it appeared that the pelian prefers small 5cm sinking minnows like the Rapala Countdown 5 which we continued using with little result. Although both Jared and I landed a few on sinking minnows, it was not exactly effective due to the strong water currents that swept away the minnows from the target zones before it could sink.
This realization led Jared to try some diving jerkbaits which worked wonderfully in such situations as it dived down and maintain at the desired depth without being swept away by the strong currents. Having cracked the code, Jared proceeded to land a number of decent sized pelians both in the deep pools and rapid edges and wrapped up our first day of fishing.
The second day of fishing started off at one of the larger tributaries, where the main target was the famed double striped sebarau. While I started of the day with a small spoon, Jared decided on topwater lures. Although the spoon produced plenty of small strikes, it was the popper that enticed a monster to strike it. On such light tackle and strong current, it gave Jared a fight of a lifetime and became the highlight of the trip before it was subdued for a quick photo. The rest of the day passed by rather quickly with Jared getting most of the strikes on deep diving crankbaits while I struggled to connect due to the lack of suitable lures.

Beautiful pelians caught during our trip. Tough fishing but worth it as we learn a few things.
This trip was an eye-opening trip that taught me to expect the unexpected. Although we were expecting perfect water conditions, it would have been prudent to have brought some deep-divers to tackle higher water levels should the need arise, and in this case it did. In hindsight, being prepared with such lures would have definitely increased the number of strikes for me, and now serves as a lesson to be better prepared for future trips.
With such pristine and abundant waters, that isn't in some god-forsaken part of the world, Kiulu is a place that all anglers should try. For me personally, I will definitely be back for revenge in pursuit of some of the lunkers that roams these small mountain streams.
Do Not Miss Another Issue