Fishing Prima Lake
Fishing Time
Tasik Puchong Prima has become a well-established name for anglers in Kuala Lumpur searching for a quick getaway. Famed for having a healthy population of peacock bass, this urban water faces constant fishing pressure, even on weekdays. Coupled with the ever-changing landscape due to land reclamation works, finding fish and tempting them to bite has become an ever-increasing challenge for anglers. However, this lake's sheer proximity to the heart of KL and its monsters of the deep keeps on luring anglers back again to try and crack the code.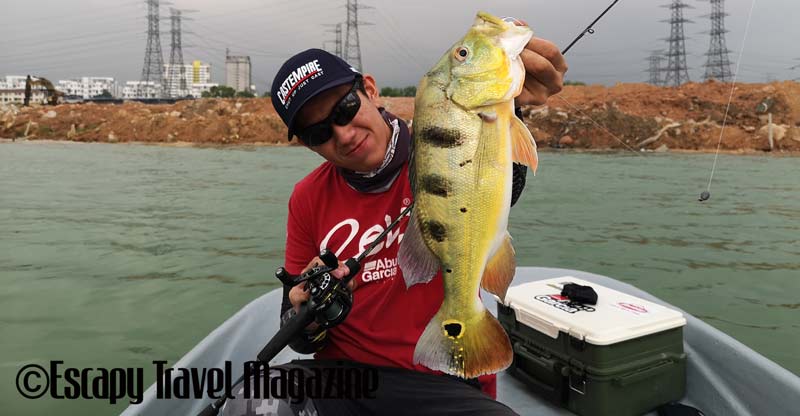 Having first visited this fishery back in 2015, I would say the approach taken to fool the fish has changed drastically. Back then, using hard baits like sinking pencils and jerkbaits were the fool proof methods of getting bites, but now a more finesse presentation using soft plastics are needed to produce constant bites. Using a Carolina rig, the soft plastic is dragged along the bottom close to structure where the peacock bass usually cling to.
From my past experience fishing here, small two inch straight tail soft plastics with minimal action works the best compared to paddle tails or soft plastics grubs which could be due to the fishes growing wariness towards baits with a lot of 'action' and vibration, choosing baits that mimic their natural food source of glass shrimps and baitfish. As straight tail soft plastics have close to zero action on their own, all the action comes from the angler's erratic jerking of the rod, mimicking the erratic actions of a shrimp/dying baitfish on the lake floor.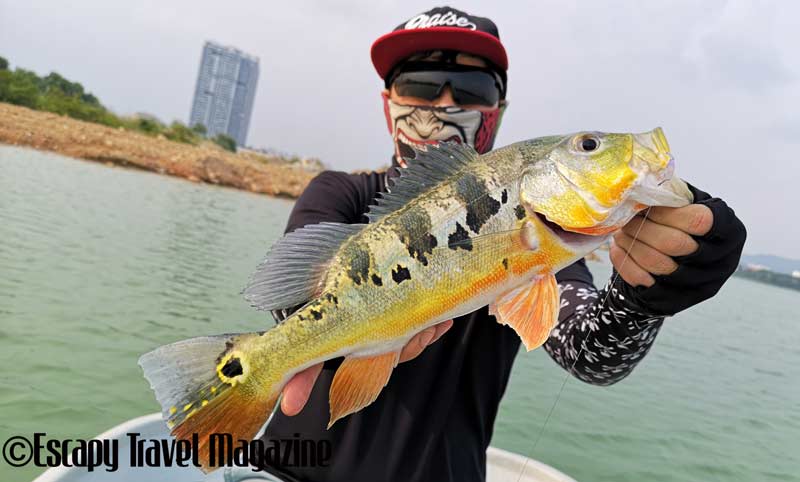 Peacock bass is the main targeted fish species here at Prima Lake.
As seen in most pressured waters, the fishes' mood are often unpredictable, where on some days a faster erratic retrieve triggers the bite, while other days require a slow hop to entice the fish into biting.  The only constant pattern is that the fish tend to cling close to the bottom, and maintaining contact with the bottom by using a heavier sinker/weight is paramount to having a successful trip there. Besides that, land reclamation works have caused the waters of prima to turn rather murky, especially after heavy rains. Although this would usually indicate the need to use brighter coloured soft plastics, it seems as though they prefer clear-natural coloured soft plastics, which could also be attributed to their increasing wariness of lures due to constant pressure.
Before anglers can start to entice the fish into biting, choosing a spot to target on such a big body of water can prove challenging as well. As most of our boats are not equipped with sonars to mark fish, the game at prima is to fish as close to structure as possible, may it be rocks, weed lines, concrete slabs, or sunken tyres. Although peacock bass do venture out to feed in schools, they usually cling close to structure, hence targeting such areas do stand the highest chance of scoring a good bite.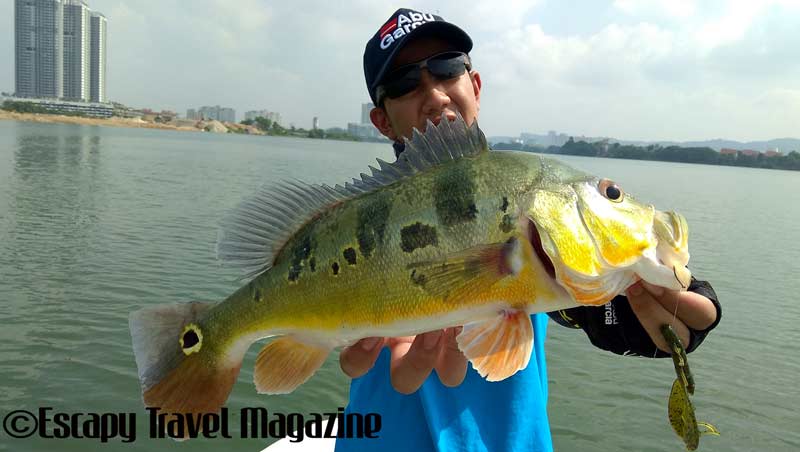 Plenty of fun can be had here in Prima Lake.
The only way to find such structures without a sonar is to cast along the banks with a Carolina rig, using it to bump into underwater structures and then making repeated cast around the area. However, as we are targeting structure, the chances of getting hung up are quite high. Hence, using a weaker/thinner hook is recommended, so that it can be bent out when it gets hung up of structure, instead of breaking off and having to constantly retie. Using a thicker leader is also recommended as it tends to fray after coming in frequent contact with structure. Although it can be difficult to initially get a bite, once a structure has been found to hold once fish, the chances of a small school being there are high. Casting back to the exact same spot will usually at least result in a few fish being landed back to back.
There is no doubt that Tasik Puchong Prima has passed its glory days, but monsters still lurk beneath its murky waters. Having to slowly work the soft plastics on the bottom may not be everyone's favourite style of fishing, however we as anglers have to adapt to our pressured waters to get bite, and once you have a taste of a big bite from the deep waters of prima, you will definitely be back for more. With land reclamation works going on, this amazing fishery might not be here for long, and all we can do is to make the most of it while it is still around.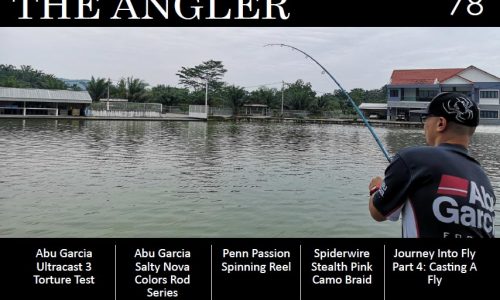 Click here to return to The Angler Issue 78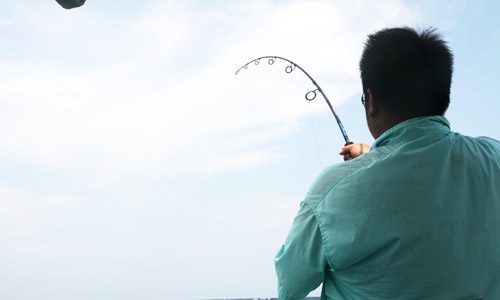 Click here to go to The Angler Magazine issues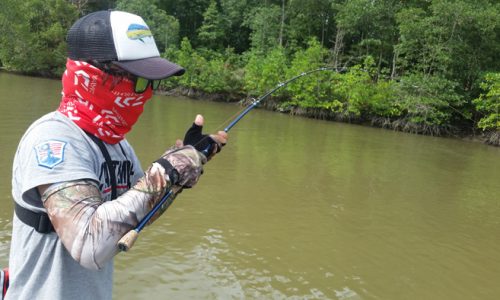 Click here to go to the main page
Do Not Miss Another Issue