Cheow Lan Dam located in Thailand's Khao Sok National Park really needs not much introduction. Famed for its pristine rivers and huge lunkers lurking beneath the water, it has quickly become a famous destination for both fly-fishing enthusiast and lure casters alike. With pictures of big jungle perch and blue mahseer floating around on social media websites, we wasted no time booking our trip to search for the monsters of our dreams.
The team of us who fished Cheow Lan Dam. Our only complain is that we all got fatter on this trip.
Being that it was hard to coordinate the timing between the crew consisting of me, Justin, Wind and PK, the trip was booked in the middle of February. This is considered a bad time for fishing as the dry spell would be in full-swing, making water levels drop drastically. As expected, when we arrived at our camp-site around late noon, we were greeted with bad news that fishing was exceptionally tough as the water were too clear, causing fish to spook easily. Although discouraged, we still headed out onto the water, trying our best to dissect and pattern this amazing lake.
From the information given by the guides, I opted to start off with a classic spoon rather than the plethora of fancy coloured lures in my arsenal. This was due to the fact that a spoon would have a more natural colouration and would be able to cast further compared to other lures, which should hopefully give an advantage when fishing in clear water. The spoon did produce a decent jungle perch and toman for me, but it was clear that the fish were warry of lures as there were plenty of follows but few solid hook-ups. Although we were mentally prepared for the challenging conditions, it was still pretty disappointing when we each landed less than 2 fish for the first evening there.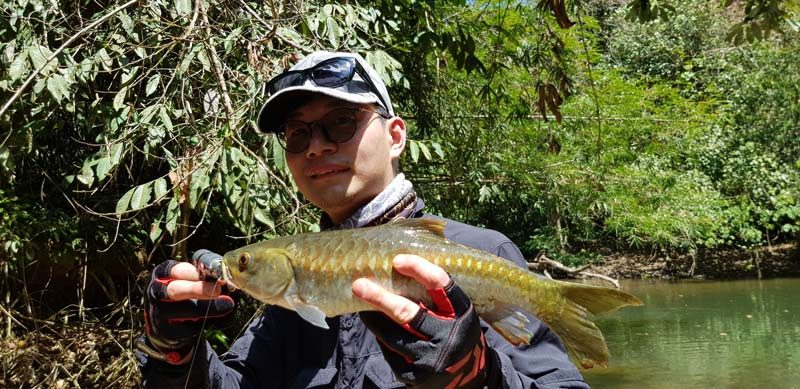 PK and a nice mahseer from the rapids.
Since fishing the main tributaries was tough, Justin and I opted to trek upstream on foot for the next two days. Fishing small streams and targeting the small blue mahseer and jungle perch that inhabited the rapids required us to size down our lures, using lures that were just 5cm in size. Using my trusted Abu Garcia ALC BF7 to handle such finesse lures was the right move as it could handle their light weight effortlessly, still giving a good distance which was key to not spooking the fish in such clear streams. Although there weren't any monsters landed on the first day, the lacking in quality was made up in quantity as both me and Justin landed plenty of fish on small spoons and sinking minnows like the Senses saviour 50S. On the second day, as Justin was casting a small topwater soft-frog near some fallen trunks for jungle snakehead, a decent sized blue mahseer emerged and unexpectedly engulfed the whole frog. True to their reputation, it put up a strong fight but was eventually subdued by Justin.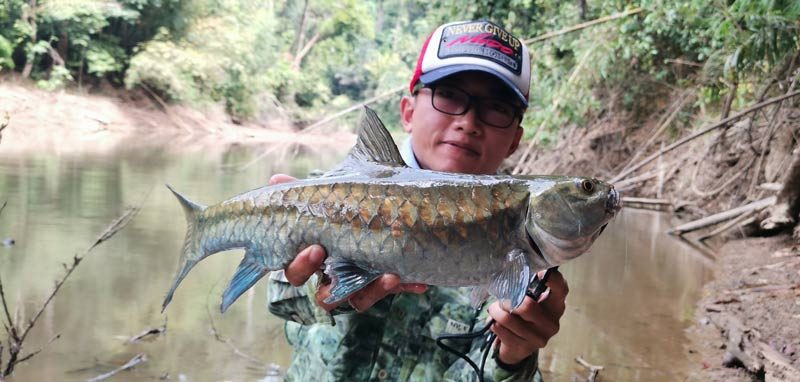 Justin and his mahseer that ate a frog. It has since been called the Frog Eater.
After the brief stint of excitement, we continued trekking up which led us to a deep pool with some steep rock walls- a perfect big fish 'lubuk'. As soon as I started cranking in the small 7g spoon I casted out, it was aggressively hammered as the fish made a wild dash for structure. However, the Abu Garcia ALC BF7 paired with an Abu Garcia Hornet Stinger Plus Medium Light travel rod made short work of the fish, landing me my first decent jungle perch of the trip. Arriving back at our camp site, it appeared that Wind and Pk didn't do too badly too, as they had opted to bottom fish for mahseers, landing plenty of them in the 1-2 kg range. According to the guides, if we were aiming for quality instead of quantity, we should ditch trekking upstream as most of the big fish are found in the larger tributaries. Thus, our final 2 days were spent casting from small boats around the river mouths as well as main lakes looking for the big bite.
A mahseer that just could not resist our lures.
Bites on the main tributaries were few and far between, but it did prove to produce quite a mixed bag, including the prized emperor snakehead. Justin was the first to land an emperor snakehead which struck his River2Sea Whopper Plopper aggressively.
The emperor snakehead that could not resist the Whopper Plopper bu River2Sea.
Not to be outdone, my rod was suddenly yanked out of my hands as I was slow rolling my spinnerbait pass a clump of fallen bamboos. As drag began peeling out of the Abu Revo S, I realized that I had probably hooked into a potential personal record breaker. With my heart in my mouth during the brief battle, the beast was eventually subdued, showing itself to be a big jungle perch standing at 2.7kg, shattering my previous record. It was quite a lucky catch as the conditions were bad and nobody expected that there would be still a chance to land such decent sized jungle perch. With renewed fervour on the fourth day, the crew began the search for another monster. However, once again it was Justin that luck sided with, as he managed to hook and land a behemoth sized jungle perch standing at 3.1 kg, ending the already wonderful trip with a bang.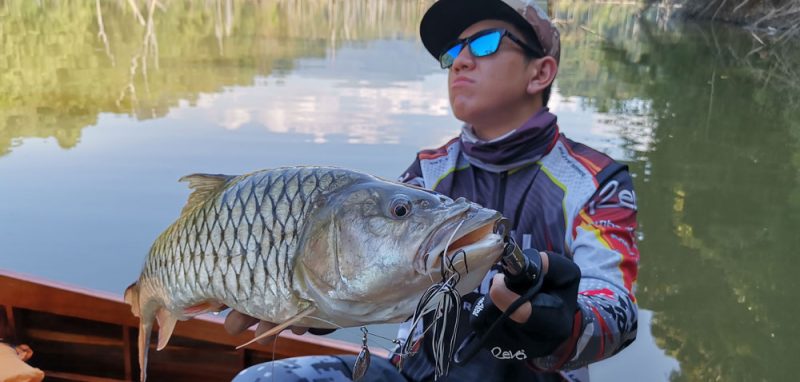 Looking back at the results, I would say that we were very lucky to have been able to get such good fishing under such tough conditions. With such strict regulations on practicing catch and release on protected species like the blue mahseer and emperor snakehead enforced by both the guides and rangers, it is no wonder that Cheow Lan Dam is still a heaven for anglers, holding more monsters for us to discover. It is no question of whether I will be back, but rather a question of when.
Good catches on this trip despite the tough conditions. 
To book your trip to cheow lan dam with Fishing with Goblin, do contact Law CH on Facebook.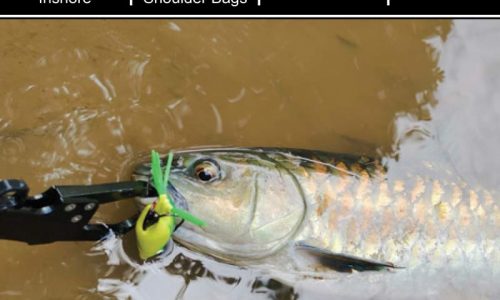 Click here to return to The Angler Issue 72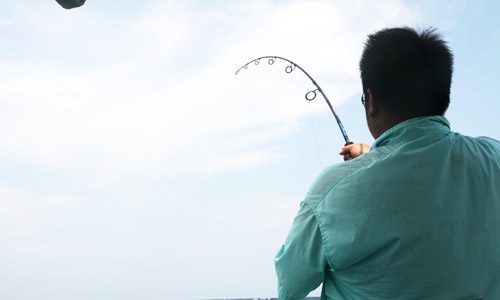 Click here to go to The Angler Magazine issues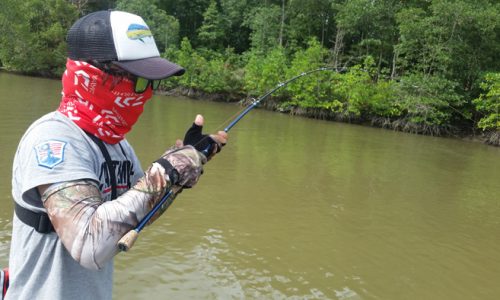 Click here to go to the main page
Do Not Miss Another Issue