Malaysia has great beaches, lovely island paradises, good shopping places, wild natural jungles, etc. Visiting these places are what many visitors to this beautiful country do. One other activity that is not part of that norm but is slowly picking up in Malaysia is fishing. Malaysia is a good fishing destination.
Fishing along the rocks of islands can produce some pretty nice fishes.
Fishing The Great Lakes
There are a few great lakes in Malaysia. Some of these great lakes such Temenggor Lake, Royal Belum, Kenyir Lake, etc. attract lots of anglers both hardcore as well as weekend warriors, or the "once in a blue moon" anglers.
Fishing these lakes are both challenging and rewarding. Fishing is not easy but one could battle monsters depending on one's skills and luck. There are the brown snakeheads, hard fighting giant snakeheads, giant featherbacks, arowanas, fierce Hampala barbs, various types of catfish species, and more lurking in these waters.
A beautiful hard fighting giant snakehead landed at one of the lakes in Malaysia.
Fishing The Jungle Rivers
The jungles of Malaysia are dense and is home to a lot of wild life including tigers, elephants, boars, bears, deer, snakes, birds, etc. The jungle rivers are habitats for powerful fishes such as the illusive red mahseer also known as the red torpedo,  green or silver mahseers that are torpedoes in their own right, hampala barbs, the hard fighting monkey eating Wallago attu, etc.
Fishing this rivers will require that you spend a few days in the jungle. There will be jungle trekking, boating, canoeing, camping, and at some places, four wheel driving. One has to be reasonably fit to very fit to partake in these adventures; depending on the area.
A hard fighting hampala barb or sebarau caught at one of the jungle rivers.
Sea Fishing
The sailfish capital of Asia is situated on the east coast of Peninsular Malaysia in a place called Rompin. They congregate there because of the abundance of baitfish. These majestic speedsters of the sea can often be seen roaming about flashing their dorsal fins also known as the sail, on the water's surface.
Every year the sailfishes of Rompin attract hundreds of anglers from many countries to this little coastal town for a workout on the seas. Apart from sailfish, there are black marlins in the area but they are seldom caught.  
Playing a hard fighting sailfish at Rompin in Pahang.
A good size sailfish landed, tagged, photographed, and released at Rompin, Pahang.
Other Saltwater Warriors
The seas surrounding Malaysia are also home to mackerels, wahoo, yellow fin tuna,  various species of trevallies, dorado, cobia, various species of groupers including giant grouper, various types of snappers, barramundi, barracudas, various threadfin species, etc. These fighters are found in many parts of the country's coastal waters at both East and West Malaysia.
A large and tough fighting cobia (Rachycentron canadum) caught and released at Sembilan Island, Perak.
There are also various type of sharks including whale sharks, rays, whales, dolphins, etc. that roam these waters but are not targeted sport fishes. When it comes to sharks, there are quite a few species from dangerous ones such as bull sharks to the less dangerous ones like the lizard sharks in these waters, but to date there have been only three attacks since 1968 and non were fatal.
A black tip shark caught and released at Jarak Island, Perak.
Commercial Fishing Ponds
For the less adventurous or perhaps for those who only have a few hours to fish, a visit to the commercial fishing ponds also known as pay ponds can be fun. There are plenty of them around and they can be found in almost every part of the country.
Battling a hard fighting Mekong Catfish at a certain paypond in Hulu Langat, Selangor.
Not As Easy As It Sounds
 Most of these ponds are regularly stocked. Some are even stocked on a daily basis. That said, fishing these ponds can prove to be a challenge. Fishing skills come into play. Local knowledge is a big help. Luck plays a part. But every pond has a secret that are guarded by those who frequent them.
A good size Mekong Catfish landed and released at Hulu Langat Fishing Pond in Hulu Langat, Selangor. 
Some Famous Ones
Some of the famous commercial fishing ponds include the Natural Exotic Fishing Pond in Behrang; a place I test out fishing tackle, Bedong Fishing Pond (Kedah, north of the Malaysian Peninsular), Damai Fishing Village(Johor, south of the Malaysian Peninsular), Fish Valley (Selangor), Jurassic SW Pond (Sepang, Selangor), Hulu Langat Fishing Pond (Selangor), etc.   
In battle with a tough fighting Amazon Redtail Catfish at the Natural Exotic Fishing Pond.
Fishing Guides
Fishing guide services are available in Malaysia for all sorts of fishing therefore one does not have to worry. Even if you've not planned for a fishing trip in Malaysia and did not bring any fishing tackle with you but would like to do some fishing (ad hoc), this can still be arranged. Most fishing guides provide fishing tackle. Most pay ponds provide them too on rental basis.
*Fishing tackle = fishing equipment
A sailfish tail walking at Rompin, Pahang. Fishing guides will take anglers out to fish these speedsters.  
Summary
If you are an angler looking for a place to go fishing, do consider Malaysia. Fishing in Malaysia can be good. However, like fishing in any country, it is best to check in advance what the fishing seasons are. Should you be interested in fishing in Malaysia and would like more information do send us an email.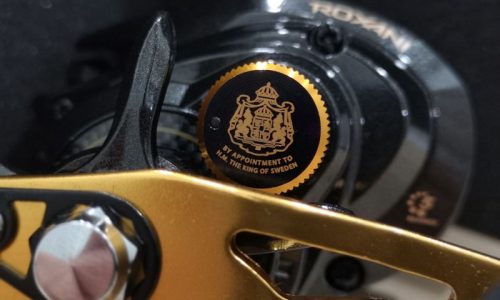 Click here to return to The Angler Magazine issue 68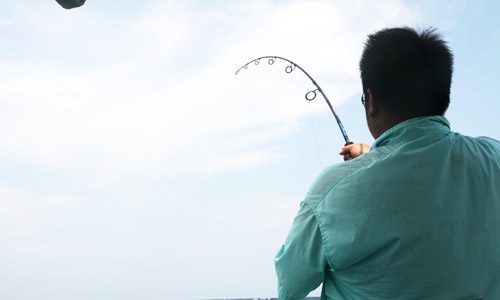 Click here to go to The Angler Magazine issues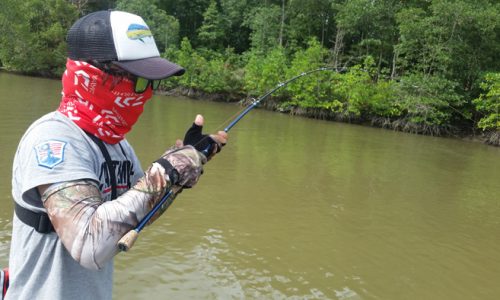 Click here to go to the main page
Do Not Miss Another Issue