The shallower waters of Sea Stone (Batu Laut, Banting, Selangor, Malaysia) located barely an hour drive from Kuala Lumpur was never somewhere I ever imagined would have decent fishing. However, with plenty of pictures circulating on social media, I quickly linked up with Rm Rezza to join him on his slow jigging trip in pursuit of some shallow water brutes.
One of the fishes caught off Sea Stone.
On the day of the trip, I was pretty surprised when we reached our first spot of the day after a mere 20 minute boat ride, a refreshing change of pace compared to the hour long boat rides that I'm used to. As the spot was pretty close to shore, the water still had a greenish tint and I opted to use a small 100g silver jig. When it comes to choosing colours for jigs, I tend to prefer more natural colours like silver which mimics plenty of baitfish around coral reefs especially when fishing shallower waters when it is shallow enough for sunlight to penetrate the water column and reflect off the jig. Sometimes with such a huge variety of jigs available in the market, going back to basics may prove fruitful.
I also prefer to use jigs as light as possible, just enough to allow bottom contact. The main reason is that a smaller jig would appeal to a wider variety and size of fishes which might otherwise be afraid of taking a larger jig, this is especially true for snapper species which tend to prefer jigs with smaller profiles. Secondly, a lighter jig would take more time to flutter back down to the bottom due to its lighter weight, extending the 'striking period' and having a better chance at tempting a fish in to slamming a jig. This would also decrease the risk of getting snagged, as the jig slowly flutters down, rather than fall straight down like a heavier jig would in exceptionally snaggy terrain like coral patches.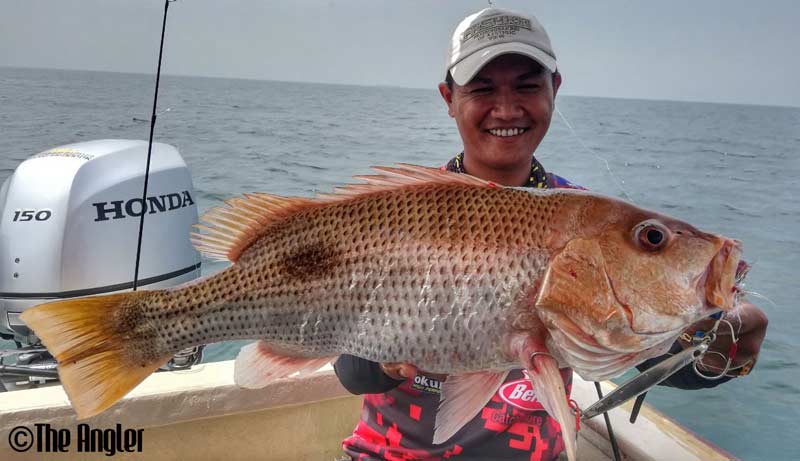 A beautiful golden snapper caught on jig.
Thirdly, in areas that face heavy fishing pressure, a smaller profile might stand out from the more frequently used larger jigs, providing the fish something that they rarely see and thus increasing the chances of inducing a strike; a phenomenon that is often observed in freshwater spots.
The method of going natural and light payed off, as I was quickly greeted with a small strike from a table sized golden snapper. This was followed in a quick succession by another 2 table sized snappers, while my fellow boat mates were still left dry on their bigger sized jigs.
Good fishing can certainly be had here at Sea Stone.
Having saw the effectiveness of using a smaller profile, they too switched their jigs and that saw multiple contacts being scored, with fish after fish being landed. I never expected such good fishing to be found in waters so close to shore, and I was even more surprised when one of my boatmates managed to land 2 fish on one jig!
Whether the results achieved that day was simply due to luck or favourable conditions is up for debate.  However, it has taught me that good fishing can be found anywhere as long as we are willing to try new places and techniques, irrespective of how absurd it may sound.
With fishing getting tougher and tougher across the board due to fishing pressure and destruction of habitat, taking a more finesse approach, downsizing everything from our mainline to jigs is in my opinion the key to getting more strikes. So the next time the bite is tough, do try a more finesse approach, it may be the difference between 'kumpow' (a local slang for going home empty handed or having not caught any fish) and a fantastic day of fishing.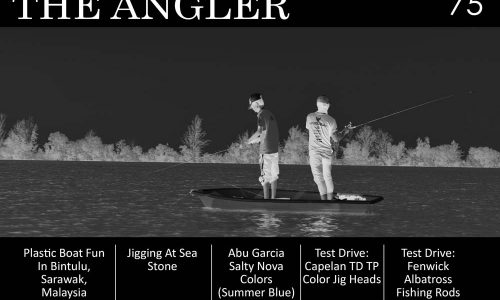 Click here to return to The Angler Issue 75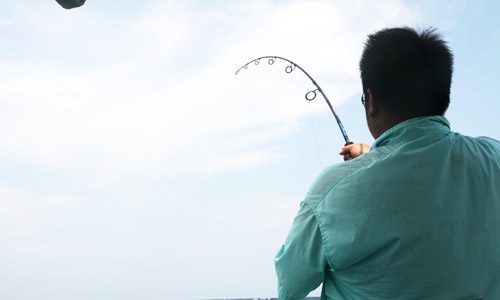 Click here to go to The Angler Magazine issues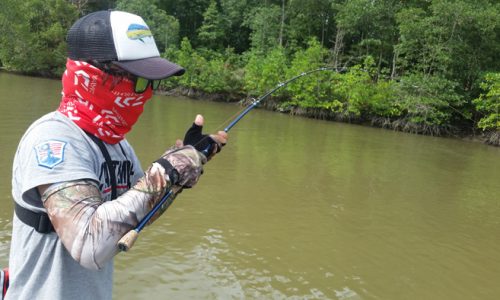 Click here to go to the main page
Do Not Miss Another Issue