The Japanese take innovation very seriously. Like the Swiss and their watches, the Japanese too pay attention to precision, fine tuning, and of course design. They have made some pretty radical design changes; sometimes pushing boundaries beyond what has been done. An example will be the low profile reels. The Japanese made a small reel even smaller. Not only did they make them smaller, the reels hold similar amounts of lines as compared to the bigger ones. Magic or engineering prowess?
The Abu Garcia Kurofune LT.
Another Direction
Another thing that the Japanese are known for is to invent things that are out of the ordinary and sometimes these inventions takes some time before for folks outside Japan start accepting them. The same goes with the Abu Garcia Kurofune LT. I am sure you are familiar with magnetic brakes in low profile baitcasting reels. I am also sure that you've heard of centrifugal brakes. Then there are the other systems by other brands. All these are done so that anglers can cast further and easier.
Then came along the Abu Garcia product team in Japan who took a look at the low profile reels in the market eager to make the minds of anglers explode. So what did they do? They took out the centrifugal brakes from a low profile baitcasting reel. Okay, what about magnetic brakes? Darn, too common these days. So they took that out too. Then they returned the side plate to its place and locked it in. No more brakes. That is the direction.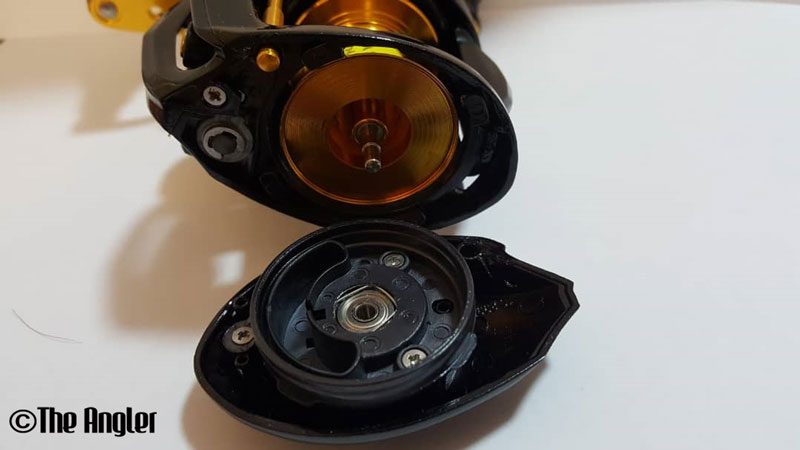 No centrifugal brakes. No magnetic brakes. I have blinked many times and still… none of them appear.
Have They Lost Their Minds?
When I first got my hands on the Abu Garcia Kurofune LT I thought I was being pranked. I removed the side plate and lo and behold; no brakes. This just cannot be. Could the factory have forgotten insert the brakes? Then I decided to read the box and again, zero mention of brakes. I then found out that this reel is made for jigging; light jigs. Ahhhh… now it made perfect sense.
5 ball bearings for smoother operations only at essential places. Makes sense for saltwater reels to use washers in place of bearings in places that are exposed to saltwater.
Many a time anglers drop the jig and allows the jig to drop to the bottom. A magnetic brake and / or centrifugal brake with its forces (centrifugal forces and / or magnetic forces or both) do come into play but not as much as when casting a lure. In fact the need for these forces are so little that one can do without them. The spool control knob provides enough friction to control the spool effectively. Even when casting light jigs, the spool control knob should give enough friction to help control the spool (we have yet to try this).   
Shielded bearings are used for better protection.
In this case it makes sense to not have the centrifugal or magnetic braking systems in the reel, relying solely on the friction from the spool control (and of course the thumb). Not having these brakes also means that the savings of cost can be put into better things such as shielded bearings for example. Of course it can also mean a more affordable good quality reel. That is not all. Weight is also reduced without these brakes. Anyhow, we will certainly do some testing and review the reel in the near future.
Elegant Looker With Bigger Knobs
The Abu Garcia Kurofune LT comes in metallic black and dark gold giving it that elegant look. It does not look particularly sporty but it looks nice in an elegant way. Bigger size EVA knobs allow for better grip especially when fighting a hard fighting fish. The entire package is simply elegant. A Mercedes Benz will certainly look good in these colours. Of course, beauty lies in the eyes of the beholder. You will have to see it for yourself.
A bigger EVA handle knob for better grip.
Features
4 stainless steel bearings + 1 roller bearing for better corrosion resistance and smoother operations.
C6 Carbon side plates reduces weight without sacrificing strength and durability.
Machined aluminium spool provides strength and reduced weight.
Recessed reel foot for better ergonomics and grip.
Gear Ratio 6.4:1
Max drag 11lb or 5kg
Weight 178g
The Abu Garcia Kurofune LT, a reel made for saltwater jigging.
Well, this is the first low profile bait casting reel I have seen. At this moment none of us have tested it. So far we can only speculate based on experience jigging with light jigs. Do wait for our field test article to see how the Abu Garcia Kurofune LT actually performs for real. Already I can foresee an exciting field test coming along for this out of the ordinary elegant beauty.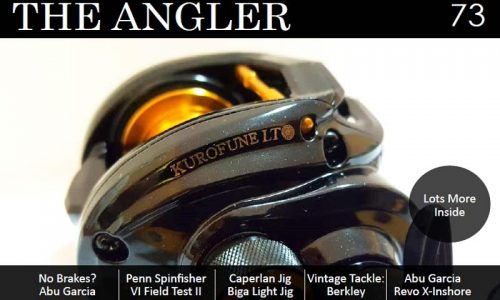 Click here to return to The Angler Issue 73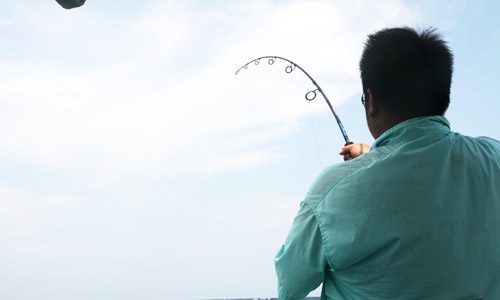 Click here to go to The Angler Magazine issues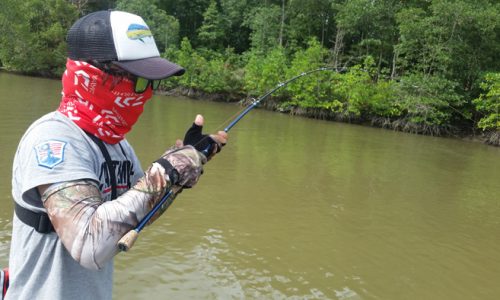 Click here to go to the main page
Do Not Miss Another Issue