Introducing: Penn Battle 3 (III) Spinning Reel
By The Angler
[   This is what happens when you stop fishing for more than 30 years, and go chase after castles, sports cars, and girls with allergy to linen.   ]
During the MCO (Movement Control Order) lockdown, I had a few interesting chat sessions with friends as well as group of friends(via Zoom). One of them who used to do some fishing but has stopped for many years, asked me for advised on what fishing tackle to buy as he wants to start fishing again. The conversation moved towards Penn International reels, one of his favourite reels back in the day when he trolled for marlins and other fishes, but weighed like a " freaking truck" and "will be the cause of your drowning should you fall overboard with it latched on to your fighting belt," his words.
It did take some time for me to convince him that monstrous reels of such sizes are not needed here in our waters; especially since the fishes that he remembered have since shrunk in sizes due to the quality that they are made of these days (if you buy cheap t-shirts you'll catch my joke), and modern fishing tackle has added superpowers. It was doubly tough to convince him because my recommendation to him was a spinning reel. Try convincing a hardcore 4WD adventure enthusiast that a Proton Saga Knight (If you're not from Malaysia, this is one of Malaysia's earliest homemade "rally cars"… hahaha) can go to places that his jeep can go. That was what I had to do.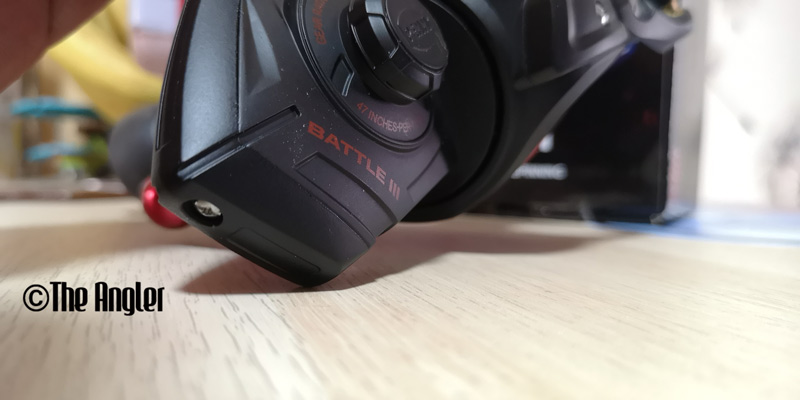 Just landed – The Penn Battle III.
Yes, young fellows; the Proton Saga Knight does indeed exist. It is not something that I made up. But of course the Proton Saga Knight will not be able to take you to any place that a Jeep can; but it can take you to places most cars don't dare. To convince him I took out some of my Penn spinning reels to show him over the camera of my phone, and shared with him some pictures of them landing sailfish, and he was surprised. This is what happens when you stop fishing for more than 30 years and go chase after castles, sports cars, and girls with allergy to linen.
What I recommended this friend of mine is the new Penn Battle III spinning reel and here's why. First off, he wanted something new, something flashy, something that looks nice. The Penn Battle III (3) is a newly launched reel, and it does look good. It comes in matte black with metallic blood red colours (high speed). The one without the high speed is matte black with a gun metal silver and gold coloured spool which looks like many of Penn's reels.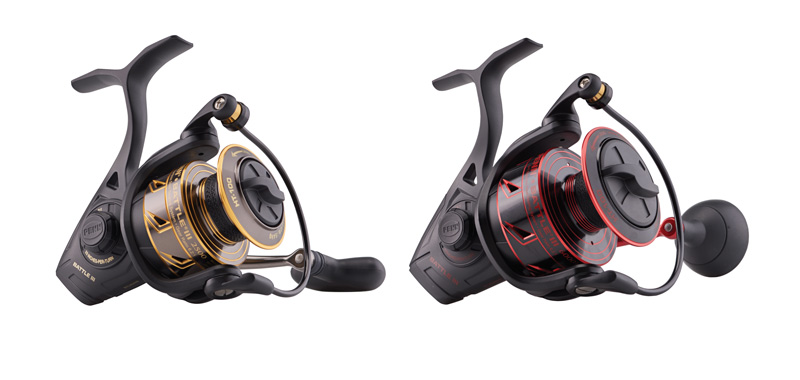 Left:Penn Battle III normal speed. Right: Penn Battle III HS (High Speed).  
I recommended him the high speed model as it is high speed, and the mere mention of high speed caught his attention. I was making a judgement call really. In my mind was that since he likes fast cast and speed, high speed should appeal better that the words, "normal speed." Also he preferred the black and red as it looks bolder.
Well, there is also another reason why I recommended him the high speed reel. To cut a long story short, it suits the type of fishing that he intends to do. Choose your speed based on your intended use of the reel and not just because of the gear ratio. For some types of fishing, you are better off with a lower speed reel. This will be discussed in another article.
Secondly, He wants something tough and durable. Penn reels being Penn reels, they are the monster trucks of the fishing world. The Penn Battle III (3) shares the DNA and is certainly tough and rigid. It is one solid reel, coming in a full metal body. Everything from is reel foot to its bail arm is tough, rigid, and solid. Its CNC gear technology (gears) have proven its toughness and durability for so many years. This reel will last a long time as long as it is well maintained.
Third, he wants something that is reasonable on his pocket since he is still not sure if he wants to actually dive back into fishing or not. Until he goes for a fishing trip he will know. Anyway, the Penn Battle III (3) is reasonable to most pockets. Penn reels are great value for money. His pockets are deep, so no issue here. Also as a person who does take into account, heritage; Penn's monster subduing heritage is one that goes way back.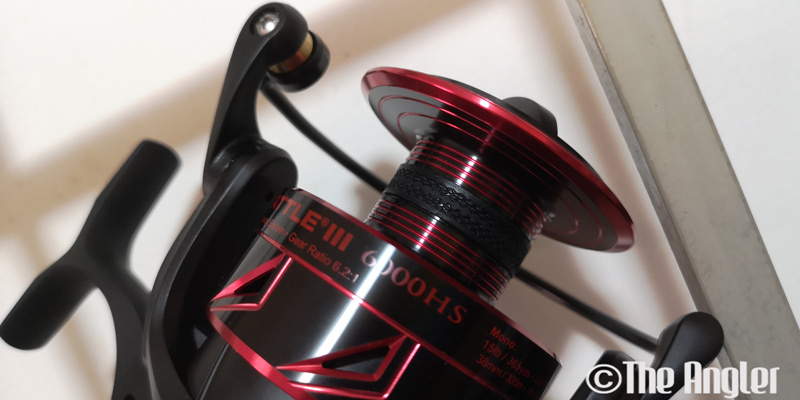 The Penn Battle III comes with a superline ready spool that has line capacity rings. 
To help you understand the value in heritage; why do some prefer to buy a Ford Mustang as compared to a Nissan GTR although the Nissan GTR is a lot more car compared to the Mustang? When it comes to muscle cars, most car enthusiasts look towards America, where the muscle cars were "born." They may corner like crap, make people pee in their pants, event take their driver's lives, but they are loud, obnoxious, and fast (in a straight line). Japan on the other does not have such a strong muscle car heritage although they make really good cars. Let's stop at that and not open a can of worms here.
Fourth, he wants to battle the fish. He wants a tug of war. He wants a workout. I recommended him the size 8000 with a claimed max drag of 13.6kg. 10kg is plenty for most people who do not do weight training. 13.6kg may not sound much to those who hit the gym to torture their muscles. But 10kg weight for a duration of one minute is plenty heavy, let alone 13.6kg. That is just one minute. 13.6kg max drag is plenty of weight to handle and it will certainly give him a workout.
Personally, I have played with the reel but I have yet to get the opportunity to fish with it. Everyone once in a while I will take it out and give it a spin. It certainly is not one of those reels that demand to be handled delicately and gently like one of those little tools used by sculptors and distinguished artists. The Penn Battle III (3) is what one can call "heavy machinery." It is all about getting the job done no matter how brutal. It is a reel made to slay monsters or what we anglers call, "a monster killer." It looks like a monster killer, it feels like a monster killer, and it works like a monster killer.
The Penn Battle III spinning reel doing "the spin." 
Features
Full Metal Body
CNC Gear Technology
Heavy duty aluminum bail wire
HT-100™ Carbon Fiber Drag System
5+1 Sealed Stainless Steel Bearing System
Line Capacity Rings
Superline Spool
If like my friend, you are looking for a reel to slay monsters since fishing is now allowed, the Penn Battle III (3) is a reel to consider. Whether to go for the high speed or the normal speed reel, is up to your fishing style and the type of fishing you intend to use the reel for. One last thing that I said to my friend before ending the Zoom meeting is this, "you want a monster slayer, this reel is a monster slayer. But note that when it comes time to slay that monster, you must be up to it." To you I give the same advise.
Do Not Miss Another Issue