Monster Fighting Machine
Test Drive – Penn Fierce III 
I am not into watching the "idiot box" but for some reason my mind took a trip down memory lane and I decided to watch; of all things, Ultraman. I watched one fight scene between Ultraman and Alien Baltan; one of those monsters that were designed based on insect parts, and got my brains punched back into reality. Why the heck am I wasting my time watching this lame monster fight a guy in a rubber suit? Sorry Ultraman fans. A thousand apologies. But this monster really is lame.
When I go fishing, I don't want to fight an Ultraman monster; especially not Alien Baltan. Godzilla, yes. Now that is one mean, scary, and tough son of a b… errm;  monster.  Alien Baltan… ahhh… not worth the energy and effort. Some of you may actually be Googling Alien Baltan now. Haha, free publicity comes in many forms. Please do.
The powerful Penn Fierce III Spinning Reel.
Anyway, why am I talking about these monsters? worry not, I have not gone entirely mad; just a little. You see, in my hands I have a Penn spinning reel called the Fierce III. I have been a fan of Penn reels for some time and they have been accompanying me on many a "monster slaying" trip out at sea. When it comes to testing out the Penn Fierce III, I need the help of a real monster and certainly not one like Alien Baltan.   
We introduced the Penn Fierce III in an earlier issue. You can click the tab below to read about it if you have not, or if you're like me and your memory like mine, has decided to serve a different master.
The Penn Fierce III is built tough. Just look at the muscular main shaft.
To field test the Penn Fierce III, we headed to our favourite "monster water hole" in Behrang, Perak, Malaysia; in search for a fight. The Natural Exotic Pond is home to a good number of hard fighting monsters from a few countries. We targeted the Plabuk or Mekong River Catfish as it is called in English. This hard fighting fish is certainly the Godzilla in this pond. Ok, I'll be honest. Alien Baltans live here to and once in a while we hook them too.
For our field test, below are the fishing tackle we used when testing the Penn Fierce III spinning reel:
Reel: Penn Fierce III
Reel Model: 6000
Reel Size: 6000
Rod: Abu Garcia Ultracast (and a few other rods)
Rod Model: UCS1002XH A
Rod Action: Extra Heavy
Main Line: Berkley Fireline Braid (Flame Green)
Line lb: 30lb
Leader Line: Berkley Vanish
Line lb: 40lb
Baits / Lures: Fish Meat / Chicken Innards
Size: N/A
Hooks / Jig-heads: Owner
Size: 7
Test Conditions: Sunny with slight wind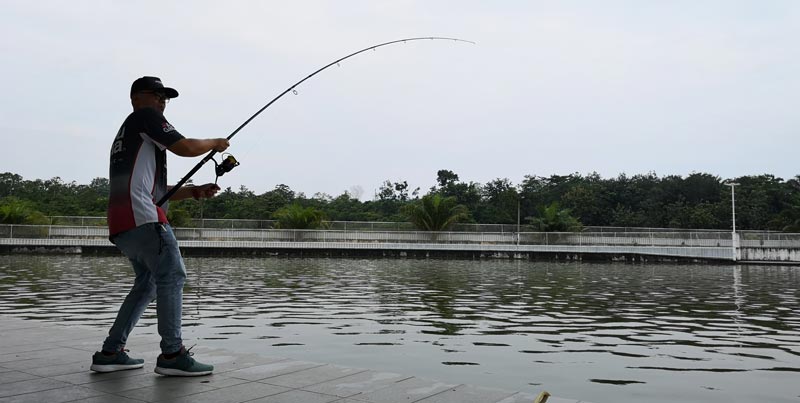 Hard fighting Penn Fierce III in action, fighting against a hard fighting gladiator.
What I love about this pond is that it does not take long for us to hook up fish after fish. They are obliging monsters of various categories and they will fight. While Godzilla was on leave during our visit, we managed to do battle with a few Chao Phraya Catfish (Junior Godzilla that fights really hard) and the red tail Amazonian catfish of which is another very tough and hard fighter; perhaps ranking just below the Chao Phraya Catfish. How did the Penn Fierce III spinning reel do?
Long time proven HT-100 Drag System putting lots of pressure on the hard fighting brute.
Drag Performance
Lets first talk about drag. The Penn Fierce 6000 that we used for this test has a 25lb or 11.3kg max drag (according to written specs). We (field testers) pushed the drag up high during this test (not maxed out) and we can feel the pressure from the hard runs of the fish as well as the pressure from the drag. While the monsters were running with a very heavy load, for us it was like body building at the gym.
It did not take long to tire out monster after monster (average battle with these monsters was about 7 minutes). The drag performed really well. It remained smooth throughout the testing session that was for four hours. No jerky or sticky drag feel during the battles. The proven HT-100 drag system has once again proved itself to be a superb drag system.
Smooth drag plus powerful gears reduces the pressure of cranking in a hard fighting and heavy fish.
Handling Pressure
With heavy drag and a hard fighting monster comes heavy pressure. The Penn Fierce III remained poised during every hard fought battle. Reeling  in the fish was smooth throughout the test, there was no flexing  or bending of the reel foot which is really rigid and tough, the rotor performed well and balanced, and the spool remained poised. The main shaft held its own well too without bending out of shape.
Many a hard fighting gladiator such as this brute, the Chao Phraya catfish; fell to the power of the Penn Fierce III.
Overall
The Penn Fierce III spinning reel certainly performed very well during our test and I have found myself yet another "monster slaying" reel for my adventures out to sea. It can certainly take plenty of heavy punches and can dish out plenty as well. But with such a powerful reel in one's hands, there is one thing that one must note. The monsters can certainly dish out plenty of heavy fighting pressure. The Penn Fierce III can take and even apply more pressure. Now, can you handle such pressure? Because when it comes fighting monsters, the monsters sometimes win. During our test one of our testers gave up half way and called it quits as his hands turned to jello halfway through the fight. Yes, this reel is made for these sort of battles.
The Penn Fierce III; showing off its power handle.
The Penn Fierce III Features At A Glance
Full metal body and side plate keep precise gear alignment under heavy loads
Techno-Balanced™ rotor gives smooth retrieves
4 stainless steel ball bearings
Instant anti-reverse bearing
HT-100™ carbon fibre drag washers
Heavy-duty aluminium bail wire
Super-line spool
Line capacity rings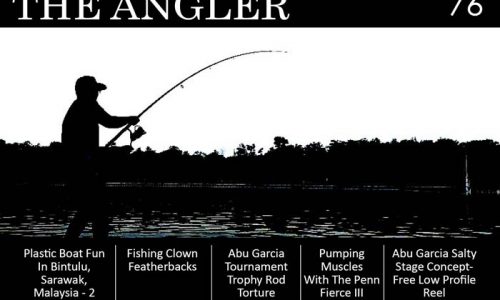 Click here to return to The Angler Issue 76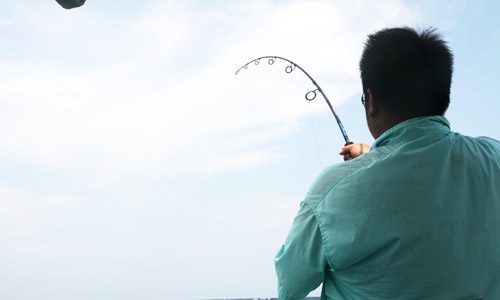 Click here to go to The Angler Magazine issues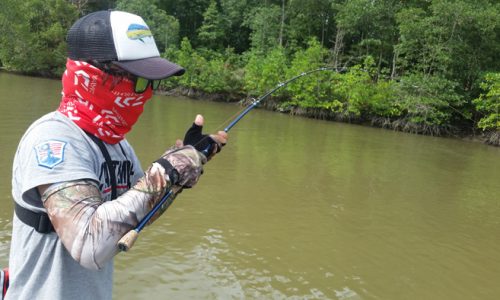 Click here to go to the main page
Do Not Miss Another Issue