Penn reels, the name that sends saltwater gladiators running for the mounts (err… sea mounts).  Penn reels are well known saltwater fishing reels from the big game Penn International gold coloured reels from days of old that could knock a cow "unconscious", to the latest generation Penn reels that are modernized but as tough. Penn recently launched another gladiator wrestling tool; the Penn Fierce III.
Tough and rigid reel foot.
Penn Fierce are an established reel series that have been pulling up fishes both saltwater and freshwater for many years. This new series, the Fierce III certainly looks and feels as tough as its predecessors. Ranging from sizes 1000 to 8000, the Fierce III has a reel model to meet almost every fishing need from freshwater fishing to big game saltwater fishing.
The new Penn Fierce III spinning reels come with a matte black body, side plate, rotor, bail arm, bail wire, drag control, and handle. The spool colours are matte black and what I would call dark electric red. These colours gives the Fierce III a tough look.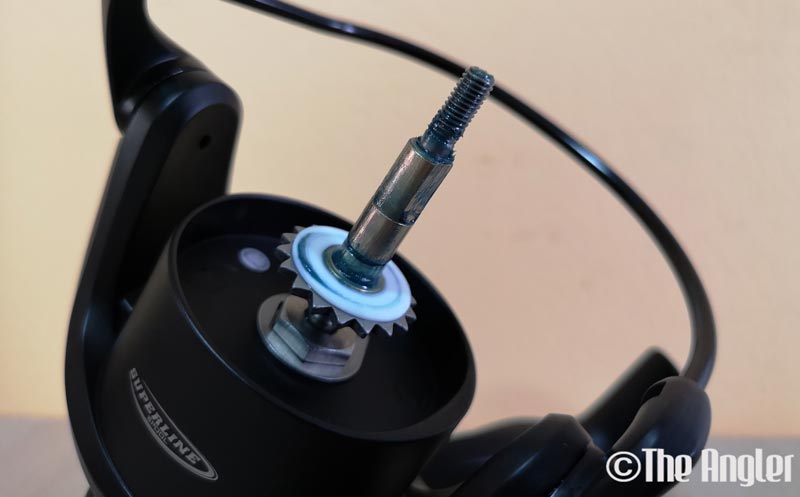 Some Of Its Features
The Penn Fierce III spinning reel comes with a full metal body and side plate giving it the toughness, durability, and rigidity that anglers like. It comes with a tough and hardened graphite rotor that is well balanced, and a heavy duty aluminium bail wire that is very tough. This means that the reel will not bend (reel foot) under heavy pressure, providing anglers with a more confident and comfortable fight during hard fighting battles.
Tough bail-arm wire and rotor.
When it comes to stopping fish or applying extremely high pressure on the running fish, carbon drag washers have been the proven drag washers to go with. The Penn Fierce III spinning reel comes equipped with the proven PENN HT-100 carbon fibre drag washers giving it the ability to handle most inshore fishes as well as most big game fishes.
HT-100™ drag with carbon fiber drag washers
With superlines being the mainstay of anglers these days, the Penn Fierce III spinning reel comes with a tough superline ready spool with line level markings. This means that the angler no longer has to use a monofilament backing line. A rubber ring around the spool provides good amounts of friction for superlines to hold on to. The line level markings let the angler know how much line is in the spool; a great feature especially when fighting a trophy finned gladiator. 
Super-line ready spool. No more backing lines.
The handle knob of a fishing reel is very important too. It determines the grip that the angler has on the reel of which helps make up the level of confidence the angler has during battles. The Penn Fierce III spinning reel comes with a good size rubber knob (size depends on reel model) that provides for a better and more comfortable grip when fighting hard fighting fishes.
Good size rubber knob provides better grip.
Below are the features of the Penn Fierce III Spinning Reel:-
Full metal body and sideplate keep precise gear alignment under heavy loads
Techno-Balanced™ rotor gives smooth retrieves
4 stainless steel ball bearings
Instant anti-reverse bearing
HT-100™ carbon fiber drag washers
Heavy-duty aluminum bail wire
Superline spool
Line capacity rings
Do Not Miss Another Issue