When we talk about Penn reels what comes to mind are tough, solid, and powerful saltwater gladiator killers and not reels made to dance the Lambada with long finned sexy fishes dressed in a tad bit too little scales. No, sexy and everything related to sexy doesn't even make it to Penn's vocabulary. Sexy, curves, silky, and whatever that goes along those lines are like echoes from a distant land when it comes to Penn.
The New Penn Pursuit III Spinning Reel
Built To Fight
Anglers who have been fishing with Penn know exactly what I am talking about. Penn reels are like the Hummers (Sports Utility Vehicle) of the fishing world. They look like they are made to wage war and fight battles. Well, Hummer was once Humvee; a brand of badass jeeps that served in the military. They don't look sexy but they certainly look menacing and battle ready. For those that want less menacing version there is the Hummer HX.  
When it comes to Penn reels, the Penn Torque certainly has the menacing looks of a badass battle machine and it is more than able to do so. Its sibling, the Pursuit III plays the role of the Hummer HX; less menacing looking but still retain some of the "badassity" of its higher end siblings, and can certainly hold its own when battling predators out at sea (or lakes, ponds, and rivers).  
Looking tough in matte black.
Tough Rigid Body
The matte black and silver Penn Pursuit III come with a lightweight corrosion resistant graphite body that has the rigidity of a North Korean professional music teacher (if you've seen the video of little North Korean children performing on stage with their guitars that are larger than them, you'll know what I mean). The body of the Pursuit III hardly flexes. It feels more like metal instead of graphite.
Flexing Rotor Arm Explained
The rotor on the other hand is another story. It flexes a little allowing the bail-arm roller section to get nearer to the spool under heavier pressure. I didn't use to like this but that was a long long time ago during a time when doctors warned that milk and eggs were bad for us humans. Then I became part of the industry and realized that it was deliberately done so. Perhaps an actual engineering reason.
You see, the weakest part of a spinning reel is the main shaft that supports the spool. If the pressure is too great and the rotor arm does not flex, the main shaft can very well bend, turning the reel into Quasimodo; the Hunchback of Notre Dame. Yes, high-end monster fighting reels have rotor arms that are stiff and will not flex. That is because they've got a freaking fat, rigid, and tough main shaft that is built to take very heavy pressure. For cheaper reels, the answer lies in the balance between the flex of the rotor arm and the main shaft.
Tough bail-arm and rotor arms that makes sense.
Don't get me wrong. This does not mean that cheap ass plastic reels with rotors that flexes like jello are good. They are not. They are utter crap that should be displayed in every reel making factory to show the workers what crap is and not to make one. This is because such reels have rotors where the entire thing flexes. They flex so much that the entire rotor from the bottom to the arms flexes and rubs against the spool. Well, that is also because the darn crappy main shaft these reels come with partake in the flexing party too, perhaps to see who flexes more.    
Quality reels like this Penn Pursuit III flexes only at the rotor arm. That flex is a little flex and when under heavy pressure depending on the pressure it is rated to take. The rotor body remains rigid and intact during such pressure. That way the main shaft remains intact, the rotor spins without issues, and the tough fighting gladiator gets to take a picture with the warrior on the boat.
The super-line ready spool for all braided lines and other super-lines.
Super-line Ready Spool
With usage of super-lines climbing higher; super-line ready spools are becoming more and more common. Super-lines unlike monofilament lines do not have grip especially on metal spools. As such either a backing line of monofilament is used (this makes me sound so old), or rubber is added into the construction of the spool to provide grip to these super-lines. The Pursuit III comes with machined and anodized aluminium spool that has rubber in it providing grip to super-lines.
Should You Buy The Pursuit III
If you are looking for a hard fighting saltwater reel but do not have thousand of Ringgit to throw or even hundreds above the half a thousand mark; then you should seriously consider the Penn Pursuit III. The only issue is your patience. As at time of writing, the Penn Pursuit III has not reached our shores. Then why the heck am I writing this piece? Well, I have seen the Pursuit III and played with the Pursuit III, and have decided to give you enough information to prepare you for its arrival.
Good size rubber handle for comfortable grip.
Comes with Penn HT-100 Carbon Drag system.
Notable Features
HT-100™ carbon fiber drag washers
4+1 stainless steel bearing system
Superline Spool
Line Capacity Rings
Sizes: 2500, 3000, 4000, 5000, 6000, 8000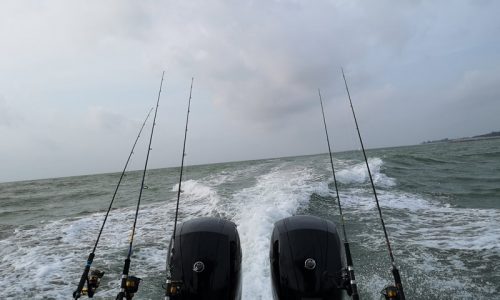 Click here to return to The Angler Issue 66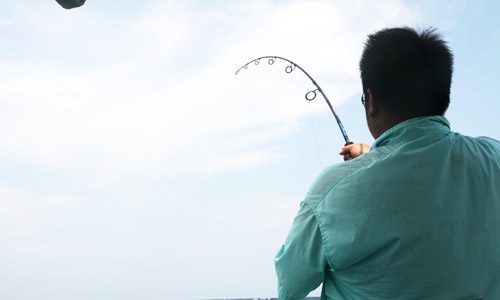 Click here to go to The Angler Magazine issues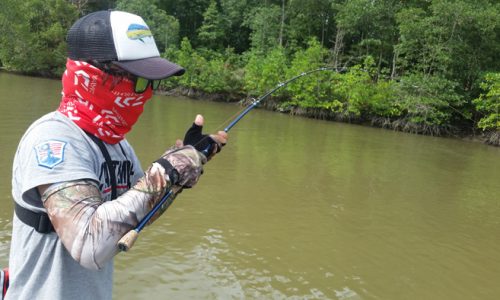 Click here to go to the main page
Do Not Miss Another Issue