Penn Spinfisher VI – Field Test
Penn Spinfisher VI SSVI4500
I have fished with the Penn Spinfisher reels for many years mainly battling it out with saltwater gladiators such as sailfish, cobias, etc. They have proven themselves to be very tough and durable reels. Needless to say that when Penn announced the Spinfisher VI I was excited. Soon after its launch I managed to get one, the Spinfisher SSVI5500 and took it to battle with some really hard fighting gladiators.
The Penn Spinfisher VI reel.
The Spinfisher VI SSVI5500 like it's elder brethren, felt tough and strong; a no nonsense reel made to handle such hard fighting gladiator fishes. It is every bit the muscle that earlier Spinfisher reels were. It took out some very hard fighting large tiger and dragon groupers during our field test. For those who have not fought with such groupers, they are like submarines with built in Nitrous Oxide. They may not be as fast as sailfishes and marlins but when they go they do go fast and like a submarine; will only stop when it feels like it.
Click here to read about the Penn Spinfisher VI here (earlier article)
The Penn Spinfisher VI SSVI4500 in action.
The Smaller Brother
That field test was with the Spinfisher VI SSVI5500 (size 5500). Now, how about one that is smaller. Does it have the ability to perform as well as its bigger brethren? To find out we took the Spinfisher VI SSVI4500 (size 4500) to our favourite testing pond in Behrang, Tanjung Malim; the home of the Amazon red tail catfish, the Mekong catfish, and other hard and tough fighting finned monsters. These hard fighting fishes may not be groupers but they certainly do pack a potent punch.
Smooth and powerful HT-100 drag system.
Smooth Drag
Using fish meat as baits, we cast them far out into the fishing zone at the Natural Exotic Sports Fishing Pond. The gladiators in this pond certainly love fish meat. We caught plenty of fish on fish meat. These fishes do have powerful runs. The drag of the Spinfisher VI SSVI4500 is smooth despite being set high. They are also strong and powerful. We pushed the drag very high putting large amounts of pressure on these gladiators (as well as on our hands) and the Spinfisher VI SSVI4500 handled the pressure very well. Every battle was fought well and without taking too much time the fishes were landed, photographed, and released.
Hot in battle with a hard fighting Amazonian.
Tough Reel
The Penn Spinfisher VI SSVI4500 may be smaller in size but it certainly is a tough reel. Despite the high pressure used during the battles, the Spinfisher VI SSVI4500 did not twist, flex or bend. The weakest point of any spinning reel is its reel stem. The stem on the Spinfisher VI SSVI4500 feels solid. The reel held its ground, feeling rigid and strong. Its rotor is tough and despite being under heavy pressure had no issues reeling in line. It also recovers line pretty fast with its 6.2:1 gear ratios. The larger EVA knob provides for a good and confident grip while winding.  
The tough and hard fighting Penn Spinfisher VI reel fought and won quite a few battles without losing any.
Overall
The Penn Spinfisher VI SSVI4500 is certainly a very good performer. It is one of the toughest reels around and can handle lots of pressure. Made for taking on big saltwater fishes the Penn Spinfisher VI SSVI4500 certainly had no issues taking on the hard fighting fishes here at the Natural Exotic Sports Fishing Pond. This certainly is a very capable reel that is made to do battle.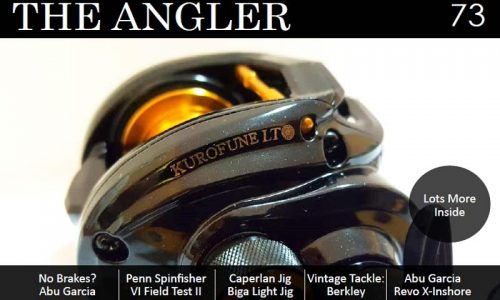 Click here to return to The Angler Issue 73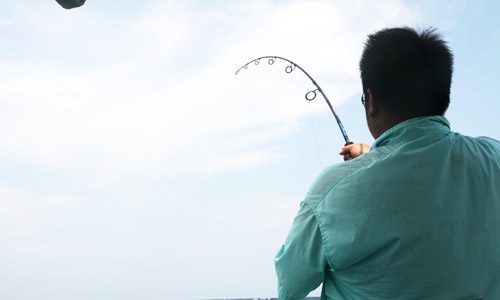 Click here to go to The Angler Magazine issues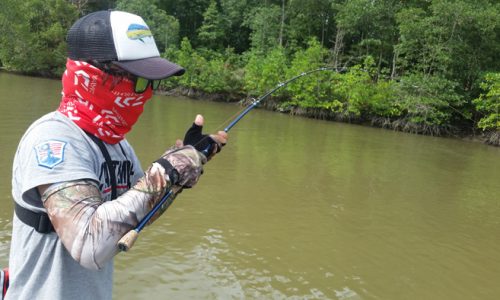 Click here to go to the main page
Do Not Miss Another Issue