Plastic Boat Fun In Bintulu
By : Amirul Irfan Bin Ahmad Rafee
Photos: Amirul Irfan, Altaff Asmar
Hello everyone! In this article I will take you all along on my maiden voyage with a yellow plastic boat to chase some popular estuary species such as the Barramundi, Mangrove Jack and Giant Trevally. When the thought of Bintulu (a place in Sarawak, Malaysia) comes to mind, many anglers would have read about its great saltwater fishing for big game. While that remains true, only few know about the simple pleasure of rowing around in a plastic boat in a lagoon once described in an article by Richard Kiin as Bintulu's GT prison. This lagoon is home to various marine fish species and only one culvert connects this lagoon to the sea. Fishes are somewhat trapped in this area that some anglers consider a hidden haven.
The short paddle to reach the lagoon
Throughout my years of studying in Bintulu, I had the privilege of fishing land based in this hidden haven. In July 2018, I came across some catch reports by local anglers. Their photos of Barramundi, Giant Trevally, Mangrove Jack and Barracudas tempted me but my curiosity was piqued when I noticed the yellow, plastic boats they were in. I quickly rang some close friends to get info and a trip was set on July 1st 2018, a Sunday.
The two friends were Altaff Asmar and Amir Fuhairah. Amir, a 16 year old angler well known in Bintulu for his fishing exploits was one of the regulars of the plastic boat rental service. He would fish alone or with a friend both day and night each and every week. He introduced me to Din, the owner of the yellow plastic boats available for rent. Din owns four plastic boats and rents them for RM30 per day/per night.
The jetty we launched from at Pantai ABF. Depending on the tide, boats are launched accordingly
We met at Pantai ABF fishing jetty, where many fishermen boats were docked. The tide was high which helped us on our next step. After loading our gear, we paddled pass all the boats around the jetty and across a 200 meter stretch of water up until a culvert where the boats had to be carried up and across another 30 meter stretch of land and finally into the lagoon.
The boats were fairly light, making it a possible task for a single person but a pair would be nice. In comparison of weight and fatigue from rowing, these yellow plastic boats were lighter and less tiring than a fishing kayak I previously rented from an angler in Bintulu. I fished together with Altaff in one boat, while Amir paddled alone in another.
The yellow plastic boat can fit 2 anglers, but it is a balancing act. Best wear a life vest for safety purposes.
By 8am we were out paddling across a little cove and reached our first spot within minutes. It was a line of mangrove trees with roots covered in seaweed and one or two snags just outside. The shallow water was clear and dark. With our boat parked 20-30 meters away we began casting small jerk-baits, mainly the Zerek Barra-X 75 – a local favourite. Within a few casts to target weed edges, my lure was caught up in a hidden snag, under the weeds.
While shoving my hand in the weeds to free the lure off, a Barramundi shot out and slammed Altaff's Barra-X, just beyond my hand. The sudden take shocked us and the 8-20lb Berkley Bass Patrol rod was fully loaded. A quick drag adjustment and durable rod saved the day as the barramundi kept diving around the boat before it was finally landed. It was Altaff's first ever barramundi in Bintulu. With some nice photos taken, we were happy and moved to a sand flat.
Altaff's first barra! It inhaled his Zerek Barra X jerkbait.
We anchored and began casting blindly with no response. Amir informed us that this lagoon was mostly shallow, with a depth of 2-2.5 meters. Shallow jerk-baits can be casted in every direction with hopes that it will pass a bunch of weeds which serve as an ambush point for predatory fish.
An hour went by and with the wind picking up we moved along the southern bank of the lagoon and crossed to a rock wall which served as a border with the sea. This rock wall was covered in greenery, including some fallen trees lining the bank surrounded by thick seaweed.
Amir was anchored and casting out into the open instead of a snag when a barramundi of about 5kgs nearly inhaled his jerk-bait just by the boat. The look of shock on his face showed what was going on as he repeated casting to the same area. I continued to cast along the weed and snag edges before passing by another two anglers in a plastic boat. The two anglers were casting soft plastic shrimps into opening between the weeds and they were rewarded with a small barramundi.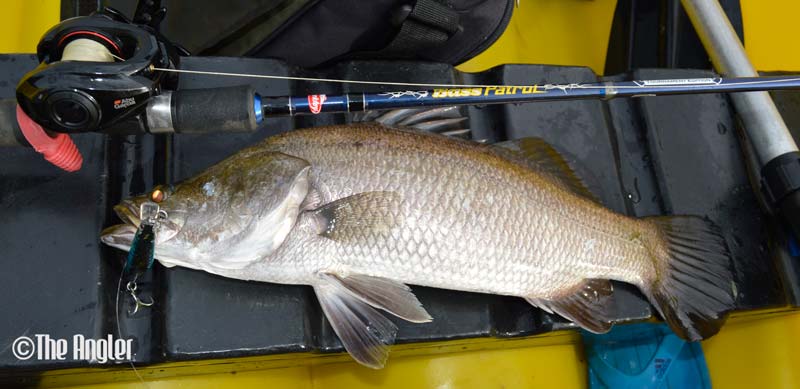 Altaff's handsome barra with the Berkley Bass Patrol.
Just ahead of them, Altaff photographed my reel as I worked my jerk bait along weed lines and a fallen tree. Out of nowhere a hard thump came and the fight was on! The fish dashed out of the snag and after some coaxing, it surfaced boat side. Compared to previous Barramundis I have caught land based, it was about 3kgs – a good size for this area. The jerk-bait was out of sight with only my leader visible. The barramudi made a hard dive under and around the boat where my luck ran out. The line went slack and my rod tip jerked back, crushing my hopes of a nice barramundi for the day. It seemed like a solid hook up but you never know what can happen in fishing.
Caught this jack by pitching my sinking jerkbait into a weed opening right by the boat.
We have come to the end of the first part of the article. More action from this trip will be shared in the next issue of The Angler magazine. Stay tuned for the next part of Plastic boat fun in Bintulu, Sarawak, Malaysia.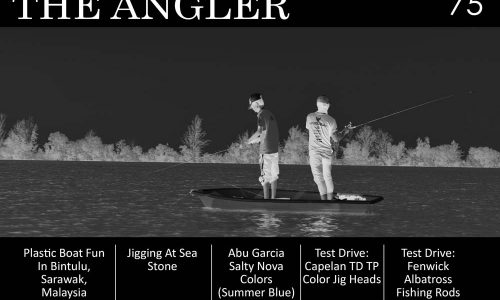 Click here to return to The Angler Issue 75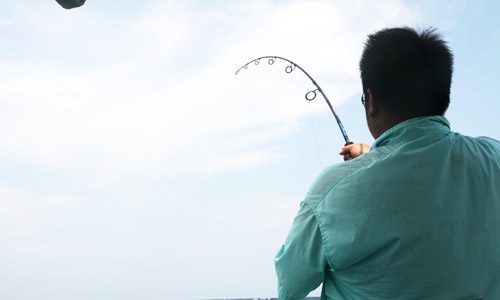 Click here to go to The Angler Magazine issues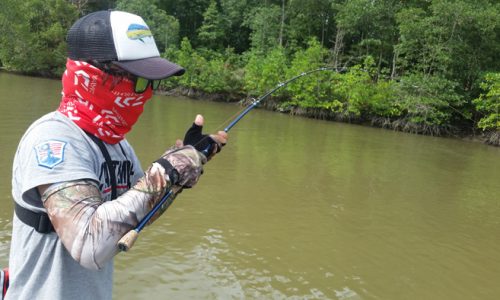 Click here to go to the main page
Do Not Miss Another Issue