Pond Fishing: Change When Fishes Don't Bite
Knowledge Wise
By Altaff Asmar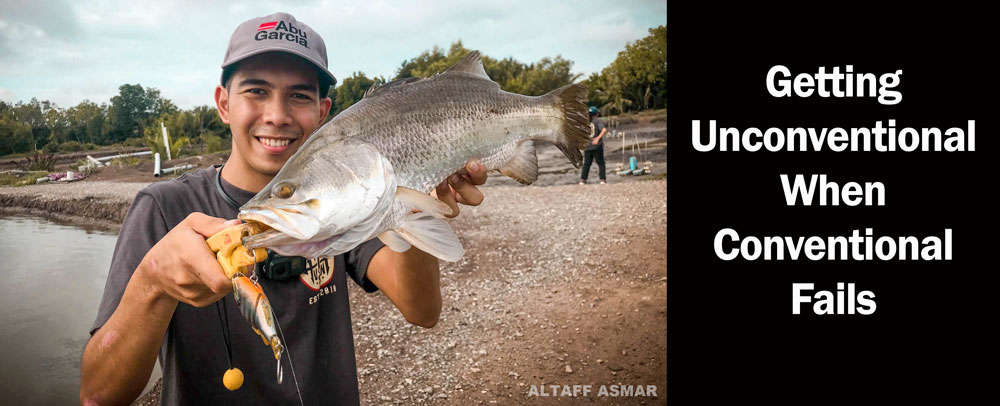 Pond fishing has been an alternative for most Malaysian anglers ever since recreational fishing came into existence. Whether it's due to the seasons or time restrictions, the inability to go fishing at lakes, rivers or sea has always been the reason anglers flock to nearby pay ponds (commercial fishing ponds). This in turn causes the fish, especially in catch-and-release or sports fishing ponds, to become smarter by the day. So, when the fishing gets tough and traditional lures such as pencils, minnows, crankbaits and soft plastics just don't cut it; it's time to break out the weird and unconventional lures and fish differently.
I recently started my degree in Veterinary Medicine, which means my fishing time has been drastically reduced. When a class got cancelled, I took it as an opportunity to go fishing with beginner angler; Nurul. She has never held a fishing rod before. Being a greenhorn I thought the best place for her to learn how to fish is at Jugra.
We arrived at one of the payponds in Jugra at approximately 7am and immediately got onto getting our lures wet. We started with soft plastics on a jighead with a straight retrieve but did not get as much as a nibble. We tried different retrieves such as bottom hops and dragging, but still nothing. Then I recalled my previous trip to Jugra with long time friend and angler Amirul Irfan. Back then we used swimbaits to coax the fish into biting. Then it dawned on me that these fishes have been seeing the same lures go over their heads every single day. With that, I decided that it was best if we tried using lures that the fishes here have probably never seen before, more specifically jointed swimbaits. I handed Nurul my Jackall Baby Giron and I used its bigger counterpart; the Giron.
The bites were instantaneous. Just as the lures hit the water they were taken and in this case by Barramundis. Ironically Nurul was doing way better than me. I assume it's due to her lure having a smaller profile, or oerhaps it was beginner's luck (or she could secretly be an expert angler playing the greenhorn). She managed to catch 2-3 barramundis before I managed to get a bite on my bigger Giron swimbait. We both had a blast reeling in fish after fish and releasing them until it was nearing noon and the bites started to die down. That was when we decided to call it a day and planned to return next week.

Nurul and her barramundis (her first ever fish caught on rod and line) caught on the Baby Giron Swimbait. 
Mixing it up
We came back to Jugra the following week with the same game plan. Only this time, I let Nurul use her favourite Baby Giron and I tied on a Duo Realis Shinmushi. Our target this time were Grouper and Redfish. Luckily, we arrived before the caretakers fed the fish which meant the fish were waiting at the surface ready to hit anything that resembles pellets. On my first cast I had a Redfish follow my bait but it didn't commit. I decided to slow down the retrieve and stopped when a fish followed it. That was the trick! The fish inhaled my Shinmushi and peeled a bit of line off the reel before I could start reeling. That was my first ever Redfish and to have caught it on a topwater lure certainly was a thrilling experience.
My first red fish caught on the Shinmushi lure.
After releasing my fish, we continued casting and my spool over ran resulting in a dreaded "birds nest." Whilst clearing the said birds nest, I turned around to look at Nurul setting the hook onto a fish. She fought it for a few minutes until it surfaced only to dive back down peeling more line off her reel. We managed to catch a glimpse of the big grumpy face of a grouper during the milliseconds when it surfaced. After tiring the fish out, it was landed and a short photoshoot followed.
After that, Nurul wanted to try her luck with Redfish so I tied the Shinmushi to her line and I used the swimbait instead. I decided however to watch and teach Nurul how to work the Shinmushi but before I could say anything a nice Redfish smashed the lure as soon as it hit the water. The fish put up quite a fight but was subdued within minutes. More photos were taken and the fish was released. This time Nurul took back the swimbait and I decided to take over the Shinmushi. The next hour we caught a redfish and a Barramundi.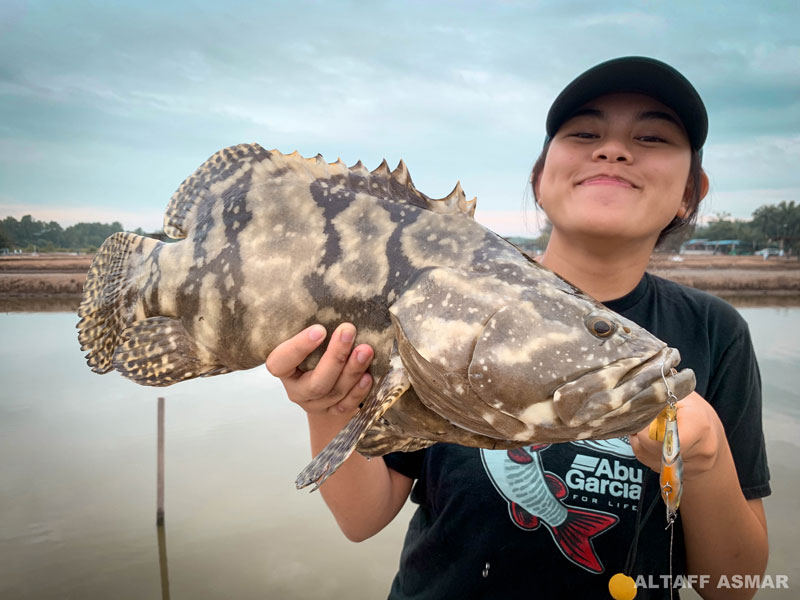 Conclusion
To sum things up, pond fishing isn't always straight forward. The fact that the fish sees the same lures every day makes them cautious. Therefore, a change in lure profile or action might just do the trick. A jointed swimbait is extremely realistic and mimics an injured baitfish. It is also something that is rarely seen by the fishes here. Another thing to consider is the diet of the fishes that live in these ponds. As for the Redfish in this pond, they are often fed pellets. I decided to use the Shinmushi as it has a small compact shape that closely resembles a clump of pellets on the surface. The Shinmushi also imitates a cicada that has fallen into the water; something that the fishes here seldom sees and can be irresistible to them. That's all for now! Till next time; tight lines and never stop fishing!
Do Not Miss Another Issue