Science Behind The Fight: Part 4 – The Reel Drag – The Human Aspect
By: Phil Foo
In an earlier issue we discussed how locking or maxing out the drag of a reel can damage the reel and is not efficient when battling the fish. In this issue we will look at the human aspect. In this article we will focus on the angler battling the fish hard fighting fish, and how maximizing the drag will affect the angler.
[  Now, think about this for a while; how long can you carry a gas tank that weighs 15.8kg without resting it…   ]
Guess what happens
Just imagine this, you get yourself a very powerful reel with a max drag of 155lb. That comes to roughly about 70kg of drag pressure. Let's just say that your lines are 150lb break strength, you weight about 60kg or even 70kg, and you are out on a rocking boat; big game fishing. Your rod suddenly starts to bend. You grab on to the rod and remove it from the rod holder and secure the butt to your fighting belt. What would happen when the drag is pushed all the way to the max?
With a hard fighting fish on the other end of the line providing heavy pressure, say 50kg. Just how long can one stand?
Have you seen videos of anglers getting pulled overboard while fighting a fish? I have even watched a video of a boat getting pulled under by a fish, and that was not a small boat. That boat was one of those nice more luxurious boats with cabin. Do the math and you will understand why this happens. Of course sometimes it is a mixture of things including a high drag setting, coming together that causes such a thing to happen.
Ok, while there are cases of anglers being pulled overboard; why not half the drag setting then? Half of 70kg is 35kg. Well, that seems more manageable. Now, think about this for a while; how long can you carry a gas tank that weighs 15.8kg without resting it on anything? Why not go to the kitchen and give it try? Note that the 15.8kg gat tank is still not even half of 35kg. Even with two tanks you are still a few kg short.
Ok, holding on to 50kg pressure is a bit much. How about 35kg?
The Experiment
A long time ago during a fishing course that I took, we did a small experiment where a fishing rod with reel was secured to a weighing scale, that was secured to an anchor. I was a body builder then. The reel drag was set at about at about 10kg. I cannot remember exactly but it was around 10kg. The experiment was to see how long we could support that weight before we got tired. I held on the longest amongst the few of us who tried. I managed to hold on for close to 3.5 minutes.
That was 10kg. So, how long can one hold on to 35kg drag? How long can one hold on to 70kg – max drag of some of the big game reels in the market? How efficient can one battle a fish when the human aspect is unable to manage such weights? Needless to say, there is a way or we would not be catching big game fishes.
Smaller outfit, lighter tackle, lesser pressure; plenty of fun.
Of course when battling big game fishes, the drag setting does go higher than 10kg. In fact, we do set the drag setting higher than usual (I have not gone to 35kg drag setting before though), but we don't lock the drag because reel failure can happen.  Also the appropriate tackle is used hence there is no need to lock or max out the drag of the reel.
[  The last thing you want to see happen on your fishing trip is a 50kg angler being pulled into the sea…   ]
Anyway, to battle a fish at high drag setting is certainly possible and even a must when fishing big game. This is where stance and technique comes into play. Learning to stand and support the fishing tackle when battling a large sailfish, for example; is really important. Conserving energy when opportunity presents itself, and using energy only when needed is important.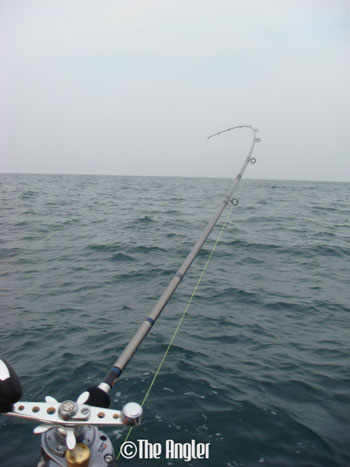 Pressure from a hard and fast running fish need not always be handled with extreme pressure.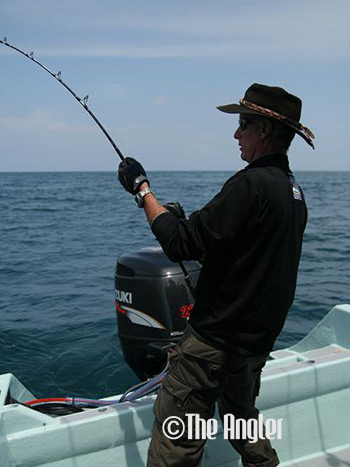 With a speeding sailfish on the the other end of the line, axing out the reel will wear the angler out faster too.
So, how does one set the drag then? Instead of solely setting up your tackle based on the maximum capability of the reel, the lines, etc. give a thought also on the weight and capability of the angler. The last thing you want to see happen on your fishing trip is a 50kg angler being pulled into the sea because of the powerful tackle used to battle a powerful fish.
Needless to say, not many freshwater fish can put on the same amounts of pressure a saltwater big game fish can. But then again, 8 to 10kg pressure is not unheard of.
Ok, all said and done, I hope to have given you enough information to help you understand why there is no need to max out the drag when fighting a fish, and how it can be a problem instead. I will go deeper into the science behind the fight – fishing reels in the next issue. Stay tuned for the next part; part 5.
Do Not Miss Another Issue