Back To My Roots: Fishing Sasaran
Action Zone

As one journeys through life, one experiences many things, sees many things, and grow in many ways. It is nice to return to where one started off one's journey, every once in a while. The first time I took a boat out to sea some thirty years ago was at a place called Sasaran in Kuala Selangor, Selangor, Malaysia. I was more excited with the boat trip than the fishing on the said trip. That was the first of many boat fishing trips in Sasaran. Our catches comprised gelama (jewfish), various types of catfish, snappers, triple tails, bulus, threadfin, groupers, sting rays, etc.
Everyone Starts Somewhere
From fishing off the sea at Sasaran, I have since explored many other waters with my favourites being the waters off Pekan and Rompin. With hard fighting fishes such as the speedy sailfish which is the fastest fish in the sea, mackerels, snappers, various types of trevallies, etc. I am drawn to these waters like moth to light. The torture of muscles and fishing tackle certainly is the call in these here parts.

Kuala Selangor; home of the raptors.
A Walk Down Memory Lane
I recently took a walk down memory lane together with a few friends; a visit back to my roots. I boarded a wooden fishing boat and headed out to sea, bobbing about the waters of Sasaran. It has been many years since I have done this type of fishing. It's like putting aside your modern car and taking the wheel of an old car that is fitted with no power assisted steering, a clutch so heavy it's like doing a one legged leg-press in the gym, zero computer assistance which means that if the road is slippery you better have the skills to take it on or you'll end up a burger patty.
Just like driving an old car and having plenty of fun (if you don't believe me, go ask classic car enthusiasts); stepping away from higher powered more modern boats and getting onto a wooden, slow moving, diesel fumed fishing boat is fun in its own way too. 
A Night To Forget
It was 5am when the alarm of my mobile phone rang. I wasn't sleeping. I could not sleep. Perhaps it was because of the bed; being one that I am not used to. Perhaps it is the thought of needing to rewrite my review of this hotel which I have returned to stay with my friends because I had a good experience on my first stay here; but it has since lost its shine and is now looking more like a piece of rusty metal instead of the gold I once thought it was. Well, at least the air-conditioning worked well enough in keeping the room cool.
At 6am we drove to a nearby village for breakfast before heading to the jetty. I was feeling groggy. Lucky for me I did not drive as I was in no condition to operate heavy machinery. I wasn't even in the mood to make decisions. I just wanted to eat something and be done with it. I just wanted to get on the boat. Perhaps rocking about at sea will balance out the groggy dizzy head of mind.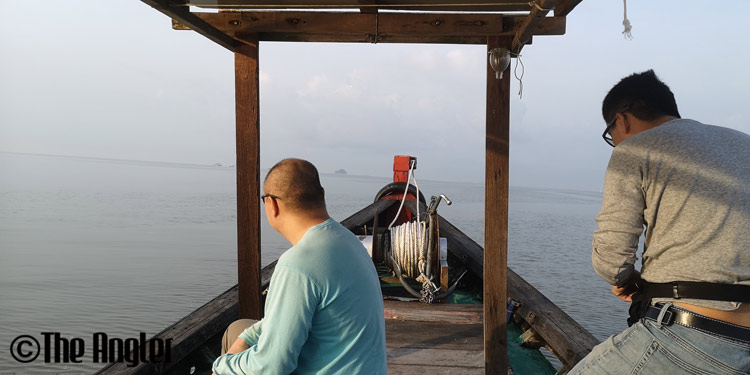 Chugging our way out to sea.
Chuggy Chug Chug
We boarded our wooden fishing boat at the jetty in Sungai Buloh River, Sasaran (not to be confused with Sungai Buloh; the town). Our boatman was quieter than a church mouse. Well, with his boat's engine chugging loudly no one would know if he did say something. Anyway, we chugged our way out of the river and chugged our way further out to sea. I sat under the shade of a canvas sheet in the centre of the boat. Getting high is not my cup of tea and thus I decided not sit at the best part of the boat; the stern. For those of you who do not speak "boat language," the back of the boat is called the stern. Howard Stern on the other hand does not mean Howard's Back. That's just his family name. Google Howard Stern if you do not know who he is.
Why is the back of the boat the best part to seat at? Other than the free diesel fumes, the current usually hits the bow which in the front of the boat and flows off the stern. This means that your lines and bait and whatever else flows away from the boat. The folks at the back also catches the most fishes.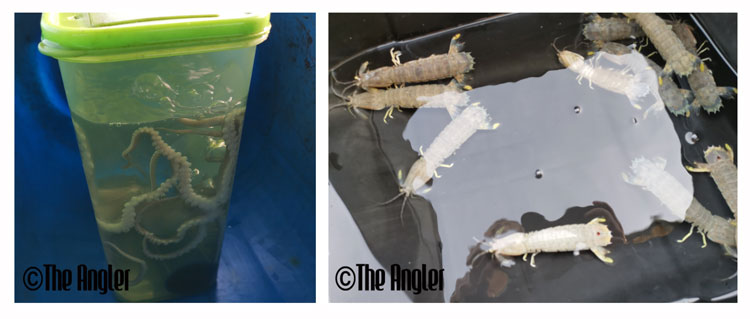 Left: Live octopus. Right: Live mantis prawns.
Ok, back to this story… we chugged for about 45 minutes before arriving at our first fishing spot. I picked up a live mantis prawn and pierced a hook through its shell making sure that I do not get its body thus ensuring that it lives to see the bottom of the sea. I did so in a calm and careful manner to ensure that no part of my hands get cut by the razor sharp body of the mantis prawn. For those who have not handled live mantis prawns before, hold it with a piece of cloth and never with your bare hands. It certainly is not worth checking if you have super powers when you are out at sea. A mantis prawn may be a small creature but it is a creature that can cause plenty of pain and misery.
I dropped the mantis prawn off the side of the boat… oops, I meant starboard side. I was fishing off the right side of the boat and that side is called the starboard side. I then placed my fishing rod on the rod holder that was securely fasten to the gunwale of the boat. I was waiting for the call of a snapper. Waiting can be boring and while most anglers are patient  (as popularly believed), I am not. I picked up my other fishing rod and secured an apollo rig to it. I then proceeded to fillet a kembong fish (Indian Mackerel) and hooked pieces of them to my apollo.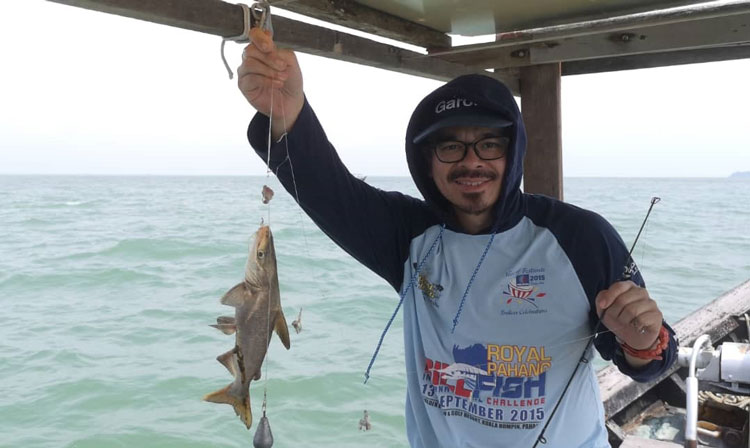 A catfish caught on Apollo rig.
The apollo instantly got hit. The vibrations reached my hands and I happily reeled up the fish. A gelama (jewfish) came up croaking all sorts of fish angry words at me for disturbing its day. Ah, I certainly am walking down memory lane. This was how I used to fish back in the day. The tackle was certainly different. I was using fibreglass rods, monofilament lines, and reels with so little bearings the green horns these days would laugh at and make jokes of. If you're wondering; "aren't bearings important in a saltwater reel," well, yeah. But you don't need 15 of them. You only need them in certainly places and the rest can be replaced with bushing or washers. This makes maintenance easier.       
I landed plenty of jewfish and various species of catfish after a few hours (cheap fun) while the mantis prawn safely explored the bottom of the sea. No fish took it. I brought it up to check if it needed refreshments and it shook its head saying no. To cut a long story short, the fishes were not interested in mantis prawns during our fishing trip.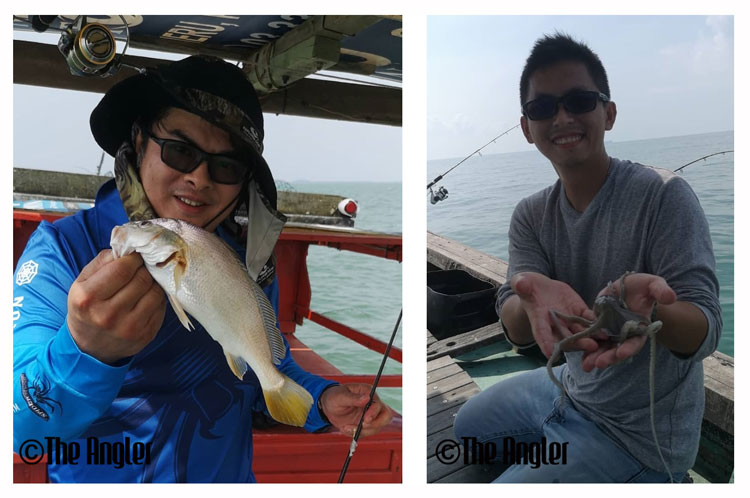 Left: One of the jewfish caught here in Sasaran. Right: Live octopus bait.
The next bait we tested were live octopuses. We sent them down to explore the bottom of the sea hoping that they would catch us a snapper or a threadfin. Alas, no fish dared to take on these octopuses. I continued pulling up more jewfish and catfishes. My friends fishing at the bow with me caught similar fishes too. The most unique catch we caught was an ugly looking toadfish.
My friends at the stern of the boat fared much better. Withstanding the diesel fumes certainly paid off. Other than the usual jewfish and catfishes, they caught a few mangrove jacks, a white sand snapper, and a big bulus. 
At 5pm, our boatman signalled for us to raise our lines as we had to head to shore. The slow boat ride back took slightly over an hour. It was an hour of drifting in and out of consciousness as we chugged along its wavy course.
Left: Some of the fishes caught during our trip. Right: A scary looking toad fish that took our bait.
What Was…
This was where I started out my seafaring fishing journey and this trip was a trip back to that time. Most things were similar. The differences are the tackle that we now used and years of experience that we now carry. This may not be the sailfish capital of Malaysia nor is it the nest of the mean cobias (although I caught a big one here before back in the day); but it certainly still is a nice place to do some simple and more relaxing kind of fishing just like back in the day.
Need more information on fishing in Malaysia; send us an email.  
Do Not Miss Another Issue