New Lesson From Fishing – Size Up
By: Amirul Irfan Bin Ahmad Rafee
Photos: Amirul Irfan, Yunus Adnan, Hazique
Fishing is a great sport that presents endless learning opportunities for anglers. Whether you've been fishing for two months or two decades, chances are there's always something new to learn. Learning new things can be hard but when things go right on the first try it feels damn good. This trip (or two trips) to Prima Lake was one of those moments. 
In February, I received catch reports from my fishing guru, Fahmi Azmi showing sizeable Peacock Bass caught on long soft plastic worms. The Peacock Bass of Prima Lake were feasting on long soft plastic worms instead of the usual tiny soft plastics you'd expect for ajing style of fishing. A close friend of mine, Hazique also sent photos of jerk bait catches from his recent trips to Prima Lake. The common saying that I firmly hold on to is sizing down when fish don't bite. However, this time it seems like it is time to size up. There are many reasons why this could work; fish have changes in their diet due to various factors. It could be an environmental change or a seasonal change but that is another story. The opportunity to use artificial baits that are bigger than my usual preferences is here. It's fishing time!
[   "When a fish bites, shake it (soft plastic worm bait) until the fish gulps it, then set the hook". Fish always bite when you least expect it, right?   ]
I found myself on a boat at Prima Lake with Hazique on a gloomy Wednesday. Our target was to fish with big jerk baits and soft plastic worms only. We had a very short and fishless morning session before heavy rain poured down. By noon, we continued and fished despite the weather. With no signs of lightning after hours of rain, we continued fishing at a point not far from Prima Lake jetty.
Casting jerk baits along grass lines did not produce bites but soft plastic worms with natural colours did. The few bites we received were very slow and hard to detect in the heavy rain. Both of us missed hooksets and bites slowed down so the next move was to the south-eastern banks of Prima. Long grass lines, sandy slopes, and thick algae mats provide good ambush points for Peacock Bass. Before I could drop the boat's anchor, Hazique had a fish in the boat on his Vision 110jr jerk bait. The jerk bait seemed too big for a fish of that size. Maybe it was a greedy specimen.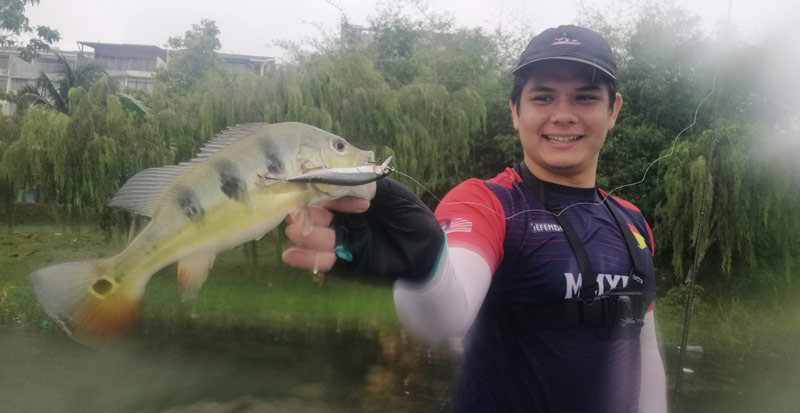 Hazique with the first fish to start the day on the Megabass Vision 110jr jerkbait. 
Within minutes Hazique landed another fish on the same jerk bait. I had no success with 50-70mm jerk baits and switched to a 90mm jerk bait before I could finally catch a few fish. It was pouring but apparently, the fish did not mind. It was just a matter of using the right lure size and profile to kickstart our evening of fishy action. We fished along different areas and had success near drains flowing into the lake. Baitfish being swept into the lake provided a free buffet for Peacock Bass. Still, the fish were particular and only took jerk baits sized between 90-100mm.
The jerkbaits we used ranged from 75-100mm. Only 90-100mm jerkbaits had success.
Once we matched that right size, we caught fish after fish. Some managed to open the standard hooks we used but it was still fun. Some unforgettable moments of that rainy evening happened as we slowly idled, cast along the banks, and aggressively fished our jerk baits. Multiple good-sized bass shot out from the cover of vegetation to hit our jerk baits without getting hooked. Hazique had the best hit when he cast his 100mm Adusta RSJ jerk bait near a rocky bank. Two big 40+cm bass "slapped" his jerk bait three times and chased it up to the boat before they shot back into the depths. As darkness came, we landed a few more small bass and called it a day. The ongoing rain kept us soaked but it was a good feeling to learn something new. Jerkbait fishing is ticked off the list…now, what about the soft plastic worms?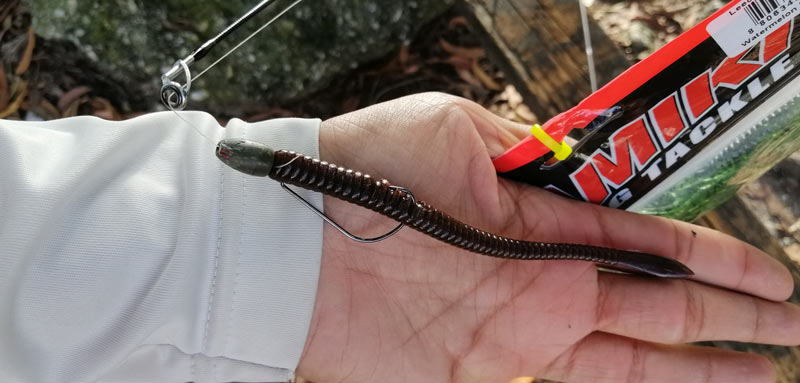 A few days later I made it back to Prima Lake for soft plastic worm fishing with Fahmi Azmi and Yunus Adnan. The morning started well with Yunus getting bites and catching a nice one on his Cats Claw Little Warrior lure. Soft plastic worms began to get bites and Fahmi showed how it's done with a couple of nice Peacock Bass on 4.8" soft plastic worms. The technique used was texas rigging the 4.8" straight tail worm with a 3.5g/5.3g tungsten bullet sinker. Tungsten bullet sinkers are smaller in profile compared to lead sinkers and helped in minimizing the profile of the lure while having increased sensitivity. In terms of length, 4-6" worms seem too big for Peacocks but Fahmi proved it did not matter. These bass were capable of taking down even 8" worms with no trouble. The main thing is triggering them to bite. The worms were fished slowly off the bottom, hopping them literally inch by inch, pausing and shaking them in place.
This is where I struggled. I have tried soft plastic worms before but never paid attention to the details. It needs patience, attentiveness, and sensitive ultralight or light rods. While Fahmi gave perfect hooksets on each bite, I missed my chances on the few bites I had from my knee-jerk response each time a fish bit my worm. We fished many areas from sandy slopes to weed edges and hard bottoms around the lake. The worms triggered bites all around.
The afternoon came and our trip was ending soon. Fahmi & Yunus continued to land nice fish on their worms while I remained as the trip cameraman. With the sun high up and sleepiness taking over from the slow method of fishing, I lay back and used my life jacket as a pillow. I cast my worm out, kicked back and relaxed while slowly hopping the worm back with Fahmi's advice in mind: "When a fish bites, shake it (soft plastic worm bait) until the fish gulps it, then set the hook". Fish always bite when you least expect it, right? My light spin rod's tip loaded as a fish nibbled on my 6" Damiki Air Spearworm. With a few shakes, the fish gulped the whole worm, and I set the hook. The drag of the Abu Garcia Promax spinning reel started to sing and there it was- my first Peacock Bass on a worm.

The 6_ Damiki Air Spearworm is irresistible. 
Some pointers from Fahmi and Yunus on the day were sizing down on the sinkers even with a big worm. A lighter sinker gives a slower and natural fall rate which will not spook the fish. They also suggested the right colour selection. Similarly to size preferences, fish also prefer different colours on different days. Lastly, Peacock Bass may have big mouths but this does not mean they can gulp a whole soft plastic worm in one go. Give them the time and shake the worm until the bass turns around before you set the hook. The hooks we used measured about a quarter of the worm's length. With smaller hooks, the bass will hold on to the worm longer as they are less likely to feel a foreign object in their mouths. Peacock Bass take soft plastic worms head on which meant that a long body section will not reduce your chances of a good hook up.
Both hard lures and soft plastics worked. But do note that size matters. 
All in all, these two trips taught me that adapting to what the fish want to eat isn't just a matter of sizing down and using smaller baits. Instead, sizing up may be the way. Who knows if the bass were digging up worms at the bottom of the lake or if they were feeding on larger and longer baitfish which lead to their preference of longer jerk baits and soft plastic worms. Most importantly as anglers we need to observe and give them what they want at that particular moment and bites will come in no time.
Do Not Miss Another Issue