Fishing lines are super important. They are the longest link between the fish and the angler. They may need to handle fishes that fight like bears, holding on to them without breaking sometimes for hundreds of feet away. To do this successfully, fishing lines must have consistent strength throughout the length of the line.
Of course it is not just the fighting with fish that  fishing lines will have to managed well. Fishing lines must be able to cast out baits and lures well too. The further, the better. This I am sure is what any angler would expect of his or her line thus why clothes lines are not used as fishing lines.
Fishing lines must be able to take lots of abuse.
We also want our fishing lines to have the least resistance in water as well as air. To do so fishing lines need to be thin. They must come with a small diameter and must have good hydrodynamic and aerodynamic qualities. These allows for better casting distances and also allows our baits to get to the fishing zone faster.
One other thing that we want from our fishing lines is sensitivity. We want our fishing lines to communicate with us. We want to be able to feel every bump. We want to know the type of terrain that we are fishing in. We want to know if the ground if soft or hard. We also want to know if a fish has taken our bait. We want a line that transmits these vibes to us.
The Spiderwire Dura-4 Braid is the latest superline from Spiderwire.
Does it not seem like we are expecting a lot from our fishing lines? And not forgetting that we want our fishing lines to be cheap too. While fishing rods, reels, hooks, snaps, etc. have their own roles to play; fishing lines have a lot riding on them. With the new Spiderwire Dura-4 Braid hitting our markets recently, we took them out and gave them a beating to see how good they are.
We tested the 40lb variant.
Casting Qualities
I have cast jigjeads with 2 inch grubs with them and they certainly cast well giving me good distances. I have also cast lures with them and yes distance provided is good especially with the winds going crazy during a recent trip to Pekan in Pahang, Malaysia. It is generally a smooth line that is great for casting.
Note: I have tested various poundage.
Squid catching fun with the Spiderwire Dura-4 Braid in Pekan.
Sensitivity
Sensitivity is good as the Spiderwire Dura-4 Braid has almost zero stretch. This is also helps with setting hooks after the fish has taken out baits. I could actually feel the fish investigating the bait allowing me to prepare to strike. This period of excitement right up to the time the fish takes the bait is exciting as the angler is filled with anticipation. The communication between the line and the angler is crucial.
Good sensitivity thanks to its almost zero stretch qualities.
Strength
We have taken on various types of fishes from squid to barramundis, and even large groupers that weigh within the region of 30kg to 60kg during our most recent test. We never had a line bust during all these tests. The Spiderwire Dura-4 Braid certainly held on very well even under heavy pressure.
Fighting very hard to beat the gladiator.
The Spiderwire Dura-4 Braid held on well despite the high pressure.
Conclusion
After all the fishing and testing that we have done with the Spiderwire Dura-4 Braid, I find it to be a good performer. It is great for casting, has good levels of sensitivity, and has good knot strength. It is a tough line to use. Do note however that we did not abuse these lines. We pushed them and we pushed them hard but we did not abuse them. For that we were rewarded with some nice photos of hard fighting gladiator fish, and got to enjoy some tasty squid  as well as fish unworthy to be mentioned.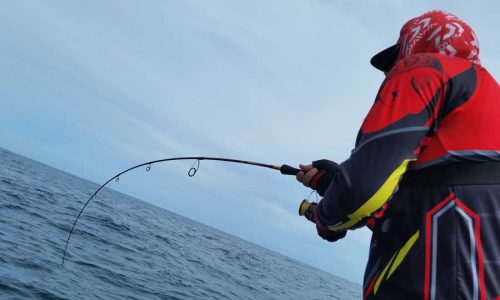 Sea fishing is always fun as the fish are hard fighters. Bintulu in Sarawak, Malaysia is one of the places to go to for some serious saltwater fishing. The gladiators will work out your arms, back, and legs. Click to read.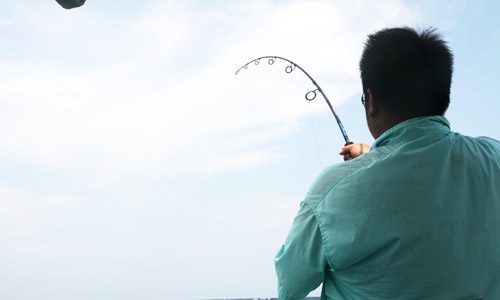 Click here to go to The Angler Magazine issues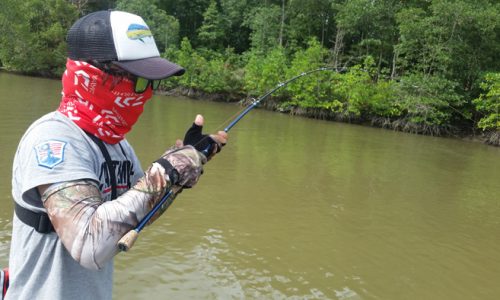 Click here to go to the main page
Do Not Miss Another Issue