Fishing With Spoons, The Basics: Part 3 Spoon Actions
By: Phil Foo
We all know that spoons are reliable, tough, versatile, and good for anglers unless one decides to use them as nose rings, then it becomes weird. Imagine thinking this, "hmmm, perhaps I will wear the Siam Spoon today." With regards to this article let's take a look at spoon actions.
[  In general, the faster the retrieve the greater the wobble / flutter, and also the more erratic…   ]
Spoon Actions
You probably would have figured by now that spoons come in many shapes and designs. These shapes and designs are not meant to just capture the heart of anglers. These shapes and designs gives the spoons certain actions with the aim of enticing a fish to bite. In this article we will take a look at some of the more common designs but before that let us look at factors that affect action and characteristics of spoons by design.
The Abu Garcia Toby spoons, one of my favourite spoons.
Various Factors
There are various factors other than design that will determine the action of a spoon. Factors include speed of retrieve, weight distribution of spoon, as well as nature of the retrieve (spoon presentations). In general, the faster the retrieve the greater the wobble / flutter, and also the more erratic.
Spoon Characteristics
Spoons can either be flat, have some form of bent, ribbed, or concaved. Being flat, bent, ribbed, or concaved gives spoons certain actions. Flat spoons such as certain jigs will drop to the bottom faster than spoons that are bent, ribbed, or concaved. Being bent, ribbed, and concaved creates various character or in this sense, flutter. Now we move on to the general designs that spoons come in.
The Long And Narrow Spoon (Slight Bent / Shallow Concave)
Long and narrow spoons or elongated spoons with slight bent or shallow concaved designs generally have a narrow flutter action with less erratic movements during the retrieve. The greater the bend or the deeper the concave, the wider the flutter.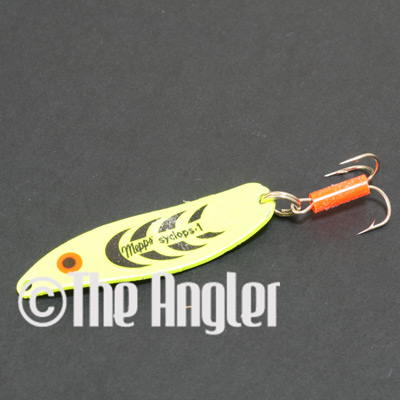 A Mepps Syclops spoon; an example of a spoon that is long and narrow, with a slight bent.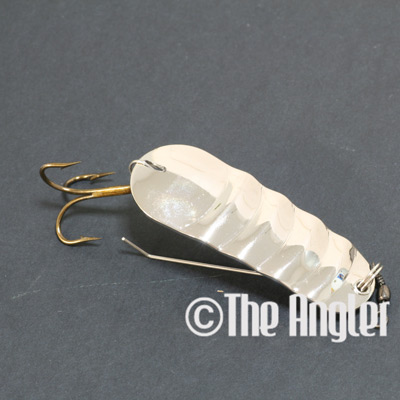 A wide spoon that has an additional feature; weedless. The metal wire of the spoon pushes the weeds away from the hook.
Wide Spoon
Wide spoons generally have a wide more erratic flutter action as they have a wider surface of which provides more resistance underwater. How erratic will again depend on how deep or shallow the concave, degree of bend, bent sections, curvature, etc. are.
The teardrop shaped Abu Island, a legendary spoon that has for a very long time been catching fish in many lakes and rivers. This spoon is also known as the "sebarau killer" in Malaysia.
Teardrop Design
Teardrop designed spoons such as the Abu Island spoons come in a teardrop shape with a concave. This gives it an erratic flutter underwater while it is being retrieved.
Rounded Spoons
There are spoons that are rounder is shape and slightly bent such as the Abu Garcia lillöringen spoon. Such designs gives the spoon a jerky erratic and unpredictable wobble.
The Abu Garcia Lill-Oringen spoon is a more rounded spoon.
Drop / Fall Action
Drop or fall action refers to the action of the spoon as it drops to the bottom after the cast. One tip I would like to lay out is that after you've made your cast and the spoon hits the water, allow it to sink as fish do hit them while they are falling to the bottom.
[  Generally, these actions try to mimic the actions of bait fishes or injured fishes…   ]
Different spoon designs will have different fall action. Generally concaved spoons will flutter to the bottom on a side to side motion with a tumble here and there, while flat spoons will fall straight down (depending on weight distribution) or at an angle.
What's With These Actions
Generally, these actions try to mimic the actions of bait fishes or injured fishes. Sometimes while standing on the bank of a clear stream with fishes swimming around, you may notice sudden flashes of lights. These flashes are created when fishes flip to their side as they scratch their body on the sand. Many a spoon mimic this action.
A sebarau (Hampala microlepidota) also known as the Hampala barb, caught on a teardrop shaped Abu Island spoon.
Injured or dying fishes tend to swim erratically sometimes swimming on its sides, sometimes turning upside down, sometimes falling to the bottom on its side, etc. Many a spoon mimics these actions successfully.
Conclusion
There are many types of spoons and there are many types of actions. Even the type of flutter will vary depending on spoon designs (deep or shallow concave for example). To know what spoons to use where, knowing their actions will be a great help with helping you catch more fish.
Do Not Miss Another Issue