Action Zone: Tagging Mission In Kiulu, Sabah – Part 1
By Altaff Asmar
After finishing my internship back in July, I headed back to my hometown of Sandakan, Sabah. Not even a week after my return to Sabah, I received a call from none other than Khairul Satria a.k.a Eping from Sri Ganda. I was expecting an invitation to one of his legendary black bass trips but instead he was planning a more laidback and "light" trip. Which was a trip to catch Semah Mahseer (Tor duoronensis) and Sebarau in Kiulu. Considering I have never caught a Mahseer or a Sebarau in my life, I said yes. It was also an excellent opportunity to tag and release a few fish, especially because the rivers and fish of Kiulu are protected by the Tagal system implemented by the local community.
[  I landed the fish and it was a good size, had no injuries and looked really healthy, the perfect candidate for tagging…..   ]
WHAT IS THE TAGAL SYSTEM?
The villages along the rivers throughout Sabah have been practicing sustainable fishing and harvesting of Mahseer long before the formal Tagal system was implemented in 2001. Under this system, each stretch of river is divided into three zones, which are red, yellow and green zones.
The green zone is an open fishing zone where fishing is allowed all year for all villages/villagers participating in the Tagal system under strict regulations. Which means "No gillnet fishing but only cast-netting angling" – J. Wong, 2007. Then there's the yellow zone, which is open once or twice a year particularly during community celebrations and festivals. Gillnets are permitted during these times and the catch is shared among Tagal participants. The red zone however is exclusively for conservation and is open for sport fishing after paying a reasonable entrance fee.
Illustration of the tagal system.
Angling is allowed only when the fish caught are released safely afterwards. This however does not apply to invasive species such as the African Catfish, which are not released but instead are culled as they prey on Mahseer eggs and fry as well as to minimise competition to indigenous species. The Tagal regulation also states that recreational anglers must hire a local guide to accompany them at all times during the fishing session.
During our fishing session in Kiulu, we were allowed to fish in the yellow zone, which we had no objections against.
ROAD TO KIULU
Our journey began on the 15th of August where Eping picked me up at the outskirts of Sandakan. We later drove for 6 hours to reach Kota Kinabalu, which was 300+km from Sandakan. The reason for our brief stop in KK was to stock up on light line and small lures best suited for the fish we're targeting. After doing considerable damage to both our bank accounts, we continued our journey to Kiulu, situated 40km Northeast from KK. Upon arrival, we were greeted by our designated guide, Mr. Rushdi who is one of the most experienced guides and one of the pioneers pushing for the Tagal system to be implemented. After a dinner and a long discussion on tomorrow's game plan, we decided to go for Sebarau first.
DAY 1: UNEXPECTED CHANGE OF PLANS
I woke up in the middle of the night to the sound I've been dreading throughout the journey to Kiulu, the sound of rain. It rained from midnight to approximately 4am, which may dirty the waters and drastically lower our chances of catching fish. In the morning, we had a quick look at the river where we're to fish for Sebarau to find that it was indeed murky and unfishable. Mr. Rushdi then suggested we go for Mahseer first, since the particular river where they're found in is usually unaffected by floods and heavy rain. Which Eping and I gladly agreed to.
After a short drive and a 5 minute trek through a fruit orchard, we arrived at the first "lubuk" which is a deep pool usually found at the bends of rivers. We tied on our small sinking minnows and took our first casts. While reeling in, I saw a few fish following my lure but failing to commit. I tried changing the speed of my retrieve as well as adding a few pauses, sadly to no avail. Then, on what I think was my tenth cast, I felt a light tug as soon as my lure hit the water. I lightly set the hook as I didn't expect a fish, only to be proven wrong. I could feel that the fish on the end one my line wasn't big and was reeled in within seconds. It may not be big, but it's my first ever Mahseer. Sadly it was too small to tag and was quickly released after a short photoshoot.
My first ever Semah Mahseer (Tor duoronensis).
I later asked Mr. Rushdi where Eping caught his Mahseer, which was just a few meters upstream. He showed me where and asked me to cast my lure next to a boulder near the bank. I always listen to the guides and cast to where he pointed. Unsurprisingly there was a fish waiting there and it ate my lure as soon as it hit the water. I was happy to hook a fish but also a bit disappointed as I haven't figured out the pattern that the fish are responding to because they always take my lure as soon as it hits the water.
Anyway, this fish had more fight in it and was an absolute thrill on light gear. I landed the fish and it was a good size, had no injuries and looked really healthy, the perfect candidate for tagging. The fish was first unhooked, then measured, weighed and the coordinates of capture were recorded. The fish was tagged below its dorsal fin where the tag's barb is secured to the dorsal spines. It was later given time to recuperate before it was released, kicking as the oxygen-rich water rushed through its gills.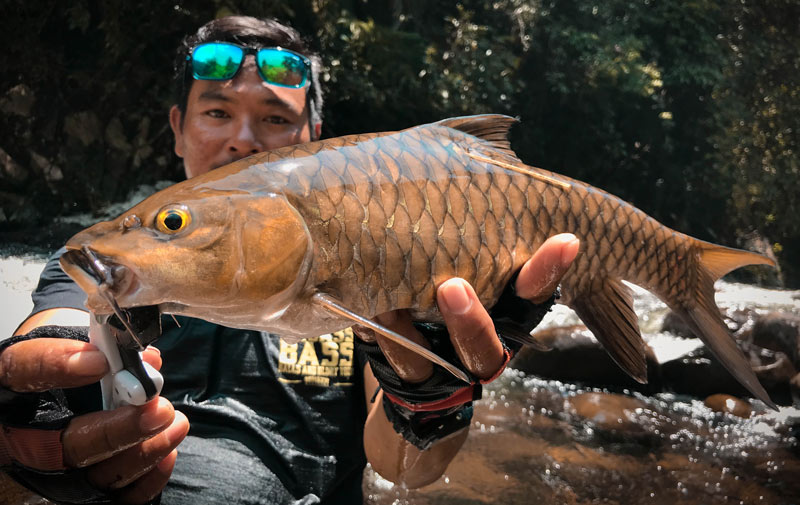 Eping with his gorgeous Mahseer.
We continued fishing as we trekked further upstream. The reason we didn't move downstream is that it our movements will alert the fish downstream of us and that casting our lures upstream and retrieving it with the flow of the current allows for a more natural presentation. We later caught, tagged, and released 3 more Mahseer before it started to rain. Thus ending our first day of fishing in Kiulu.
Do check stay tuned for part 2 in the next issue of The Angler.
Do Not Miss Another Issue