Taking On The Amazonians- Updated
Suveran, one of the iconic brands within the Abu Garcia reel family tree. Suveran of which means Sovereign in English was first used on Abu Garcia's reels and later adopted into its rod series. Recently Abu Garcia launched its latest Suveran rod with the moto "Return Of The King."
Tough Looking
The new Abu Garcia Suveran comes in black with dark candy blue winding checks and threads, as well as gold threads. These combination of colours gives the new Suveran rod a tough and strong stance; somewhat like the lances used by knights.
Abu Garcia Suveran, a tough rod.
High Performance
The new Suveran rod is a high performer coming with a tough carbon graphite blank that has a strong backbone to take on hard fighting fishes and a forgiving enough tip to execute good casts and absorb any sudden burst of energy exerted by the fish as it make a run for its life.
A rod for heavy cover fishing.
Components
To complement the high performance of the rod, high quality components are used. These include Fuji  guides going with SMG series guides or Semi Micro Guides for better accuracy, Fuji reel seats that holds on to reels well, and high quality EVA grips.
The new Suveran rod uses a synthetic rubber cork end cap that is rounded to aid with support when fighting a tough fish (when rod butt is placed at the lower abdomen of the angler), and to allow anglers to stand the rod up without slipping. Synthetic rubber end caps have another advantage and that is that they do not soak up liquid.
Well Balanced
The Suveran rods are well balanced with a little more weight on the tip (depending on weight of reel). This gives the rod a lighter feel when help horizontally as when fishing. This allows the angler to fish longer hours before fatigue sets in.
Field Testing
We field tested the Suveran at the Natural Exotic Sports Fishing Pond in Behrang. For those who do not know, this is the pond where some of the hardest fighting freshwater fishes lie in wait to fight with anglers; very much like the gladiators in Rome of old.
For bait we used catfish cuts, one of the more effective baits here. Being a heavy action rod I was surprised that it cast the way it did. It shot our baits out to very good distances. The Suveran certainly has a stiffer tip still it got the job done well. Our baits always got into the fishing zone.
Field testing with hard fighting Amazonian Redtail Catfish.
Fighting Ability
When it comes to fighting, the Suveran fought like a well built sword. The guides managed the line flow well. The blank had lots of fighting power and more than capable in managing the few hard fighting Amazonian red tail catfish that took out baits. We fought on high drag to test the capability of the rod.
The reel seat performed well holding the reel in place without once going loose. That is the benefit of using quality reel seats; no loosening of the reel seat of which adds to better confidence during these hard fighting battles.
Battling a hard fighting fish with the Suveran. Good blank and backbone helps with the fight.
One good thing about the blank that the Suveran uses is its ability to help leverage the fight towards the angler. It is not too rigid and with its good backbone, manages to absorb the sudden and hard runs, as well as to not go limp under heavy pressure. This reduces the pressure on the angler's arms too.
Hard as the fish can run, the Suveran had no issues managing it.
Battle Summary
We landed a few hard fighting Amazonian red tail catfish without losing any. We fought hard with high drag pressure (still within safe limits) and the rod performed very well. certainly a high performance rod capable of taking on hard and tough battles.
Hard fighting fish landed.
View from the top shows that this fish is really quite broad. No wonder it fought so hard.
Rod Tested + Other Tackle Used
Rod: Abu Garcia Suveran
Model: SVC702H+A
Rating: Heavy
Reel:  Abu Garcia Revo Big Shooter WM60
Main Line: Berkley Fireline 30lb
Leader Line: Berkley Vanish 30lb
Hook: Gamakatsu Nautilus Circle 6/0
Should I Get One?
Well, if you are in the market for a new rod and you don't mind paying a little more for high quality components; the new Abu Garcia Suveran is certainly a rod to consider. First of all it carries a well known brand name. Second, it comes from frolks who have spent many, many years building rods. Of course the more important reasons are that It is a tough rod, has a good backbone to manage hard fighting fishes, and best of all; it's a Suveran.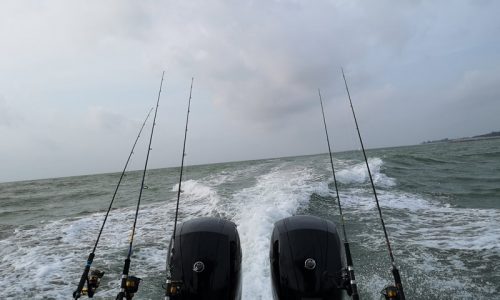 Click here to return to The Angler Issue 66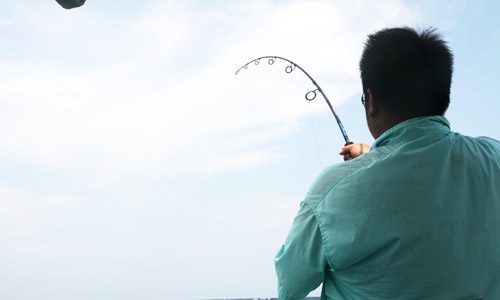 Click here to go to The Angler Magazine issues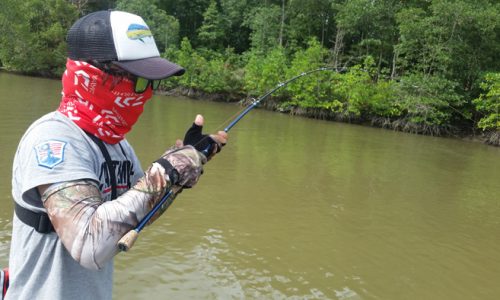 Click here to go to the main page
Do Not Miss Another Issue