Fishing is an activity that has been around for centuries and is an activity done all around the world. Being such a popular activity and having been around for so long, it certainly has seen its fair share of evolutions. Over the next few issues we will take an anecdotal look at how fishing has evolved starting with pole fishing.
Guvnor in action playing a hard fighting fish on pole.
The Sport
Pole fishing to some may sound like one of the more mundane and basic types of fishing. But do you know that there actually is a professional circuit or tournament built around pole fishing? It is a huge tournament in Europe. Here is a look at the Evolution of pole fishing.
Guvnor during a pole fishing competition (coarse fishing) in Europe.
Many anglers started fishing with just a stick or branch, a thread, and a hook. I am one of them and I caught a good amount of fish at some of the lakes and streams around my house. When I started fishing, fishing rods and reels were a luxury. I had to share a rod with my late uncle, or my dad. I did not have my own fishing reel and rod then. When I went fishing with friends I used a branch, a thread, and hooks from my dad's tackle box. I am sure many old timers started out this way too.
Then poles started coming into the fishing scene. When I say poles I mean poles without reel seats and guides. Just poles with a place to tie fishing lines at the tip. Longer poles got our baits further out while shorter poles cover lesser water areas.
Poles themselves have grown in length reaching over 20 feet allowing anglers to reach further out at lakes, ponds, and rivers. Such poles are heavy even when they are made using light weight carbon graphite materials. As such they rest on pole holders and are supported with rollers to role them in and out.
Technical Pole Fishing
Pole fishing has evolved from just fishing with a pole to fishing with a pole using elastics, splitshots (sinkers), various sizes of hooks, various types of floats, etc.
Floats
In early days we used various types of floats as bite indicators. We've used plastic straws, Styrofoam, etc. Then came the round plastic floats. Today we have floats called wagglers, stick floats, pole floats, etc. There are floats for still waters and even moving waters such as streams and rivers. The pole angler gets various information from these floats and can tell if a fish is near or is checking out the bait or if a fish has taken the bait but is not sure if it wants to eat it. Of course reading the float takes some experience.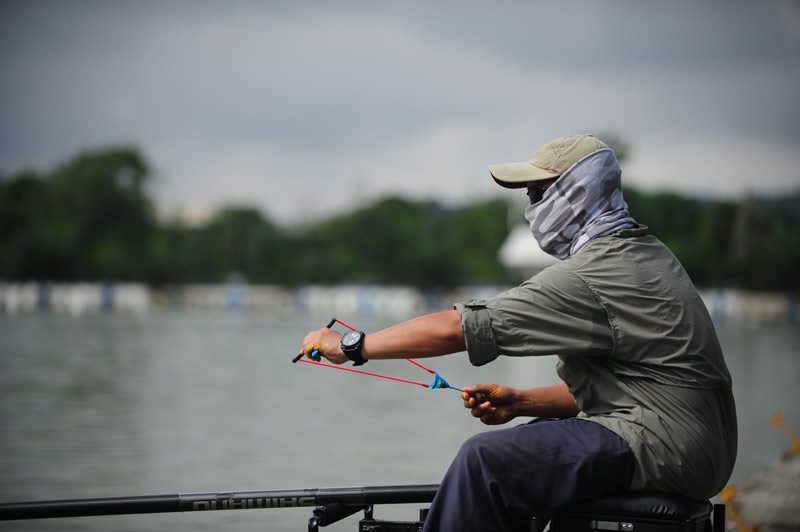 Ground bating to attract more fish to the fishing zone.
Pole fishing has certainly evolved into a sport today and is a fun sport to partake in. A pole can cost anywhere from a couple of dollars to thousands of dollars; having evolved from fishing with a brunch to a highly engineered and creatively designed pole for fishing in a sport that has become a lot more technical.
Pole Fishing like other methods of fishing is fun. Should you decide to give it a try, it is best to talk to experienced pole anglers before you start buying your tackle; unless you want to go with a piece of brunch first. Their advise can save you good amounts of money or help you burn a hole in your pocket (depending on your wants). In Malaysia you can contact the Malaysian Coarse Fishing Association at +60 13-352 0095.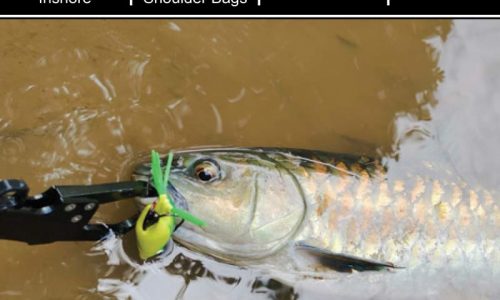 Click here to return to The Angler Issue 72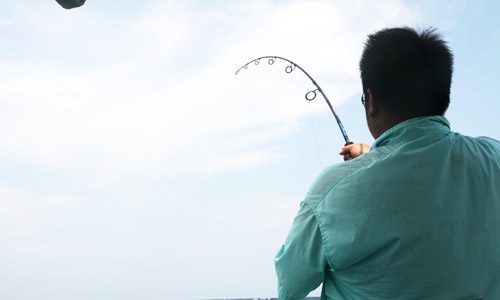 Click here to go to The Angler Magazine issues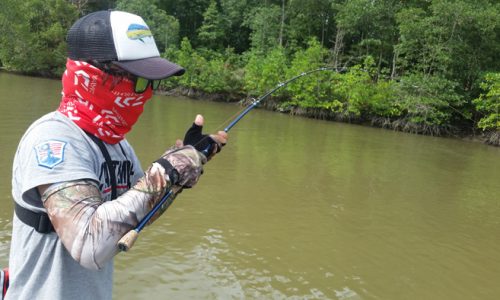 Click here to go to the main page
Do Not Miss Another Issue