Action Zone: Worming Fun with the Abu Garcia Max X Spinning Reel
By: Amirul Irfan Bin Ahmad Rafee
Photos: Amirul Irfan, Altaff Asmar
Hello folks! Back in Issue #84 of The Angler Magazine, I wrote an article titled "New Lesson From Fishing – Size Up". The article described my experience of sizing up the soft plastics and jerk baits to get bites from Peacock Bass of Prima Lake. In this article, I am back in Prima Lake to try worming once again. For this trip, I came prepared with the new Abu Garcia Max X 10 spinning reel and Abu Garcia Revo X 2-6lb ultralight as my main setup. A lightweight and sensitive setup should be able to help me feel and understand what is going on at the end of my line.
The day started with flipping soft plastic worms into patches of hydrilla along the eastern banks of Prima Lake. I fished with two close friends, Altaff Asmar and Hanif. Both of them also fished with light spinning setups as our main target was to fish texas rigged worms. We decided to fish patches of hydrilla following successful results from my previous trips where many Peacock Bass were caught from patches of hydrilla. By 10 am, only a few subtle bites came on worms of various sizes. Surprisingly Altaff's 6-inch worm had more bites than other smaller sized worms used. However, the bass were just nibbling and not gulping the whole worm which made it hard for us to set the hook. To play safe I switched to a small 4-inch worm and instantly landed a small Mayan Cichlid on a texas rig with a 5.3-gram tungsten flipping weight. We continued flipping hydrilla for another hour with no good bites. Two Arapaimas also came by boat side to entertain us during our slow session as if they knew the Peacock Bass were not in town to bite our worms. Finally, Hanif had a good bite when he flipped his 5-inch Damiki Love Tail worm into a pocket between the dense mats of hydrilla. The fish was quickly landed and it was a relief to have the first Peacock Bass of the day in the boat. The fish was released after a quick photo and it was time for brunch.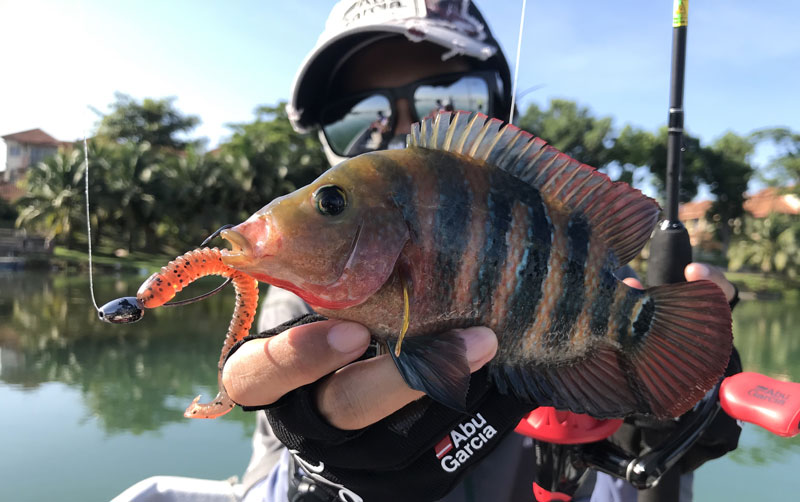 A fiesty mayan cichlid on a finesse worm.
[   My ultralight Revo X rod was fully loaded as the fish kept tugging down. The weight made it obvious that this was a quality fish….   ]
Over brunch, our game plan for the day was discussed considering that fish were not present around hydrilla mats as experienced in past trips. A plan was made to fish areas with rocks and hard bottoms along the western bank of the lake. We spent two hours with only nibbles from small Peacock Bass on both texas rigged soft plastic worms and small soft plastics fished with a carolina rig. Our new game plan was a failure. It's time for the next move. We moved back to the eastern bank and began targeting sandy areas with mussels. This is where tungsten weights played a critical role. The sensitivity of tungsten helped us to visualize the bottom terrain as we slowly fished our soft plastic worms across the bottom. I found a small group of mussels along a sandy slope with a water depth of roughly 6 meters. Each time my tungsten weight tapped the mussels, I felt a bite. The bites kept coming on each cast and it was clear that I found a nest. On the fourth cast, the fish gulped my worm. With a few quick turns of the handle on the Abu Garcia Max X to pick up the slack line and a strong hookset, the fish was on.
My ultralight Revo X rod was fully loaded as the fish kept tugging down. The weight made it obvious that this was a quality fish. The Max X drag was steady as the fish slowly pulled the line out in an attempt to escape. My luck was running out as the fish rubbed my leader line against the boat's anchor line. I kept consistent pressure and steered the fish away from the anchor line but this time my luck ran out. Altaff's line was snagged nearby and this fish took the opportunity to wrap around it. After some tugging the fish finally appeared near the boat, displaying its beautiful body colors. Seemingly weakened from the fight and just a few meters away, the fish shot off with a final burst of energy while my line was still tangled to Altaff's. It was disappointing to lose such a good fish after a tough day with hot weather but it happens. At least I learned something – the fish had bright spawning colors and a red belly indicating that it was a bedding fish.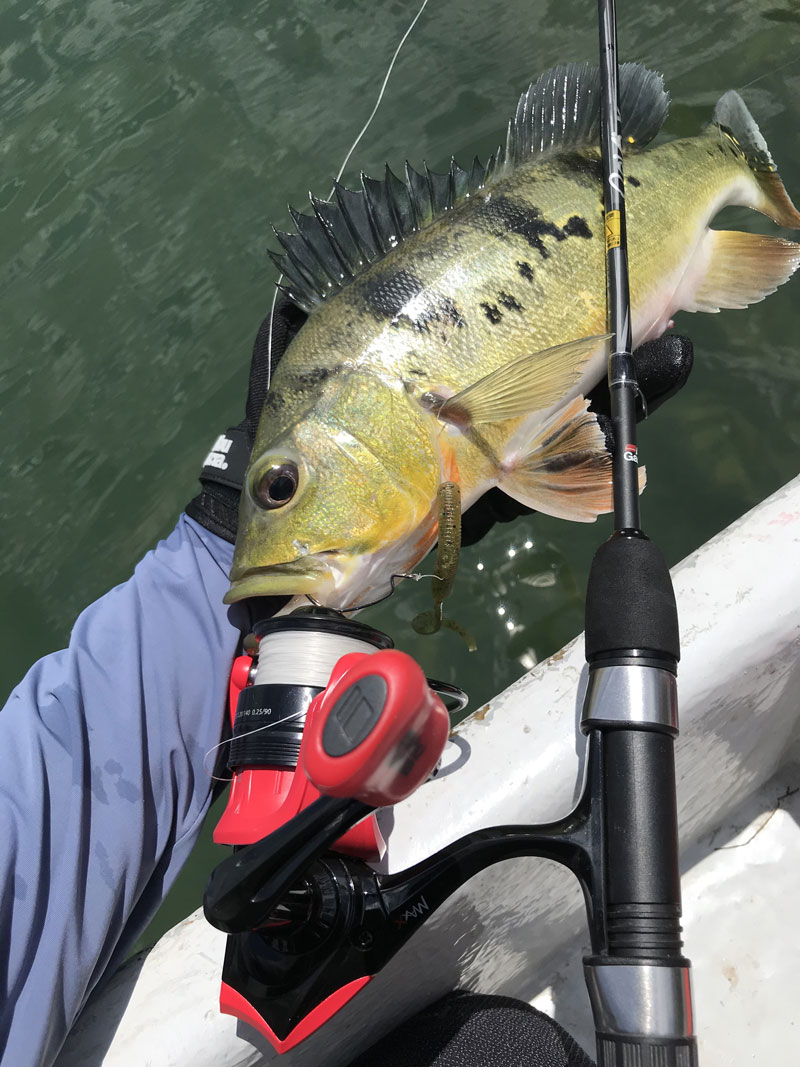 The new Abu Garcia Max X Spinning reel is the perfect reel for ultralight fishing.
With that information, we 'scanned' for more mussels with our texas rigs as Peacock Bass commonly nest around sandy bottoms with mussels. Sure enough, more bites came from a similar area. Within minutes I landed two nice Peacock Bass by tapping mussels with my soft plastic worm. Both of them had red bellies which confirmed our observations that they were staying close to the bottom and nesting. The bites kept coming on texas rigs and carolina rigs but the fish were beginning to get wary after I landed my previous two. Hanif finally set the hook and landed the best Peacock Bass of the day on his carolina rigged 4.5-inch Damiki Air spear worm. That fish was the ending for the day. The weather was hot and the bites were slow, but once again soft plastic worms managed to save our day. It takes a bit of patience to keep shaking the worm in small areas but when fish start to bite it is worth it.
Beautiful male Peacock Bass taken on a texas rigged 4.5 inch Damiki Airspear Worm.
My ultralight pairing of the new Abu Garcia Max X 10 spinning reel along with the 2-6lb Abu Garcia Revo X rod provided the sensitivity needed while being lightweight which made it quite a relaxing day for me.
My gear:
Rod: Abu Garcia Revo X 2-6lb Spinning
Reel: Abu Garcia Max X 10
Line: 10lb Berkley Fireline Ultra8 Carrier (White)
Leader: 10lb Berkley Vanish Fluorocarbon
Soft Plastic: Damiki Air Spearworm 4.5 Inch and Damiki Love tail worm 5 inch
Weights: 5.3-gram Tungsten Flipping Weight
Hooks: 1/0 CatsClaw Cobra Worm 500 Hook
Thank you for reading, stay safe & happy fishing!
Do Not Miss Another Issue